Review copy was received from Publisher. This does not affect my opinion of the book or the content of my review.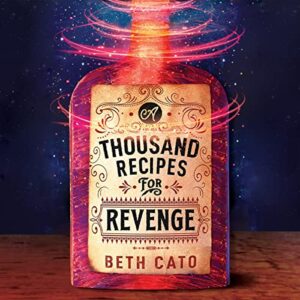 A Thousand Recipes For Revenge
by
Beth Cato
Narrator:
Elizabeth Knowelden
Series:
Chefs of the Five Gods #1
Published by
Brilliance Audio
on June 1, 2023
Genres:
Mystery
,
Historical Fiction
Length:
13 hours, 32 minutes
Format:
Audiobook
Source:
Publisher
Goodreads
Amazon
, 
Audible





Adamantine "Ada" Garland has an empathic connection to food and wine, a magical perception of aromas, flavors, and ingredients. Invaluable property of the royal court, Ada was in service to the Five Gods and to the Gods-ordained rulers of Verdania—until she had enough of injustice and bloodshed and deserted, seeking to chart her own destiny. When mysterious assassins ferret her out after sixteen years in hiding, Ada, now a rogue Chef, and her beloved Grand-mère run for their lives, only to find themselves on a path toward an unexpected ally.

A foreign princess in a strange court, Solenn unknowingly shares more with Ada than an epicurean gift. They share blood. With her newfound magical perception, she becomes aware of a plot to kill her fiancé, the prince. It's part of a ploy by adversarial forces in the rival country of Albion to sow conflict, and Solenn is set up to take the blame.
A Thousand Recipes for Revenge is the first book in the Chefs of the Five Gods series, told from the PoVs of a mother and her daughter.  Both women have been touched by a god to be able to sense epicurea (magical ingredients) in different ways.  This makes them god touched and very special to different people in power.
Ada was conscripted into service after it was discovered she was touched by one of the gods.  She became a Chef for the army while her country of Verdania was as war.  She spent years in service/slavery for King and country.  Chefs make the most extraordinary food and Ada is blessed with a tongue that tastes sympathetically so she always knows how her meals taste to others' preferences.  She is one of the best Chefs Verdania has ever had.  She lost everything of importance to her when the king broke an alliance with another country and she deserted 16 years ago, leaving her daughter in care of her husband and sent to a different country where she couldn't be used as a slave if she was god touched as well. On the run ever since, she has just been found and will need to go back to some of her roots if she is going to stay alive.
Solenn is now a princess of Braiz, she has come to Verdania for the marriage alliance brokered by her family to try and bring peace and unity between Briaz and Verdania.  Her intended is a few years younger than her but she is trying to build some kind of bond with him.  Solenn didn't know she was god touched until she discovered a poison intended for the Prince.  The thing is both of her parents do not have a history of Chefs in their line which means Solenn's parentage is not what she thinks it is.  As she discovers how she became hidden as a princess and what this new talent means to her life, she also needs to try to keep the Prince alive.  Not because of love but to keep her country from being thrust into another war.
I enjoyed a good portion of this book.  I liked how cooking the food with epicurea could enhance attributes of the people who ate it.  Being stronger, able to run faster or see better.  It also was interesting all the different things that could be concocted and how good Ada was at it.  I didn't expect the shift in the middle when we learn what epicurea really is.  Beth Cato surprised me with that one for sure.  The world building was great and I liked the set up of the story overall with tidbits of the histories of the gods and their role in the daily lives of the people of the different lands.  The ideas in story remained very interesting and I like Solenn's character.
Overall this is a solid YA story with good characters, interesting premises and a decent plot.  I would have liked to get a little more knowledge about the gods and Hesta in particular due to her part in this story but I liked the animal twist the story took that stepped everything a little sideways from where I expected the story to go.  Good start to a series.
Narration:
Elizabeth Knowleden has a pretty prolific catalog to her name.  She maintains the voices of her characters well and was able to put emotion into the story.  I enjoyed her performance overall.  Her voice lent well to the age of Solenn's character being young and innocent yet determined to do her duty.  It was all captured well.  I was able to listen to the story at my usual 1.5x speed.
Listen to a clip: HERE
Rating Breakdown
Plot
Writing
Characters
Dialogue
Narration (Audio)
Overall:
Related Posts