Review copy was received from Publisher. This does not affect my opinion of the book or the content of my review.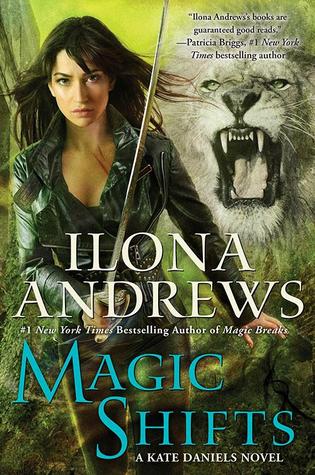 Magic Shifts
by
Ilona Andrews
Series:
Kate Daniels #8
Published by
Ace
on August 4th 2015
Genres:
Urban Fantasy
Format:
Paperback
Source:
Publisher
Goodreads
Amazon
, 
Audiobook





After breaking from life with the Pack, mercenary Kate Daniels and her mate—former Beast Lord Curran Lennart—are adjusting to a very different pace. While they're thrilled to escape all the infighting, Curran misses the constant challenges of leading the shapeshifters.

So when the Pack offers him its stake in the Mercenary Guild, Curran seizes the opportunity—too bad the Guild wants nothing to do with him and Kate. Luckily, as a veteran merc, Kate can take over any of the Guild's unfinished jobs in order to bring in money and build their reputation. But what Kate and Curran don't realize is that the odd jobs they've been working are all connected.

An ancient enemy has arisen, and Kate and Curran are the only ones who can stop it—before it takes their city apart piece by piece…



I admit, I'm biased as the Kate Daniels series is my FAVORITE.  But c'mon, it's full of awesome, and has everything one needs in a great book.  There are characters who feel real, adventures and battles, mysteries and humor, a family and romance.
There is not much I can say that has not been said before and without total gushing and awed devotion. Everyone on Earth should have been able to hear the screams of excitement when I got my copy of Magic Shifts (or anything by Ilona Andrews).
The humor is really important to me.  I like the kind of style displayed in the giggle worthy quote. It's based on knowledge and acceptance of the characters, who they are and their foibles.  Ghastek was brief in Magic Shifts but he always cracks me up, the way he and Kate interact.
The other aspect I'll mention is the continuing development of the relationship between Kate and Curran. It happens along with real life, struggles and triumphs, and I love the way it is unfolding.  There is more time with them than in other books it seems. It has its ups and downs, but it is strong and passionate.
The "relationship" between Kate and her father is another interesting, ongoing development.  What is really going to happen there?
I can't get enough. I am enthralled with the Kate Daniel series.  Each book holds my attention and feelings every time. There is so much more to love and know.  I can barely wait.
Giggle worthy quote:   
Curran and horses didn't get along.  He thought they were unpredictable and untrustworthy, and they thought he was a werelion.
---
Latest posts by Anne - Books of My Heart
(see all)
Related Posts