Review copy was received from NetGalley, Purchased. This does not affect my opinion of the book or the content of my review.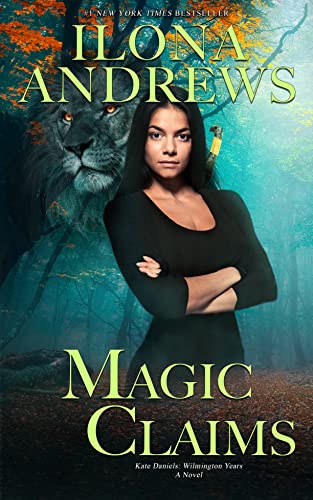 Magic Claims
by
Ilona Andrews
Series:
Wilmington Years #2
,
Kate Daniels #10.6
Published by
NYLA
on June 13, 2023
Genres:
Urban Fantasy
Pages:
245
Format:
eARC
,
eBook
Source:
NetGalley, Purchased
Goodreads
Amazon
, 
Barnes & Noble
, 
Apple






Kate and Curran have just settled into their new home and their 'low prolife,' when a local businessman approaches them with an offer they can't refuse. A mysterious evil has spawned in the nearby forest and is holding a defenseless town hostage. The 'due date' is rapidly approaching.

It's exactly the kind of fight the Lennarts can't resist, not for the prize the town offers, but for the people who will surely die if they ignore it. If they succeed, they'll be rescuing an entire community and can build a strong new base for their family and the Wilmington Pack. If they fail...well, fail is a four-letter word.
There is nothing more exciting than a new Ilona Andrews book.  I am ecstatic they have continued beyond the Kate Daniels series.  These stories are shorter than full books, and tell of Kate, Curran and Conlan and their life in Wilmington NC.  They are trying to lay low and just provide a normal childhood for Conlan. Well, that's over.
Kate and Curran have been reticent to make the mistakes of their parents or even repeat ones from their past.  But they want to fight to protect people.  So they are starting to figure out how to do it in a different way.  They were building their own beach compound but now they are offered a forest one if they help remove the evil there.
Conlan may be only 8 but he is a talented and trained boy.  He is having to grow up fast.  They are teaching him the best they can and he eventually is part of this fight. He is just beginning to see the hard decisions and reality.
The world building and character development are exquisite.  I enjoy the humor too, but part of that is enjoying the personalities and characters as themselves.  For that, one needs to have read the series, in order, which is always a good strategy with urban fantasy.  For example, I was tickled to see Luther Dillon.  But he only means something if you have read the other books. I'm also laughing at the people who have no idea about Kate. Or Curran.
There is so much here.  The politics of the Order, the Farm, and the Pack. The tentative grasp of the humans to survive in some areas.  We get some insight into the problems of the Atlanta pack and how some of the issues started in Curran's time.  Now they may start over with new and better rules.
The source of the evil is not easily understood.  But they start to get an idea based on the fighting style and when Conlan finds "the elephant creature" in a historical picture book.  There's more mythological creatures out there in this crazy post shift world.  I love how Kate knows almost all the rules, the details, the mythology of the many creatures who might fight her. She understands the different types of magic.
This is my favorite author and my favorite series ever and it is worth reading from the start, in order.   So I would not read this as a stand-alone.  If you haven't read this series, you are seriously missing out. There is so much character growth and world / mythology development to understand. It's the beloved characters that are the foundation with their compassion, courage and intelligence.
Latest posts by Anne - Books of My Heart
(see all)
Reading this book contributed to these challenges:
Related Posts