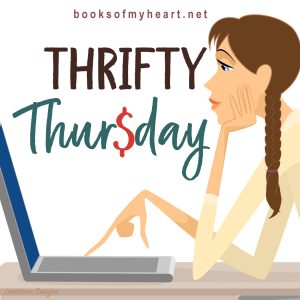 The purpose of Thrifty Thursday is to read a book which was free (at some point).
Kindle freebie on October 3, 2015  (currently $2.99 at Amazon as of writing this post)
Overall rating 3.65 with 689 ratings and 102 reviews
Run
by
Gillian Zane
Series:
NOLA Zombie #1
Published by
Self-Published
on May 23, 2015
Genres:
Science Fiction
,
Dystopia
,
Romance
Pages:
116
Format:
eBook
Source:
Purchased
Goodreads
Amazon
, 
Audible




Zombies are on the loose in New Orleans and of all the End of the World scenarios, Alexis Winter wasn't prepared for this one. But, an apocalypse is an apocalypse and she should have this covered. She has been "prepping" for the last three years. The problem is location and timing. She's stuck downtown and she has to get to her house on the outskirts of the city so she can get her supplies and bug-in (for the "non-preppers" this means hole up and stay safe). Agreeing to work on a Saturday is now coming back to bite her on the ass big time. Hopefully, it won't be a literal bite by the walking dead.

Luck favors the prepared, and as luck would have it, it comes in the form of the ridiculously hot Blake Miller. Former military man, current mercenary, Blake Miller, the man with the plan, his goal: steal a boat and trek up the Mississippi until they find safety. Alexis thinks this is a great plan and she decides to team up with Blake. The two team up in unexpected ways as they find they can't keep their hands off of each other even when the world is falling down around them.

Can Alexis and Blake survive the end of the world, and if they do make it through the night, find a place that is safe and secure? Can their newfound attraction lead them down the road to love or heartbreak?
There are certainly things to like about Run, the first in the NOLA Zombie series.   I do enjoy the characters. Lex is a prepper and I love that.  She is smart and careful.   Blake is a military man so he has some fighting and tactical skills too.
There are only 116 pages though so it had a lack of pages for world and character development. It was surprisingly good considering this short length. It suffered more from the amount of sex which seemed dangerous with the precarious situation, as well as taking time from the overall plot. So for all their street smarts I got a bit of TSTL.
I would have liked a bit of lead in to the situation which is only helped a bit in the prequel novella.  Why did Lex go to the office if she was prepared for things to go so badly?  And if she wasn't aware of the situation how did she know what to do or how to react?   I couldn't quite make sense of that.
I love this sort of dystopian survival mode and strategic plans with action.  A lot of this was just fun! I believe if it had been a little longer, with slightly more plot and less sex, I would have enjoyed it even more.
If I want to know more I'll have to read on in the series. Book 2, FIGHT, looks to go forward with the characters in RUN.  It goes into a menage situation with the two male owners of the security firm and Lex. Menage is not my thing and probably not during a zombie apocalypse with a fight for survival.
---
These are only Kindle freebies I get, or ones through author newsletters which anyone can sign up and get for free. I don't include things like Kindle Unlimited or Prime Free Reading (I do have it). Both Tantor and Audible have occasional free audios (to anyone) and I do include those.  Since I one-click on 1-2 freebies a day or probably at least 5 a week, I came up with this feature to make sure I start reading them.
Latest posts by Anne - Books of My Heart
(see all)
Reading this book contributed to these challenges:
Related Posts