Review copy was received from NetGalley. This does not affect my opinion of the book or the content of my review.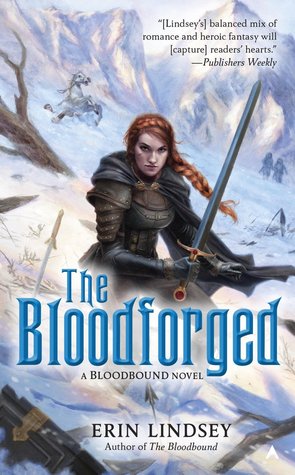 The Bloodforged
by
Erin Lindsey
Series:
Bloodbound #2
Published by
Ace
on September 29, 2015
Genres:
Fantasy
Pages:
368
Format:
eARC
Source:
NetGalley
Goodreads
Amazon
, 
Barnes & Noble



The epic saga that started in The Bloodbound continues…

As war between Alden and Oridia intensifies, King Erik must defend his kingdom from treachery and enemies on all sides—but the greatest danger lurks closer to home…

When the war began, Lady Alix Black played a minor role, scouting at the edge of the king's retinue in relative anonymity. Though she's once again facing an attacking Oridian force determined to destroy all she holds dear, she is now bodyguard to the king and wife to the prince.

Still, she is unprepared for what the revival of the war will mean. Erik is willing to take drastic measures to defend his domain, even if it means sending Prince Liam into a deadly web of intrigue and traveling into the perilous wild lands of Harram himself.

Only the biggest threat to the kingdom might be one that neither Alix nor Erik could have imagined, or prepared for…
I liked this book but it was different from the first book for me. The characters and world I loved are still rich and wonderful. But it's easier to say what I didn't like here AND it's very hard to do without being spoilery. I'm going to try to be vague and yet explain.
There were some things which happened off page between books I would have like a bit more in the books. The plans for the war and strategy and battles and missions are still in the forefront, which is fine. Relationships and personalities develop and the world continues to build.
It reminds me of the three Star Wars movies, or boy meets girl, boy loses girl and boy gets girl. This book is boy loses girl (this isn't what happens; it's a metaphor), i.e. everything goes to hell in a handbasket. Nothing seemed to go right and it was depressing. I can stand some setbacks and death and problems but I guess I need more hope. Maybe it's because I'm really busy right now and need comfort, more than problems.
The real issue was the constant anxiety of possible love triangles and the end was sort of a cliffhanger. I'm not sorry I read Bloodforged and will definitely read on in the series. I just prefer a bit more success for the characters I love. And there was some; I just want more. It's also hard to find much humor in seriously tough situations.
Giggle worthy quote
"Those men liked nothing better than drinking, fighting and whoring and they preferred to do it in the sorts of places that had men crawling under the tables and vermin crawling under the men. Those places were bad. But this place had them all beat as far as Liam was concerned, claiming the title by virtue of its smell (vomit and fish guts), the taste of its ale (same), and the completely unidentifiable gruel they served, which looked suspiciously like …. well, suffice it to say the place had a theme. "
Latest posts by Anne - Books of My Heart
(see all)
Related Posts