Review copy was received from Publisher. This does not affect my opinion of the book or the content of my review.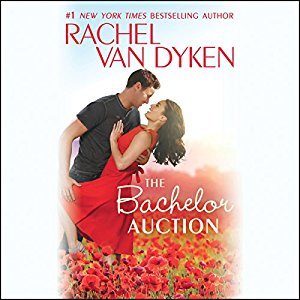 The Bachelor Auction
by
Rachel Van Dyken
Narrator:
Douglas Berger
,
Annie Green
Series:
The Bachelors of Arizona #1
Published by
Hachette Audio
on October 4, 2016
Genres:
Contemporary Romance
Pages:
352
Length:
8 hours, 38 minutes
Format:
Audiobook
Source:
Publisher
Goodreads
Amazon
, 
Audible
, 
Audiobook





Jane isn't entirely sure that Cinderella got such a raw deal. Sure, she had a rough start, but didn't she eventually land a prince and a happily-ever-after? Meanwhile, Jane is busy waiting on her demanding, entitled sisters, running her cleaning business, and . . . yep, not a prince in sight. Until a party and a broken shoe incident leave Jane wondering if princes---or at least, a certain deliciously hunky billionaire---maybe do exist.

Except Brock Wellington isn't anyone's dream guy. Hell, a prince would never agree to be auctioned off in marriage to the highest bidder. Or act like an arrogant jerk---even if it was just a façade. Now, as Brock is waiting for the auction chopping block, he figures it's karmic retribution that he's tempted by a sexy, sassy woman he can't have. But while they can't have a fairy-tale ending, maybe they can indulge in a little bit of fantasy . .
This is a modern day Cinderella story. Which means it is a classic billionaire guy rescues penniless gal. This is not my favorite troupe. At All. I was offered both the ebook and the audio for review and decided on the audio. So how did this work out?
I was pleased with The Bachelor Auction mostly. The characters were either well-developed or overblown caricatures of a cliche type. Our Cinderella, Jane, is easy to love. She is hard-working, kind, compassionate and honest, even when treated badly. Her sisters are unrealistic stereotypes but it works. Our prince charming, Brock, isn't a bad guy either. He's always been a serious hard worker, trying to do what's right for his family. His brothers are playboys but they grow into defined figures.
The plot was okay. It had some odd manipulations going on by various members of the family. The solution to the big problem was obvious to me from the moment Jane and Brock met. There was something we found out after they had sex and I dropped the review score a half point for this – View Spoiler » Jane was a virgin. This was absolutely unforgiveable to me. It's another cliche. But Brock didn't even notice. Jane didn't give it much thought before or after.  REALLY? « Hide Spoiler
The dialogue throughout was a huge win. It was rather smart and often very funny. Jane and Brock were honest about their feelings with themselves and each other. This is always a plus.
The narrators did a great job delivering the dialogue to its best advantage, especially Annie Green. It was easy to tell whether it was Jane's or Brock's perspective since each chapter changed narrator. I enjoy when it is produced in this way. The narration was easy to understand and improved the experience overall.
With Brock's brothers stories coming up, I may have to go on in The Bachelor's of Arizona series, even though some things are ridiculous, it is also fun. And the brothers are already carving out a space in my heart.
Listen to a clip of Annie Green at Amazon and to Douglas Berger at Soundcloud:
Rating Breakdown
Dialogue
Narration (Audio)
Overall:
Latest posts by Anne - Books of My Heart
(see all)
Reading this book contributed to these challenges:
Related Posts