Review copy was received from Publisher. This does not affect my opinion of the book or the content of my review.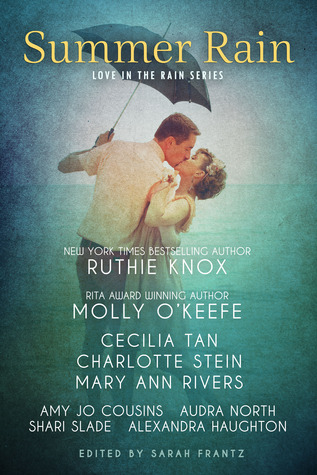 Summer Rain
by
Mary Ann Rivers
,
Molly O'Keefe
on June 9, 2014
Genres:
Contemporary Romance
Pages:
435
Format:
eARC
Source:
Publisher
Goodreads
What happens when love gets caught in the rain?

In this romance anthology, RITA-Award winning author Molly O'Keefe shows us the power of a city thunderstorm from the top of a skyscraper, while Amy Jo Cousins soaks us in a rain in Spain. New York Times bestselling author Ruthie Knox's heroine is devastated by a winter storm, while a summer thunderstorm grants Alexandra Haughton's hero and heroine a second chance at love. Rain sparks self-awareness in the robot in Charlotte Stein's story and allows Mary Ann Rivers's heroine to fall in love with her hero and her own art. Rain causes romance between the college students in Audra North's and Shari Slade's stories, while romance causes rain in Cecilia Tan's myth-inspired tale of a sacrifice to a demi-god. Nine romance novelettes, edited by Sarah Frantz.
ICYMI is a post from my early days of blogging at Yummy Men & KickAss Chicks.   You can see the original review here.    This anthology is no longer available to purchase.
---
This is an anthology of romance novellas. It is on sale for $3.99. All proceeds from this book will be donated to RAINN: The nation's largest anti-sexual violence organization and one of "America's 100 Best Charities" according to Worth magazine. www.rainn.org
I will rate each novella and briefly discuss them. It is hard to say too much without spoiling the story. These are contemporary romances . Many of these are by my absolute, favorite authors and some of their friends so I couldn't NOT read this. It was a must read and for a good cause also.
Redemption by Ruth Knox
Ruthie is one of my must read authors. I enjoy her books and I like her as a person. She has been writing the real, the raw lately. This is in that same vein. As she says in her introduction, it's sad. You feel the characters in her work and they are alive to me.
This story is set in Green Bay, Wisconsin. The economy has been tough. Both Mike and Jessie have lost work and relationships. Their time together is mostly sex without conversation, because it's what they need. And it's all they think they have to give. But maybe what they have together is what is most important.
4 stars
The Heart of It by Molly O' Keefe
This story is different than most romances. A nice guy, somewhat famous author, is struggling to get over childhood sexual abuse. He is working with an exclusive escort service. The emotions this couple traverses are broad and gripping. I enjoyed this story very much. It has such an intimate feel which has nothing to do with sex.
4 stars
Sacrifice by Cecilia Tan
This is not the sort of story I would choose to read typically. Maybe this is why I don't like historicals since women have so few choices. This was beautifully written and thought-provoking. I liked it.
3.5 stars
Real Feelings by Charlotte Stein
I loved this. I wasn't sure about it when I started reading but it was great. I like science and technology and I can be very emotional so this hit all my buttons. I think about relationships and the impact which different connections have. I often look at the intellectual, the emotional and the physical, how they affect the relationship. This story added in the will and consent to those aspects to really get me thinking and feeling..
4 stars
Rainy Season by Mary Ann Rivers
This is another of my favorite, favorite authors. Everything she writes has such a feel to it. Every word touches me and pulls my emotions. I try to figure out how she does it. She notes the smallest things to fill my senses, a drop of sweat on a collarbone, a loose wisp of hair on the neck, a freckle on a shoulder, or a soft exhale on a cheek. The big picture seems left to my imagination, how it is in total and yet I know all of it by emotion. Because it's not the things or the details; it's the feelings.
Her stories are such an experience for me because I live in my head. Her stories make me live in my heart. Every moment is precious, in the present and raw with emotion.
4 stars
The Rain in Spain by Amy Jo Cousine
This was amazing. It was wonderful to look at the perspectives of opposite personalities and how they share a life or how difficult that might be. This is the story of a married couple. The wife is a travel writer who travels most of the time. The husband is an engineer and stays home, focused on his details and plans. This is their "second" honeymoon after a year of marriage.
Two people who are so different and both so wrong about what is happening. It really was fraught with worry, a little frustration, with a fear there would be no hope, that things couldn't work when they were so different, until they broke through with honesty.
4 stars
Fitting In by Audra North
Wow. This was achingly accurate of how we can feel about our differences and even more about how others can make one feel. It's also true when you are alone with a person, it's much easier to accept them as they are rather than the gossip or preconception. I really loved this college age story which looked at these prejudices and the shame people feel.
4 stars
Private Study by Shari Slade
This was a story which highlighted the effects of the Internet on gossip and reputation. I didn't feel it was very realistic and the villain was rather cliché. I liked the main characters and found them authentic though. These are college students. The girl decides to experiment with sex toys as she knows little about them and makes videos and posts them on the Internet. That is crazy scary to me. The guys reactions are predictable and some, not so predictable.
3 stars
Storm Warning by Alexandra Haughton
This last story is about a couple who grew up together, as friends and neighbors. I don't think they dated but they were very close and important to each other emotionally. Amy was hurt by him since Tom didn't like her after college plan. So they have had no contact in five years. She just came home because her plan didn't work out. She isn't even out of the car and he comes over to her house. She is living in her parent's home but they moved elsewhere. I didn't like the way he was so physical in a sexual way with her almost immediately. I mean they hadn't seen each other in five years, even though they had a long history. The story takes place over a few hours which meant it seemed too fast. So it didn't work for me.
2.5 stars
Overall, Summer Rain is an excellent anthology with high quality stories worth reading. They were what I think of as the newest, most real form of contemporary romance. There were sweet and sexy moments but also the raw frustration and perhaps fear from a relationship that may not work. The stories delved into deep seated issues in a caring and realistic way. I felt these stories deeply. This is not fluff where everything is unicorns and rainbows. This is the real deal matching life and love itself, sometimes challenging and yet amazing.
4 stars
Latest posts by Anne - Books of My Heart
(see all)
Related Posts