Review copy was received from Publisher. This does not affect my opinion of the book or the content of my review.
This book may be unsuitable for people under 17 years of age due to its use of sexual content, drug and alcohol use, and/or violence.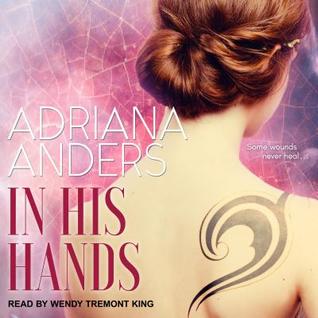 In His Hands
by
Adriana Anders
Narrator:
Wendy Tremont King
Series:
Blank Canvas #3
Published by
Tantor Audio
on August 1, 2017
Genres:
Contemporary Romance
Length:
13 hours, 13 minutes
Format:
Audiobook
Source:
Publisher
Goodreads
Amazon
, 
Audible
, 
Libro.fm





He is Her Salvation

Abby Merkley has been a member of the Church of the Apocalyptic Faith since she was a child, and there's no way out―except death. She will fight the odds to survive, but there's no one in the world she can trust, nowhere she can run that the cult can't find her...until her handsome, brooding neighbor takes her into the safety of his arms.

Luc Stanek craves a quiet life. But he doesn't hesitate when a desperate woman lands, bloodied and branded on his doorstep. Soon he finds himself drawn into her chaotic world, caught in the center of an apocalyptic war...and determined to save the fierce beauty no matter the cost.

This author / narrator combo has grasped me again and won't let go. The classification may be contemporary romance but it feels like romantic suspense. I am in tense limbo the entire time I listen. Or heck, when I am not listening. I keep waiting for the bad guys to be …. bad. My head plays every worst case scenario. In His Hands is especially emotional since there is a cult "church" involved which is a real trigger for me. I dislike people using religious beliefs to be unkind or worse.
I'm enjoying how the narrator has captured the southern dialects, as well as the other characters from various parts of the world who inhabit this small town of Blackwood, Virginia. She gives them distinct voices, adding to their personality, from the story. The pacing and delivery added so much to the characters and my feelings.
Abby's introduction to the "normal" world was such a sweet view. Her reactions to everything were smart and fun. She made sexy times so much sexier with her curiosity and naive wonder. She was smart and so brave, although not protective enough of herself. It was also heart-warming to see characters from previous books. Luc was isolated in so many ways. Abby was a fresh lens to the world for him which he needed. I didn't like the way they weren't exactly open about their feelings and the situation.  Some of their plans were ridiculous. Luck played a big part in their happy ending plus good people having their back. I look forward to seeing what happens next with them, in the background at least, in any future Blank Canvas series books.
Listen to a clip  here.
---
Excerpt
Abby took her glass, her hand brushing Luc's in the process.
It sent a zing of awareness down her arm, reminding her of how little she knew about life out here, about men and women and reality.
About seduction.
Was this man a seducer? No. No, he was too gruff, too straightforward, all matter-of-fact with no frills. She quelled a tremor with a warming sip from her glass, but deep inside, something raw and uncontrollable reared its head, trying hard to burst free.
Another sip, and Abby rolled her head on her neck. She sucked in a deep, shaky breath to relieve the nerves that bubbled up, reveling in the feel of this shirt she had on—big and soft, like the pants, and brazenly open at the back. She'd wear men's clothes all the time, she decided. No starch, lace, or modest undergarments. No struggling with too many buttons and ties.
"How do you feel?" Luc asked, shifting the sofa cushions as he sat down beside her, close enough to feel his warmth. It took Abby a moment to understand he meant her burns and not the cotton rubbing her breasts into achy points.
She blushed and coughed, but her nipples didn't go down.
"Much better, thank you." She lifted the glass and sipped again, glancing sideways at his profile. "This seems to be helping."
He smiled—oh, goodness, he was lovely—and she squeezed her legs together, hard.
"It's been known to do the trick." He turned the glass to the single lamp in the room and eyed its dark glow.
"Would this be different if I were a normal woman?"
He stilled, looking slightly suspicious, before lifting the glass higher and asking, "This?"
She pointed toward him with her wine. "Sitting with me. Having a drink."
After another brief silence, he set down his glass and shifted beside her, suddenly seeming too big for the sofa. "I'm not exactly a normal sort of man."
"I figured as much," she said with a smile of her own. "But what if…what if we'd met in town? At the market, maybe. What would it be like?"
She took another swallow of wine, and it lit her right up. Or maybe that was his interested gaze.
"Strange."
She sputtered, nearly losing half her sip in the process. "Well, thank you very much."
"No, not you. I mean me. I'm not good at being natural."
"Okay. When you meet someone, usually. What's it like? You go out to dinner? To see a movie?"
"Oh. Yes, I suppose so."
"You suppose?"
He opened his big hands, looking almost as clueless as she felt. "Well, not me. I don't go out to dinner."
"What do you do?"
He looked to the side, and she couldn't tell if he was searching for the right answer or sifting through memories. "My encounters with women tend to be more…casual."
"Oh."
She pictured him in loose, low-slung jeans, slouching and shrugging in that way teenagers did. Casual. "What's that like?"
His expelled breath sounded frustrated, and she came dangerously close to letting him off the hook, until he answered. "It's just sex, I mean. No real relationships. Well, I had one, but…" He trailed off, leaving her with nothing.
She wanted much more. Sex? She wanted to know. Instead, she asked, "How did that start? Your one relationship."
Even that word felt funny. Grown-up and modern.
He frowned. "She told me she wanted me. We fuc—" He cleared his throat, which had turned a mottled red, the color disappearing into his neckline. Abby had to see how far down it went. The need was ravenous, pulsing, painful and hot. "We did the…sex."
"Where?" she whispered, picturing a barn or a vineyard—she had a hard time imagining this man anywhere but in the great outdoors.
"Why do you want to know?"
"I…" She couldn't tell him the truth, could she? That she liked him. That she was curious. That she had absolutely no idea how to be normal, but there was this demon inside, stretching her skin painfully taut in its bid to get out. "I want to do it right."
The look he gave her said she was crazy, and yet there was something else in that expression.
"What, with me?"
"Yes. How… How would you touch me? If I were normal?"
"How would I—"
"Start? How would you start?" She barely forced the words out through a throat that was hoarse with embarrassment, not to mention that yearning inside her— coarser and baser than anything she'd felt. This wasn't an emotion, exactly—more of a compulsion. "Where would you put your hands?" the demon goaded.
He looked at them—his hands—where they sat on his knees. Such vital parts of this man's body, cut and scarred and torn apart and missing a piece. They were lived-in and beautiful. Hands that had seen a thing or two, like these softly folded mountains with their low profile and vast knowledge of time. Would they feel that way on her? Experienced? Wise?
Sounding as frayed as she felt, he said, "I told you, I'm not good at speaking." It wasn't until the words sank in that she understood the underlying meaning.
"You're good at"—she swallowed, more brazen than she'd been in all her twenty-two years, because, despite the accusation that put those old scars on her arms, she'd never actually seduced a man before—"doing, though. Is that what you're good at?"
Rating Breakdown
Narration (Audio)
Overall:
Latest posts by Anne - Books of My Heart
(see all)
Reading this book contributed to these challenges:
Anne: 2017 New Release Challenge
Related Posts