Review copy was received from Author. This does not affect my opinion of the book or the content of my review.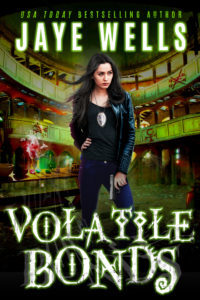 Volatile Bonds
by
Jaye Wells
Series:
Prospero's War #4
on September 12, 2017
Genres:
Urban Fantasy
Pages:
341
Format:
eARC
Source:
Author
Goodreads
Amazon
, 
Audiobook




When the Magic Enforcement Agency is called out to the scene of a dirty magic explosion, a body with a bullet wound is found in the smoldering ruins. As Detective Kate Prospero and her partner, Special Agent Drew Morales, hunt down the killer, they uncover evidence that a dangerous new coven may be operating in the Cauldron.

It's not long before the bodies start piling up, and the heat is on for the team to make an arrest. Solving the murders will require unraveling dangerous alliances between the city's dirty magic covens. And if they're not careful, the new complexities of Morales and Prospero's own partnership threaten to make a volatile situation downright deadly.
I wanted to read a book in this series in preparation for NOLA Storycon last year. I was trying to read at least something by each author. I had already read most of the Sabina Kane series, so I don't know why I decided to read this Prospero's War series, also. But I really enjoyed it, reading them all instead of just one. It was consistently good and I wondered if there would be more. I was lucky enough to get all the rest of the series on audio, which added to my pleasure. I was so excited when I heard about Volatile Bonds!
The world-building is rather fascinating and in urban fantasy where everything builds on the previous story, you need to start at the beginning and read them all. Plus they are all great!  There is magic of different types by different covens, produced by wizards. There is the local police department and the MEA – Magical Enforcement Agency.
Kate has a convoluted background with the covens, the mayor, and even her work at the police department. She is now a detective. She has raised her brother, Danny, since their mother died when she was a teenager and he was six. Kate has struggled with her past, her abilities with magic and raising her brother. She tries to do her best with everything and be a good person. But she's too much fun to be perfect.
The characters are well drawn, from Kate's co-workers, to her family and friends. They feel very real with authentic layers of vulnerabilities and flaws. The relationships develop throughout the series. Her current boss, Gardner, was pretty flat here, with not as much of a role this time. Most of the dialogue was Kate with Danny or her partner, Morales. Without the rest of the books, I would have had a harder time understanding some of the characters whose scenes were brief but important. Her new CI, Sweet Ray was a lovely addition.
With this author, I always ship the wrong guy.  But she told me – maybe not! I am hung up on the mayor, John Volos who has a small but critical part. He was Kate's high school sweetheart which ended badly and they have not been together in any way in any book of the series. Even if they never are, I will always ship them. I enjoy the cases and the action, the character's connections and growth. There has been little romance so far.  But I have hope now for my guy. The author tells me there are three more books planned! Woot!!
Latest posts by Anne - Books of My Heart
(see all)
Reading this book contributed to these challenges:
Anne: 2017 New Release Challenge
Related Posts