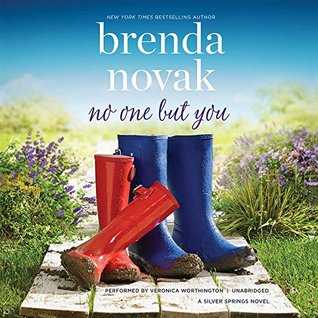 No One But You

by Brenda Novak
Narrator: Veronica Worthington
Series: Silver Springs #2
Published by Harlequin Audio, Blackstone Audiobooks on May 30, 2017
Genres: Contemporary Romance
Length: 10 hours, 41 minutes
Format: Audiobook
Source: Library
Goodreads
Amazon,  Audible






New York Times bestselling author Brenda Novak welcomes you to Silver Springs, a picturesque small town in Southern California where even the hardest hearts can learn to love again... Struggling to make ends meet after a messy divorce, Sadie Harris is at the end of her tether. Her waitressing gig isn't enough to pay the bills let alone secure primary custody of her son, Jayden, a battle she refuses to lose. Desperate, she accepts a position assisting Dawson Reed--the same Dawson Reed who recently stood trial for the murder of his adoptive parents. Joining him at his isolated farm seems risky, but Sadie is out of options.Dawson has given small town Silver Springs plenty of reasons to be wary, but he's innocent of the charges against him. He wants to leave his painful past behind and fix up the family farm so he can finally bring his dependent sister home where she belongs.As Sadie and Dawson's professional relationship grows into something undeniably personal, Sadie realizes there's more to Dawson than the bad boy everyone else sees. He has a good heart, one that might even be worth fighting for
Read It, Rate It and Record   
A short review to update challenges
I am a big fan of Brenda Novak. She writes contemporary romance / romantic suspense with great characters and some plot beyond romance. I was seriously in suspense, constantly worried for Sadie and then also Dawson. In this case, some of the "evil" characters were a bit cliche but at least not completely. Dawson and Sadie had more than ordinary difficulties in their lives, but I loved their compassion and efforts to improve situations for others as well as themselves.
Veronica Worthington did a lovely job with the narration. It kept me in the story and yet still differentiated the people with appropriate accents. Her voice was clear and easy to understand providing comfortable listening. This series is my first listen to her and I will look for her in the future.
This could be read as a stand alone, but I'm willing to bet the whole series is great. It helps me to have the background on the town and some of the other characters. I've already put the next in the Silver Springs series   – Until You Loved Me on hold at the library.
Listen to a clip here:
Rating Breakdown
Plot
Characters
Dialogue
Narration (Audio)
Overall:
I can't really remember any time when I wasn't reading. I LOVE books and what they give me. It's an opportunity to learn new things, see new places,live different emotions in a "safe" way. It lets me live in a new world.
I read all types of books but my favorites are urban fantasy and romantic suspense.I like some romance and some action / adventure / mystery in everything.I like sex in my books but please, only between TWO people.Intimate conversation is equally important to the sex in a book.It lets me see the characters.The other thing I enjoy is humor.
Friend me at Goodreads.
Reading this book contributed to these challenges:
Anne: 2017 Library Love Challenge
Anne: 2017 New Release Challenge
Related Posts