Review copy was received from Publisher. This does not affect my opinion of the book or the content of my review.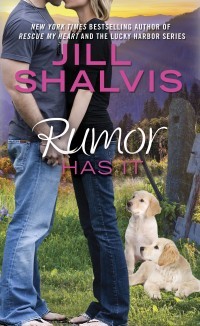 Rumor Has It
by
Jill Shalvis
Series:
Animal Magnetism #4
Published by
Berkley
on November 5, 2013
Genres:
Contemporary Romance
Pages:
304
Format:
Paperback
Source:
Publisher
Goodreads
Amazon
, 
Barnes & Noble






Special Ops soldier Griffin Reid doesn't exactly have happy memories of growing up in Sunshine, Idaho. He's only come back to recover from a war injury, and while he refuses to admit he's in a weakened state, he finds comfort in the last person he'd expect.

Kate Evans teaches fourth grade science in Sunshine, the place she's always called home. Dreaming of graduate school and a happily-ever-after, she's desperate to break out of the monotony of Sunshine. Luckily, a certain sexy man has just come back into her life.

To Griffin, Kate has always been his little sister's friend, but now he's finding her to be so much more. As both attempt to forge their paths, they must decide if their passionate connection can turn into something lasting…
ICYMI is a post from my early days of blogging at Yummy Men & KickAss Chicks.  Rumor Has It was my very first EVER blogging post. The book is one of my all-time favorites, no surprise, as it is by the best of the best, Jill Shalvis.  You can see the original review here.
———-
I love this book so much.
I admit I am totally biased towards Jill Shalvis and love pretty much everything she writes.  However, I do my best to give an honest review and I haven't given ALL her books 5 stars or put them all in my favorites.  But this one really is top notch.
This is the fourth book in Jill Shalvis' Animal Magnetism series.  The first three books were about three foster brothers: Brady, a pilot, Dell, a veterinarian and Adam, a former military man who is now doing search and rescue.  Brady is married to Lilah, who runs an animal shelter, Dell's wife, Jade works with him in the veterinary office and Adam is with Holly who helps run her father's ranch.
This latest book is about Griffin, who is Adam's best friend and also Holly's brother.  This seems a natural path for the series since the last book was about them. Griffin has spent the last 12 years in Special Forces since he left home at 18.  Kate is Holly's best friend and a second grade teacher.   She has also had a crush on Griffin since she was 10.
Griffin comes home to be the best man for Adam. He is struggling with an injury which has him just out of the military which further means he has to decide what he is going to do with his life now.  He seems rather at loose ends, without any real plan.  That's when he runs into Kate, as she's busy taking care of everyone but herself, and lands at his feet.  And he will see her again, at the wedding (she is Holly's maid of honor).
Kate is a science nerd which makes me so happy.   She has an opportunity to go into a master's degree program but can she leave her family who depend on her?  I love her family.  Her dad is struggling with the loss of his wife and with staying sober.  Her sister, Ashley, is a junior in high school and has her own decisions about what to do when she graduates next year.  Her brother, Tommy, is in her second grade class, also a science nerd and a budding superhero.
Holly tells Griffin to steer clear of Kate since he'll be leaving again soon.  That's not what Kate wants, though.   Griffin doesn't know what he wants until he realizes he wants Kate.  It took Griffin longer to figure things out, but he is a man, after all, plus he hasn't had anyone take care of him, pretty much ever.
I love these characters. They are smart, strong, honest, and caring. They were able to hang onto my emotions and haul them everywhere.  Neither Kate nor Griffin has had an easy or perfect life, yet each has a huge heart, almost always putting someone else first.  They have both lost their mothers, which is another bonding point for them.  Best of all, the humor in this book was laugh out loud awesome.  And I was happy to see old friends from the series too.
The discussions Griffin and Kate have are funny, sexy and fill my heart.  They talk about life, and family and sex.  This book is worth reading for these intimate conversations alone, but there is so much more.     Adam and Holly have a beautiful, moving wedding.   Kate is amazing with her second grade class, a problem child, and her family. Griffin learns more about his family and himself.  And to top it all off, the ending chapters are heart melting.
Rumor Has It was an absolute delight to read.  It is a book I will read again, and again.
Giggle-worthy quotes:
She looked down at two quarters and a dime, and then into his face. She'd dreamed of that face. Fantasized about it.  'There are 293 ways to make change for a dollar,' she said before she could bite her tongue. Dammit. She collects Bachelor of Science degrees. She was smart. She was good at her job. She was happy.

And ridiculously male challenged…

Griffin gave a playful tug on an escaped strand of her hair. 'You never disappoint, "he said. "Good to see you again.'"

—–

"'Kate'" he said, his eyes heating as he clearly read her thoughts. 'You have to stop looking at me like that.'

'Why?'

'I'll take advantage of you,' he said, no hesitation.

This caused another tingle. She wouldn't mind him taking advantage of her…..

'We're not going there, Kate.'

'That's not what your kisses say.' And then before he could respond to that, she walked away.
Latest posts by Anne - Books of My Heart
(see all)
Related Posts