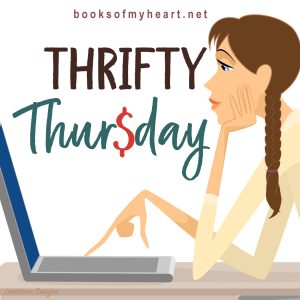 The purpose of Thrifty Thursday is to read a book which was free (at some point).
Kindle freebie on October 20, 2018  (currently $3.99 at Amazon and also in Kindle Unlimited as of writing this post)
Overall rating 4.03 with 39 ratings and 9 reviews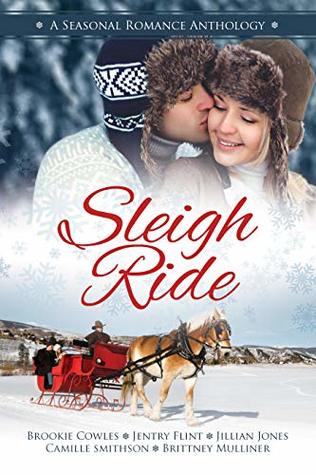 Sleigh Ride
Published by
Indie
on October 9, 2018
Genres:
Contemporary Romance
Pages:
371
Format:
eBook
Source:
Purchased
Goodreads
Amazon




Five authors have contributed brand new stories to A Seasonal Romance Anthology: Sleigh Ride. A collection of contemporary and historical sweet romance novellas brought together by the theme: Sleigh Ride.

FIXING CHRISTMAS: After Kiersten's boyfriend dumps her, she desperately asks Tyler, a car mechanic to be her pretend boyfriend. But the more she learns about Tyler, the more she realizes he's exactly what she wants. If only it weren't pretend.

A CHRISTMAS ENGAGEMENT: When Bram returns from war to find his life turned upside down, he realizes Sophie Tate has been a constant all along. Sophie is sure Bram would never love her, but she'd do anything to prove her love for him, even if it means marrying someone else.

CHRISTMAS AT THE RANCH: When Addison has to face her ex, Bryce, at a wedding, she hires a boyfriend to make the event less miserable. But fate has a funny way of ensuring Addison and Bryce are forced together.

A CHRISTMAS OFFER: When Harlow comes home for Christmas, the last thing she wants is her old crush, Vince, hanging around the house like he's family. But she can't say no when Vince is the one offering to help her make Peppermint bark and see the Christmas lights.

AN ENTICING CHRISTMAS GIFT: Sarah asks Santa for the perfect boyfriend and magically appears in a small shop on the Gold Coast of Australia. Alex seems to be the perfect match for Sarah, if only he didn't hate Christmas with the energy of The Grinch. On top of that, Sarah has to face the reality that her life is in New York City.
Sleigh Ride is a seasonal anthology with 5 stories by 5 authors.  Each story is new and the authors are new to me also. Overall I was pleased with these contemporary romances. The authors did a fine job with the novella length which is not an easy task.
Fixing Christmas by Camille Smithson            4 hearts           
This might be my favorite trope- the fake boyfriend / girlfriend one. The family dynamics were off, which is why Kiersten felt pressured enough to fake things.  There was cute, and funny.
A Christmas Engagement by Jentry Flint         4 hearts
A historical romance of friends to lovers is set in England just after the Revolutionary War.  I actually liked this one quite well.  Sophie and Bram were both strong, smart and kind characters, who haven't had things easy. There is also a bit of humor here.
"Thank you for escorting me home," she said, with her own attempt at a smile, before walking toward her home.

"Sophie," he alled to her. She stopped, looking over her shoulder at him. "Do not ever let me catch you doing something so foolish again," he said, his brows creasing as he leveled a finger at her.

"How convenient for me that you have no say in the matter," she teased, knowing she should have been the proper lady and agreed to his demands.
Christmas at the Ranch by Brookie Cowles       3 hearts
The fake boyfriend as well as the second chance trope where used in this holiday wedding romance.  Addison is going back to her home town for her best friend Rachel's wedding.  Unfortunately, that means facing her ex who is the best man, and her divorced parents.  The relationships overall were a bit off and didn't quite feel right, possibly because there were too many characters to develop them well. I still enjoyed it.
A Christmas Offer by Brittany Mulliner             2 hearts
An old crush, her older brother's best friend,  is not exactly a second chance, maybe more a friends to lovers.  Harlow comes home for the holidays. Vince is everywhere which is annoying because she's attracted to him still but he thinks of her as a kid.  Some honest communication would have been welcome here but made a shorter story.
An Enticing Christmas Gift by Jillian Jones       3.5 hearts
An woman who loves Christmas, works in a Christmas scene in the department store, in addition to her regular job, makes a wish with Santa for a boyfriend with certain characteristics including a love of Christmas.  It's totally unbelievable but I enjoyed the characters and the magic of Christmas.
HoHoHoRAT #15
---
These are only Kindle freebies I get, or ones through author newsletters which anyone can sign up and get for free. I don't include things like Kindle Unlimited or Prime Free Reading (I do have it). Both Tantor and Audible have occasional free audios (to anyone) and I do include those.  Since I one-click on 1-2 freebies a day or probably at least 5 a week, I came up with this feature to make sure I start reading them.
Latest posts by Anne - Books of My Heart
(see all)
Reading this book contributed to these challenges:
2018 New Release Challenge
Related Posts