Review copy was received from Publisher. This does not affect my opinion of the book or the content of my review.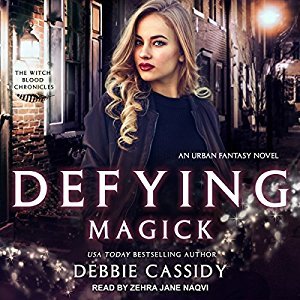 Defying Magick
by
Debbie Cassidy
Narrator:
Zehra Jane Naqvi
Series:
Witch Blood Chronicles #2
Published by
Tantor Audio
on March 13, 2018
Genres:
Urban Fantasy
Length:
5 hours, 44 minutes
Format:
Audiobook
Source:
Publisher
Goodreads
Amazon
, 
Audible
, 
Audiobook





Carmella's obligation to the djinn is over, so why does the world feel a little bleaker? There's barely time to ponder before a horrific massacre leaves her in charge of her first case with the IEPEU. Under the watchful eye of the organisation's top investigator, and with the help of her friends, Carmella must uncover the identity of the supernatural creatures behind the attack and expose the person pulling their strings.

If that wasn't enough, her asura power chooses this case to surge to the surface. Now Carmella must quickly learn to master a force bigger than she could ever have anticipated. Because Carmella is on a hit list, and the person that wants her dead will do anything to uncover her weaknesses, except this time Carmella won't be taken by surprise. This time she's not going down without a fight.
What's a girl to do when she has just found out her Dad isn't who she thought he was, her mom has disappeared with all the answers, a witch coven wants to strip her of her witch magic, some crazy smoke men are after her, the Djinn who was inside her body is totally gone and a Demi-God is convinced you are his Mate.  Time to break out the Tequila and kick some butt.
I love Urban Fantasy (UF), modern day world with magic and supernatural stuff of all kinds.  What is not to like. So I love it when I stumble into a UF world where I want to spend some time.  The Witch Blood Chronicles are a continuation in the same world as Debbie Cassidy's The Gatekeeper Chronicles.  I haven't read them yet but I will.
This was a great addition to Binding Magick, Carmella is back in action exploring her Asura (god blood) powers and learning what the little kernel of power she feels inside really is.  There isn't much down time in this series with each book coming in around 250 pages, we need to hit the ground running and keep going until the end.
I'm generally not a fan of love triangles for a few reasons.  I hate it when my guy doesn't win in the end and it seems like 4 out of 5 times I totally pick the wrong guy.  Also I usually have a hard time jumping ship once I have one. But…..I'm totally jumping ship this time. Paimon is the Djinn betrothed to another for a political alliance on his world and I was so on board last book with the forbidden romance.  However, Vritra the Demi-God who is also trying to teach Carmella about her Asura power is just yummy. After the events and reveals of Defying Magick, I'm totally on board with a Carmella/Vritra happy ending for sure. Paimon who???
Still the nice thing about this series is that even though Carmella is lusting after a few hot men here and there, there is also a lot of action.  She is still looking for the lost souls of the Djinn who were taken in the prior book and trying to discover who took them and why. I was a little surprised to find out the culprit but liked the direction the story took with all the bad guys.  Don't worry, just because one mystery is solved doesn't mean anything, there are a few others introduced and Carmella is at the center of them all.
So far this is a fun and intriguing series. I'm really excited to see what Carmella does with the new information she received in this book and I'm invested not only in resolution for the action plot lines but also to who will be her HEA.
Audio Note:  I like the voice of Carmella and the audio performance for all of the characters in done well.  I'm enjoying the accents and even with the introduction of new characters the narrator made each sound like individuals.
Listen to a clip here.
Rating Breakdown
Plot
Writing
Characters
Narration (Audio)
Overall:
Related Posts