Review copy was received from Author. This does not affect my opinion of the book or the content of my review.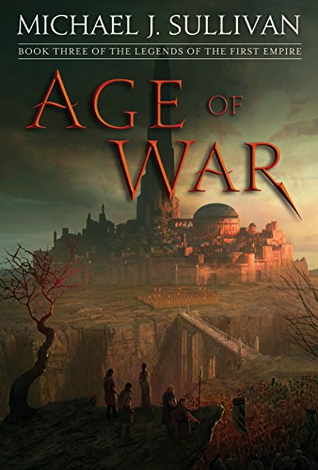 Age of War
by
Michael J. Sullivan
Series:
Legends of the First Empire #3
Published by
Del Rey Books
on July 3, 2018
Genres:
Fantasy
Pages:
432
Format:
eBook
Source:
Author
Goodreads
Amazon
, 
Audible
, 
Audiobook
, 
Barnes & Noble






In AGE OF WAR, the battle between humankind and the cruel, god-like beings who once ruled them finally ignites. And it will be up to Persephone--the first woman to lead her tribe--to become the hero that the world needs.
The tears are still in my eyes when I think of this book.  Dang you Michael J. Sullivan, dang you. Age of War encompasses all the emotions one would feel during a war.  Not everyone makes it through battles and some sacrifices are as beautiful as they are heartbreaking.
This is a wonderful continuation to the story. It shows how incredibly invested I am in the characters, that even though I finished this weeks ago, every time I think about it I'm taken back to the emotional moments, good and bad. and feel all the feels all over again.
First, I think the important thing to remember is it is not the end of the Legends of the First Empire series.  There are some very big moments and it is an end to one of the major ARCs for the first battles of the war between the Fey and humans.  But it is not the end of the line for many of the characters that made it to the end.
Suri is by far one of my favorite characters of the series and she has come a long way from the mystic child she was in Age of Myth.  After the sacrifices made in Age of Swords, she is a little bit harder and she has lost some of the innocence she used to carry with her.  But as a character in this series, she is still my favorite. Her journey is a harder one as she will be the one that needs to carry on after friends have been lost to her.
There are a few romantic couplings and none of them have a conventional or easy time of it.  Roan and Gifford is my favorite pairing. They are both broken in some way. Roan is broken on the inside, after years of being a slave and Gifford is broken on the outside, but the most patient and kind man in the story.  I love the friendship and more that is between them even if Roan isn't sure how to express it at times. I really liked how Gifford played into the prophecy from when he was born. It was very well executed.
Persephone and Raithe.  Well if like me, you have already read the Riyria series, you know who Persephone is supposed to end up with.  I was really hoping for a twist to the story that showed how the legends got it wrong. These two put me through the ringer and while I won't say how it worked out, I will say  I'm still emotional weeks later while writing this.
Tesh…I love that kid and it seems he has found another to love as well.  Tesh was the biggest surprise for me in this book. Again I know his legend from the Riyria series but to see how the legends got started was amazing.  I also enjoyed the little crush happening between him and a certain scribe.
As for Malcolm, Nephron and the others, well their stories are all interesting and complex too. I will say I haven't decided if any of them are good or bad but the twist surrounding Nyphron was huge to me and I'm still trying to get my mind around the implications of it.  I also am still uncertain about that mischievous Malcom. It was interesting delve into his origins and get some of his story but even after that, I still have no idea if he is on team good or team bad or a team I don't even know about.  
There are at least three more books coming and I'm eager to learn what more the ravages of a war between the humans and the Fey will bring.
Suri was surrounded by people, yet not a part of them. She was the daisy among the daffodils, the fly in the goat's milk, the butterfly in the army.

"What's it mean? What Sebek called Tesh?"

"Techylor?" Malcolm said. "It means swift of hand, or just swifthand, I suppose."

"Great. The kid's going to be impossible to live with now," Raithe grumbled.

Malcolm nodded. "Probably, but you ought to consider yourself fortunate. Next to Nyphron, you've got the best Shield in Alon Rhist."

Raithe frowned. "Apparently, I'm second best to Nyphron in a number of things."

Accept that you're going to get hurt, that you're going to die; embrace it, and you'll find the freedom to live. This was one of the many ridiculous things his father had told him that sounded less stupid every day.
Related Posts