Review copy was received from Publisher. This does not affect my opinion of the book or the content of my review.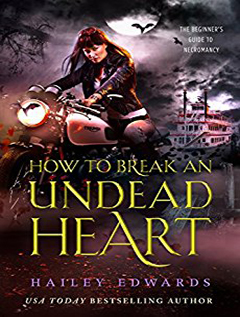 How to Break an Undead Heart
by
Hailey Edwards
Narrator:
Rebecca Mitchell
Series:
Beginner's Guide to Necromancy #3
Published by
Tantor Audio
on September 11, 2018
Genres:
Urban Fantasy
Length:
10 hours, 1 minutes
Format:
Audiobook
Source:
Publisher
Goodreads
Amazon
, 
Audible
, 
Libro.fm





Grier finally has the one thing she's always wanted: Boaz Pritchard. Too bad her dream boyfriend is keeping her up nights, just not in a sweaty or fun way. Boaz has dialed down the Southern charm and stopped returning her calls. His job forces him to keep secrets, but his radio silence is cranking up her suspicions. He's a shameless flirt, but he's her shameless flirt…right?

Soon an attack on Woolworth House leaves her with bigger problems than he loves me, he loves me not. Vampires are on the prowl, and they aren't the only predators circling. A new threat has emerged, one with blood rights to Grier. With enemies closing in on all sides, she must choose her allies, and the decision could make or break her…and her heart.
I have really enjoyed every book in the Beginner's Guide to Necromancy series , and have been fortunate to listen to them all on audio.  They are all on Kindle Unlimited including the next after How to Break an Undead Heart.  So this review WILL contain spoilers, as I can't review it without some for the earlier books and my feelings about them.
At the beginning, my mind was occupied with the world-building and learning about Grier. Since she had been imprisoned for 5 years, she was struggling with financial issues and grappling with the changes in the world and the people she knew.   Her closest friends are her neighbors, Amelie and Boaz.  She has had a lingering crush on Boaz.
In How to Claim an Undead Soul,  things really took off with the mystery and Grier's learning. She has some time with Boaz and they decide to give things a try.  I did not enjoy Boaz or the banter with him. Linus joins her life to teach her. She has known him since childhood, as a sort of a cousin.  He is kind and helpful, and I was crushing on him.  But with all the betrayals and unknowns, neither Grier or I know if we can trust him.  Then she is betrayed by Amelie.
I was so excited for How to Break an Undead Heart and I LOVE the cover.  Amelie and Boaz are kind of on the periphery and Grier spends most of her time with Linus. I was in terrified suspense Linus would betray her, even as we learn more about him.  He is, after all, a spy for his mother.  But he continues to protect, train, and show the most consideration imaginable for Grier's feelings and needs. Swoon.
Grier and Linus take a trip to Atlanta for a long weekend, to research something which happened when Woolly was attacked. She is excited to go see the college she always wanted to attend, and see more of Linus' home and life. The bad guys come from every direction to attack. I loved this book for giving her a chance to explore her feelings and possibilities with Linus. This was exactly what I wanted her to do.
I won't spoil the story, but we do learn more about Grier's past, her mother's family,  Linus, Amelie, and Boaz.  I want to pick up How to Dance an Undead Waltz, now, tonight and read it even though I have the audio coming.  It's just getting better and better, and this was brilliant.
Narration:
I continue to enjoy Rebecca Mitchell as Grier and also as Linus.  The other characters aren't as important to me, so other than Oscar, I didn't notice them so much.  I listened at my usual 1.25x speed.  I'm still surprised there isn't more of a southern drawl in Georgia, but the world IS global now so it's not unrealistic.  I loved this one and couldn't stop listening.
Listen to a clip:

Rating Breakdown
Plot
Characters
Dialogue
Narration (Audio)
Overall:
Latest posts by Anne - Books of My Heart
(see all)
Reading this book contributed to these challenges:
2018 Audiobook Challenge
2018 New Release Challenge
Related Posts