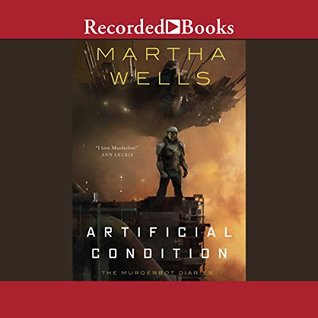 Artificial Condition
by
Martha Wells
Narrator:
Kevin Free
Series:
Murderbot Diaries #2
Published by
Recorded Books
on May 8, 2018
Genres:
Science Fiction
Length:
3 hours, 23 minutes
Format:
Audiobook
Source:
Purchased
Goodreads
Amazon
, 
Audible
, 
Audiobook
, 
Barnes & Noble






Artificial Condition continues The Murderbot Diaries, a science fiction series that tackles questions of the ethics of sentient robotics. It appeals to fans of Westworld, Ex Machina, Ann Leckie's Imperial Raadch series, or Iain M. Banks' Culture novels. The main character is a deadly security droid that has bucked its restrictive programming and is balanced between contemplative self-discovery and an idle instinct to kill all humans. "As a heartless killing machine, I was a complete failure."

It has a dark past - one in which a number of humans were killed. A past that caused it to christen itself "Murderbot." But it has only vague memories of the massacre that spawned that title, and it wants to know more.

Teaming up with a Research Transport vessel named ART (you don't want to know what the "A" stands for), Murderbot heads to the mining facility where it went rogue.

What it discovers will forever change the way it thinks.
This  Murderbot Diaries series  is just the most fun. "Murderbot" as it calls itself, is logical which is hilarious as its unfiltered thoughts.   In this novella, Artificial Condition, it goes to figure out what happened when it went rogue, since its memory was scrubbed.  The records of the event and even the place it occurred have been deleted.
I can't say too much; I don't want to spoil this short story. To get to the place where it happened, it needs a contract. So it takes a contract as a security consultant. In doing so, it gets another round of humans who aren't always logical. Actually, they are not at all logical. The humans are going to a meeting to get their research which was taken from them when their contract ended, which is not typical.
" I was only 97% certain this meeting was a trap.  ~ Murderbot"
Murderbot is an irresistible delight to humans, including me. I can't wait to read and review Rogue Protocol which releases on August 7. It is about double the length of the first two novellas and more a full length book.
Narration:
I continue to love the way this narrator voices Murderbot and its humans. He gave it a straightforward style with lack of emotion one would expect for a droid but the words contradict this at times. The witty thoughts and comments are executed with  great timing. I enjoyed it immensely.  I'm going with the whole series on audio.  I listened at my usual 1.25 speed and LOVED it.
Listen to a clip:

Rating Breakdown
Plot
Writing
Characters
Narration (Audio)
Overall:
Latest posts by Anne - Books of My Heart
(see all)
Reading this book contributed to these challenges:
2018 Audiobook Challenge
2018 New Release Challenge
COYER BSBB
Related Posts