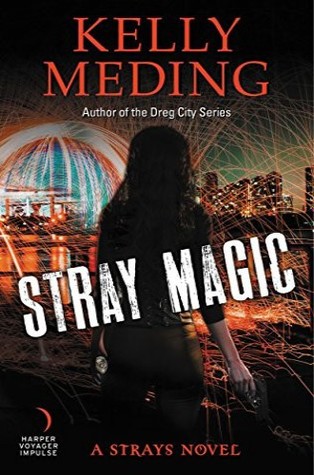 Stray Magic

by Kelly Meding
Series: Strays #1
Published by Harper Voyager on June 19, 2018
Genres: Urban Fantasy
Pages: 300
Format: eBook
Source: Library
Goodreads
Amazon,  Audible,  Audiobook,  Barnes & Noble






Shiloh Harrison was hoping for a few days off to recover from a particularly nasty assignment, preferably with the help of the talented hands (and, well, the rest of his body too) of her sexy boyfriend, Vincent. But when a group of vampires takes an entire trailer park hostage, there's nothing to do but make her apologies and get to the scene.

Such is the life of a Federal Marshal in the Paranormal Investigators Unit.

Yet this isn't like her typical track-and-nab case: something is going on that has vampires scared, and it takes all her strength not to imagine what could frighten such powerful creatures. Unfortunately, she doesn't have that option. Her boss is MIA, someone is snatching vampires, and there's a ticking clock that can only end one way: a bloodbath.

Unless she can stop it
Read It, Rate It and Record   
A short review to update challenges
I've know about this author for awhile and liked one of her books I read.  I bought the second book but haven't managed it yet.  Her primary series I haven't read yet either.  But I was excited to try this new Strays series .
Stray Magic is urban fantasy although it feels a little scifi. I guess it is because the world-building is unusual. The supernaturals are not the typical ones and even the typical ones are not … typical. I like different.
Shiloh is a paranormal investigator part of a team. The head of the team is missing, so she has to run this operation. The action is fast-paced and the hits just keep coming. I had a tiny bit of the first in the series overwhelming feeling. Now the primary characters are introduced and  I look forward to more cases with future books.  I definitely plan to read Stray Moon planned for February.
I can't really remember any time when I wasn't reading. I LOVE books and what they give me. It's an opportunity to learn new things, see new places,live different emotions in a "safe" way. It lets me live in a new world.
I read all types of books but my favorites are urban fantasy and romantic suspense.I like some romance and some action / adventure / mystery in everything.I like sex in my books but please, only between TWO people.Intimate conversation is equally important to the sex in a book.It lets me see the characters.The other thing I enjoy is humor.
Friend me at Goodreads.
Reading this book contributed to these challenges:
2018 Library-Love Challenge
2018 New Release Challenge
Related Posts