Review copy was received from Publisher. This does not affect my opinion of the book or the content of my review.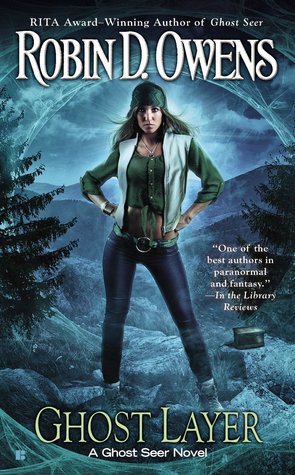 Ghost Layer
by
Robin D. Owens
Series:
Ghost Seer #2
Published by
Berkley
on September 2, 2014
Genres:
Urban Fantasy
Pages:
320
Format:
ARC
Source:
Publisher
Goodreads
Amazon
, 
Audible
, 
Audiobook
, 
Barnes & Noble






Clare Cermak's adjusting to a new man in her life—and a lot of ghosts. The passing of Clare's aunt gave way to a sizeable inheritance of not only money, but also the ability to communicate with the dead. At the same time, she met Zach Slade, a private detective with a rough past, and just like Clare, he's not yet ready to accept her gift—or his own.

But Clare has another matter to look into. A multimillionaire needs her help after relocating an old ghost town to his mountain estate. The bones of a murdered prospector are making nightly appearances in his guests' beds. When the gold miner's ghost contacts Clare, she promises to help find the name of his killer—but someone doesn't want the past revealed and might find her first…
ICYMI is a post from my early days of blogging at Yummy Men & KickAss Chicks.   You can see the original review here.
---
Ghost Layer is the second book in the Ghost Seer series  by Robin D. Owens. I loved the first book, Ghost Seer.
I have to tell you a funny story about it. I got a package from UPS in May and wasn't sure what it was. I hadn't ordered or requested anything. I opened it and it was an ARC of Ghost Layer. I screamed with joy and danced around. I'm sure my neighbors heard me, probably Julie heard me in Canada. My daughter's reaction, "It must be a book."
Ghost Seer, the first book in the series, was a bit insta-love for some people but it felt right to me. Both Zach and Clare were going through some issues and changes which made them fit each other. I think you really need to read the first book before this one, both because it is amazing and it makes it easier to understand their relationship.
In Ghost Layer, they continue this journey. Their new professions and lives remain intertwined. And I LOVE that. It is the sort of thing I want to see in urban fantasy, where a couple is together and works together on their mystery or problems. I don't get it very much and so I have to praise it when I do.
Some people will find their characters unrealistic. And I say – it is RARE when both of the people in the couple are honest about their feelings to themselves and mostly honest, to the other person. They have some struggles here, mostly Zach, who won't admit he has any gift, much less talk about it. Clare doesn't like her new work, finds people aren't as respectful or even believe in her, as they did for her accounting work. Zach has accepted his new work now, and those aspects, where Clare is just starting her new work. Clare has been more open about her gift, fully accepting it even if others don't. She sees and talks to ghosts, dead people. Since they have each accepted different things, it gives them a basis to understand and help each other.
The ghost and mystery are interesting. I think the history of the old west is fascinating. It relates to the period of ghost which Clare can see. (She only see ghosts from that time period.)
Clare learns more about her gift which I enjoyed. That's more world-building. And she gets closer to Enzo, working better with him, and caring about him. Enzo is her ghost dog, a Labrador. Zach also becomes able to see and hear Enzo without Clare, using his skills even if he doesn't admit to them.
I love that Ghost Layer focuses as much on the romance as the mystery. The relationship is front and center all the time, which is unusual in an urban fantasy series. It makes it unique to me. In reality, people aren't focused solely on their work; they care about people as much or more than their job. Zach and Clare both grow, professionally and personally, which I also love. And I am ecstatic that they are both so smart, honest and caring. I highly recommend this series for the romance, the old west setting and the different than usual style.
Giggle worthy quote –
"She looked down at the doggy spirit, slid her gaze toward the arrogant Mr. Dennis Laurentine with all his expectations and no belief in ghosts or her. Perhaps she could show him something. With a gesture, she asked Enzo to sit and shake. He sat and offered his paw and she took the icy paw in hers, gave it a good squeeze. When she initiated contact with ghosts, and she always had to do that to help them, she experienced their frigid selves with cold sleeting through nerves and muscles to settle in her bones. The experience was always worse than if the ghost touched her.

She let go of Enzo's paw and saw Mr. Laurentine and Zach watching her, the other two men, Rickman and Rossi, ostentatiously looking elsewhere. Chin high, she strode over to Mr. Laurentine, and began to take the card, making sure her cold, cold fingers brushed his. His hand jerked and the card fell.

And Enzo lifted it to her fingers,

'I didn't see that,' Rickman muttered.

'I didn't either,' Rossi said."
Latest posts by Anne - Books of My Heart
(see all)
Related Posts