Review copy was received from NetGalley. This does not affect my opinion of the book or the content of my review.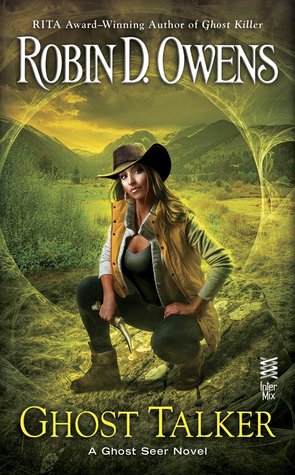 Ghost Talker
by
Robin D. Owens
Series:
Ghost Seer #4
Published by
Inter Mix
on February 16th 2016
Format:
eARC
Source:
NetGalley
Goodreads
Amazon





In the latest from the author of Ghost Killer, Clare Cermak and Zach Slade adjust to living as psychics—and a couple—as they encounter vengeful souls...

An angry poltergeist is stirring up trouble at Buffalo Bill's grave, and Clare and Zach have been hired to investigate. Assisting them on the case as usual is their ghost dog Enzo, but they're also aided by the restless ghost of Bill's friend, Texas Jack. Meanwhile, the most well-known psychic in Denver is angered by Clare's involvement in the case and will do whatever it takes to stop her.

Of course, facing threats both living and undead are nothing new for Clare and Zach. Their relationship has weathered many storms. But there is a growing danger inside of Clare that could tear them both apart...
I LOVED the beginning of the Ghost Seer series because the couple got together and stayed together, working TOGETHER.  The romance between Claire and Zach has never been in question.  The relationship and the effort involved in caring for each other, is part of their everyday.
Claire and Zach each have their own issues and problems.  BUT they supported each other.  So with their struggles over the major career changes, housing and now the relationship, they still helped each other grow as people.  I like that.  Each of them pushed the other, just a little, to face issues and be more, providing constant acceptance whatever the choices.
The touches of the Old West history are fun, although this is fiction. It is an interesting story without so much detail as to be tedious.  The case was better this time, more organized. Claire and Zach each contributed with their personal strengths and gifts.  Enzo wasn't quite as silly as I recall.  The couple learns more about their psychic skills and makes some new friends.
All in all, I enjoyed Ghost Talker.   The series feels equal part romance with urban fantasy.  So if you like more romance in your urban fantasy, this would be a series for you.
Previous books in the series:
Latest posts by Anne - Books of My Heart
(see all)
Related Posts