Review copy was received from NetGalley. This does not affect my opinion of the book or the content of my review.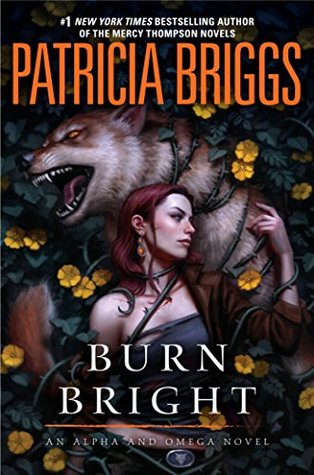 Burn Bright
by
Patricia Briggs
Series:
Alpha and Omega #5
,
Mercy Thompson #15
Published by
Ace
on March 6, 2018
Genres:
Urban Fantasy
Pages:
336
Format:
eARC
Source:
NetGalley
Goodreads
Amazon
, 
Barnes & Noble





Mated werewolves Charles Cornick and Anna Latham face a threat like no other--one that lurks too close to home...

They are the wild and the broken. The werewolves too damaged to live safely among their own kind. For their own good, they have been exiled to the outskirts of Aspen Creek, Montana. Close enough to the Marrok's pack to have its support; far enough away to not cause any harm.

With their Alpha out of the country, Charles and Anna are on call when an SOS comes in from the fae mate of one such wildling. Heading into the mountainous wilderness, they interrupt the abduction of the wolf--but can't stop blood from being shed. Now Charles and Anna must use their skills--his as enforcer, hers as peacemaker--to track down the attackers, reopening a painful chapter in the past that springs from the darkest magic of the witchborn...
I might like this Alpha & Omega series even more than the Mercy series.  I've been excited about Burn Bright for longer than most books. I got to meet Patricia Briggs at DragonCon last September and see the gorgeous cover. Even me, who doesn't pay much attention to covers, loves this cover so much. She read a short story about Asil, and wow, it gave me new insight into his character and this world overall.
The characters, the world building, and plot are all just WOW. It is jam-packed with information for both series, which is partly why I read the eARC and then listened to the audio. There is the continued growth of Charles and Anna's relationship. Anna learns more about being an Omega wolf.  We learn a great deal about the "wildlings" and their histories. There is traitor, armed with witchcraft, who attacks.
In addition, I was thrilled to learn more about Bran and his history with Mercy. It's sort of mind-blowing. There is more character development of Leah. It feels like I knew very little about her previously. I wasn't sure I liked her before.
Everything about Burn Bright was awesome. The plot had so much depth and growth of characters. There was plenty of action and mystery to keep one entertained. And there was even some humor. This will definitely be one of my favorite books this year. Highly Recommended.
Giggle-worthy quotes:
She narrowed her eyes. What would Gibbs do? She might have a minor addiction to a certain police-procedural TV show.
"The oldest set were simply disabled, the power destroyed with a surgical blow."

"Zap," said Tag, popping his lips.

"The second bunch were damaged a little more severely," Charles said.

"Double-zap," said Tag.

"That is not a technical term, I hope," murmured Asil.

"Only the most technically advanced people can use 'double-zap' correctly," Anna told Asil sotto voice. "You and I shouldn't try it."

"By the third wave," Tag said, "Jonesy was insulted. He was a chess player – and these idiots had used the same gambit three times in a row and expected different results. Thus the third wave of tech is not just zap or double zap but truly borked."
Review copy was received from Publisher. This does not affect my opinion of the book or the content of my review.
Burn Bright
by
Patricia Briggs
Narrator:
Holter Graham
Published by
Penguin Audio
Length:
9 hours, 47 minutes
Format:
Audiobook
Source:
Publisher
Goodreads
Audible





I confess I would love to have Patricia Briggs narrate her books, except it is more important to have her write them. I am collecting (buying)  this series on audio, so obviously I like Holter Graham.  He makes listening easy and comfortable, to stay in the story.  I feel he does a good job with the different voices for characters and even some accents where appropriate.  The pace was nice, not too fast or too slow, so I kept it at 1x speed.
Rating Breakdown
Plot
Writing
Characters
Narration (Audio)
Overall:
Latest posts by Anne - Books of My Heart
(see all)
Reading this book contributed to these challenges:
2018 Audiobook Challenge
2018 New Release Challenge
COYER Winter Switch
Related Posts