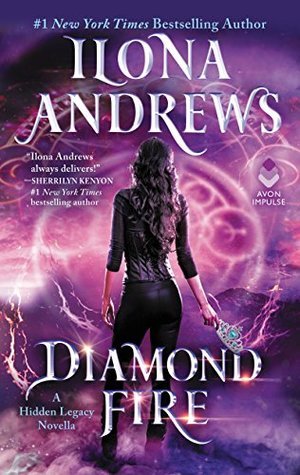 Diamond Fire
by
Ilona Andrews
Series:
Hidden Legacy #3.5
Published by
Avon
,
HarperAudio
on November 6, 2018
Genres:
Urban Fantasy
Pages:
188
Length:
3 hours, 56 minutes
Format:
eBook
Source:
Purchased
Goodreads
Amazon
, 
Audible
, 
Audiobook
, 
Barnes & Noble





Catalina Baylor is looking forward to wearing her maid of honor dress and watching her older sister walk down the aisle. Then the wedding planner gets escorted off the premises, the bride's priceless tiara disappears, and Rogan's extensive family overruns his mother's home. Someone is cheating, someone is lying, and someone is plotting murder.

To make this wedding happen, Catalina will have to do the thing she fears most: use her magic. But she's a Baylor and there's nothing she wouldn't do for her sister's happiness. Nevada will have her fairy tale wedding, even if Catalina has to tear the mansion apart brick by brick to get it done.
These are my favorite authors and I am so excited this series is continuing. I preordered this on Kindle and audio, as I have done for the entire Hidden Legacy series.  I read this but have not listened yet.  I have one complaint – it's too short! The truth is I would never complain; I'm so thrilled to have another story.
Diamond Fire is a transition between the Nevada / Rogan books and the new ones which will feature Catalina.  While the story is about Nevada's wedding, the point of view is Catalina's.  In addition to the wedding, we are getting Catalina's thought process now she has graduated high school and her plans for her life. We learn about her talent and what she knows and doesn't. There are plenty of layers to keep things interesting.
The plot and dialogue are smart and funny, which is normal for Ilona Andrews. I practically purr with anticipation and joy when I sit down with one of their books. Reading this was a brilliant moment in a hectic time of my life. Catalina's story will be a trilogy with one book each year starting in 2019. I can hardly wait!
Mrs. Rogan wanted to know if there was any progress on finding Sealight. There wasn't, so I told her we were working on it. Rogan wanted to know if I was okay. I wasn't, so I told him I was fine.
"I found out some things about your family which you probably should know. They're unpleasant."

"I've known that for years."

"No, I meant the things I found out were unpleasant."

Catalina and Rogan
I can't really remember any time when I wasn't reading. I LOVE books and what they give me. It's an opportunity to learn new things, see new places,live different emotions in a "safe" way. It lets me live in a new world.
I read all types of books but my favorites are urban fantasy and romantic suspense.I like some romance and some action / adventure / mystery in everything.I like sex in my books but please, only between TWO people.Intimate conversation is equally important to the sex in a book.It lets me see the characters.The other thing I enjoy is humor.
Friend me at Goodreads.
Latest posts by Anne - Books of My Heart (see all)
Reading this book contributed to these challenges:
2018 New Release Challenge
Related Posts