Review copy was received from Publicity team. This does not affect my opinion of the book or the content of my review.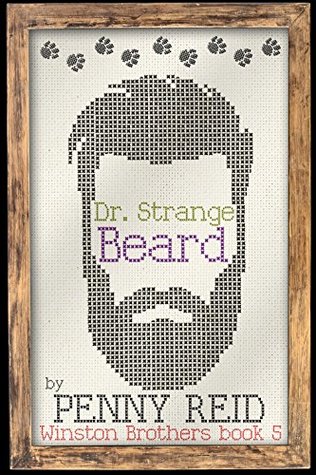 Dr. Strange Beard
by
Penny Reid
Series:
Winston Brothers #5
Published by
Self-Published
on July 30, 2018
Genres:
Contemporary Romance
Pages:
350
Format:
eARC
Source:
Publicity team
Goodreads
Amazon
, 
Barnes & Noble
, 
Apple





Ten years after Simone Payton broke his heart, all Roscoe Winston wants is a doughnut. He'd also like to forget her entirely, but that's never going to happen. Roscoe remembers everything—every look, every word, every single unrequited second—and the last thing he needs is another memory of Simone.

Unfortunately, after one chance encounter, Simone keeps popping up everywhere he happens to be . . .

Ten years after Roscoe Winston dropped out of her life, all Simone Payton wants is to exploit him. She'd also like some answers from her former best friend about why he ghosted her, but if she never gets those answers, that's a-okay. Simone let go of the past a long time ago. Seriously, she has. She totally, totally has. She is definitely not still thinking about Roscoe. Nope. She's more than happy to forget he exists.

But first, she needs just one teeny-tiny favor . . .
There are so many things to love about Penny Reid's Winston Brothers series. Each book is a gateway into the heart and mind of another sibling and their love interest. Dr. Strange Beard has chapters alternating between Roscoe and Simone.  Before now, we don't know much at all about either character.
Another hallmark of this author is to create uncommon individuals with defining characteristics. Roscoe has an interesting memory. All of these couples are strong, smart and caring.  There is a romantic suspense feeling with Simone being undercover FBI and working on the motorcycle gang. These are not good guys and we already knew this. It doesn't have the hurry up romance feel since they, Roscoe and Simone, have known each other, been best friends even, for most of their childhoods.
The setting is about 5 years forward from Beard in Mind. It's interesting and comforting to check in with all the earlier couples. Jethro and Sienna, Ashley and Drew have children. Duane and Jess have a baby on the way. I'd feel badly we missed those years with these special people except it sounds like we will get some of those stories in the Cletus & Jenn mysteries later.
The biggest mystery for me was Billy. We see him now in politics, still in management at the Payton Mill, still taking care of his siblings, and engaged to Dani Payton?  The next round is Beard with Me, which is Claire's book, and Beard Necessities which is finally Billy.  They are both planned for 2019 and I'm certain they will rip my heart out and stomp on it.   This amazing series of unique characters is not to be missed.
Excerpt:
"Simone, this is not one of our adventures from when we were kids. This is not finding Blithe Tanner's cat. These men are murderers, drug dealers, thieves."

"I know." Boy oh boy, did I know. I didn't want to be here anymore than he did. I was frightened. Yet allowing Roscoe to be taken on his own hadn't been an option. "I can handle myself, and I can provide backup for you, if you need it."

Roscoe gripped my shoulders. "Nothing can happen to you, do you understand?" His words were emphatic, his gaze disoriented, desolate, frantic. "If anything happens to you, I'll . . ." He swallowed, apparently unable to finish the sentence.

My heart twisted to see him like this. I wished there were some way to show him what I could do, what I was capable of, so he would stop seeing me as a liability.

Well, why can't you?

"Huh."

Now there was a thought.

Stepping out of his grip, I walked backward to the other side of the room and took a deep breath. "Okay. Come at me."

He blinked. "What?"

"I want you to come at me."

"Simone," he seethed.

"Come at me, bro." I did that little movement with my fingers, my palm turned upwards. "Come at me or I'll start singing again."

"I'm not doing this."

"Fine."Frustrating. "I'll come at you."

He stood there, features set, looking raw.

Moving quickly forward, staying light on my feet, I faked right and then went left, hooking him behind the back of his leg, catching his arm to twist behind his back, and sending him to the ground—face-first—with a thud.

I winced as he grunted, my knee at the base of his spine, his arm restrained behind his back. "Sorry! But you wouldn't listen to me." Leaning forward, I whispered in his ear, "Are you okay? Did I hurt you?"

Roscoe's back and shoulders rose and fell with an expansive breath, like he was about to respond, but in the next moment he'd spun his legs to the right, leveraged my knee on his back to throw me off-balance, and slipped his wrist from my hold.

In my defense, my grip had been lax as I was purposefully trying not to injure him.

The next thing I knew, Roscoe had me pinned to the ground, air knocked out of me, him hovering above, and my gun digging into my ribs beneath my shirt. He'd been careful to subdue my legs, likely so he wouldn't end up with a bruised ballsack.

His stare more probing than angry—which I took as a good sign—he said, "I didn't teach you that. Where'd you learn that?"

Even though I was still coughing, I smiled and rasped, "Since college, take judo."

He nodded faintly, his eyes moving between mine, looking concerned. "Are you okay? Did I hurt you?"

"No." Endeavoring to catch my breath, I said, "I took it easy on you because I didn't want to hurt you either, but I'm an asset, not a liability."

"You're definitely an asset." Roscoe frowned, his gaze dropping to my mouth. "And a distraction," he said, his voice rough.

"I'm a distraction?" I asked, my words still breathy.

I bucked, but he held me fast.

"Yes. . ." His stare turned inward. "You are most definitely a distraction."

Even though I'd had plenty of time to recover and we'd been holding still for close to a minute, I was still breathing hard. This might have been because of my lingering irritation. Or, maybe it was because the length of Roscoe's lean body was lying on mine. He held my hands on either side of my head, our faces even, his mouth just inches away.

Was it insane that I hoped he kissed me?

Yes?

No?

Let's go with no.

He gave me his eyes again and I saw something there, a battle. He looked undecided, at war with himself, straining against something I couldn't see.

"Roscoe?" I whispered.

Roscoe closed his eyes, and I thought he was going to let me go, but in the next second his lips descended, capturing my mouth in a tender kiss.

I moaned.

I kissed him back.

That's what one does when Roscoe Winston kisses one. Moan and kiss. Repeat. Because not doing so would be a travesty.

His hold on my hands slacked, his fingers seeking and threading with mine. He settled his hips between my legs, his form relaxing. The weight of him was different now, warmer somehow. At least I felt warm. I also felt cherished as his tongue sought mine, again tenderly, stroking, causing my abdomen to twist and tighten into delicious knots.

He broke the kiss and a protest died on my lips as his mouth trailed down my jaw to the sensitive skin of my neck, sucking, licking, savoring me. What had felt warm and cherishing heated, and my hips tilted reflexively as he nibbled on my ear, cradling his rapidly growing erection.

We both gasped as his hips rocked in an answering yet inelegant movement. It felt perfect and essential in the moment.

"Oh God." His hot breath spilled against my jaw, a ragged sigh. "What are we doing?"

"I don't know, but don't stop."
Giveaway:
Latest posts by Anne - Books of My Heart
(see all)
Reading this book contributed to these challenges:
2018 New Release Challenge
COYER BSBB
Related Posts