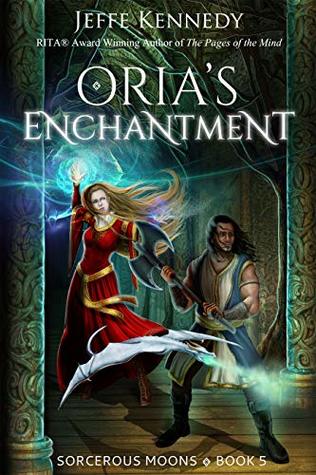 Oria's Enchantment
by
Jeffe Kennedy
Series:
Sorcerous Moons #5
Published by
Brightlynx Publishing
on January 25 2019
Genres:
Fantasy
Pages:
166
Format:
eARC
Source:
Author
Goodreads
Amazon
, 
Barnes & Noble
, 
Apple





The Temptation of Power

No longer a princess and not yet a queen, the sorceress Oria welcomes the rush of power the ancient mask brings her—though the obsessive connection to it frightens her and alarms her barbarian husband, Lonen. But retreat is not an option. She must wrestle the magic to prevent an annihilating war, even if she must make the ultimate sacrifice.

A World in Flames

If Lonen wants to reclaim his throne—and save his people from destruction—he must return by sunset on the seventh day. What he thought would be a short and simple journey, however, leads them deeper into the mountains—and Oria deeper into the thrall of foul magic. Until he must choose between two terrible paths.

A Heart-Wrenching Choice

Struggling with conflicting loyalties, Oria and Lonen fight to find a way to be together… lest they be separated forever, and their realms go down in flames with them.
I'm so excited to be back in the world of Sorcerous Moons. I was a little concerned I wouldn't remember what was going on in this book, because it was two years ago I finished the previous book, The Forests of Dru. I even debated about rereading that book first, but then I had Oria's Enchantment in my inbox and I couldn't wait to start it.
So, this world exists with magic. There is Bara. They are a society of sorcerers and sorceresses. The men have one type of ability that pairs well with the female's ability. It makes them extremely powerful. Destrye are strictly human. But the Bara have been pillaging their land, and more importantly, their water. So they come to take on the Bara and save their people and their lands. Oria is Bara and Lonen is Destrye. They come together to try to bring peace to both sides, but things are never that easy. Oh, and there's a dragon who is a little bit of smart ass at times.
So we are pretty far along in their story by now, five out of six book. So I can't say a huge amount without giving spoilers to those who haven't read the earlier books. What I can tell you, is this is a very well developed series. The world that Kennedy has built is pretty amazing. The characters are even better. I just love Oria and Lonen, not to mention Chuffta, Oria's familiar, the small white dragon you see on the cover.
I will say it was interesting meeting Lonen's mother and the women she has with her at her retreat (I think that is best word, I can't remember exactly what it's called in the book). We also finally get to meet more of the derkesthai, the dragon like creatures like Chuffta.
Speaking of covers, isn't this cover amazing and it isn't even the best in the series (not that I don't like it, I just think that The Forest of Dru has the best cover).
Anyway, if you like fantasy series with romance throughout the series, this is the series for you. It is just as good as her Twelve Kingdoms series. This one just follows the same couple throughout the whole series.
Rating Breakdown
Plot
Writing
Characters
Dialogue
Overall:
Related Posts