Review copy was received from Author. This does not affect my opinion of the book or the content of my review.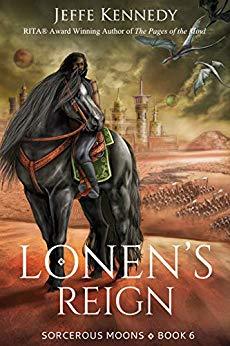 Lonen's Reign
by
Jeffe Kennedy
Series:
Sorcerous Moons #6
Published by
Brightlynx Publishing
on March 20, 2019
Genres:
Fantasy
Pages:
151
Format:
eARC
Source:
Author
Goodreads
Amazon
, 
Barnes & Noble
, 
iTunes





A Looming Threat
The sorceress Oria has finally come into her own—able to wield the power of her birthright and secure in the marriage she once believed would bring her only misery. But the past she escaped still chases her, and the certainty of war promises to destroy everything she's fought to have.

An Impossible War
Once before Lonen led an army in a desperate attempt to stop the powerfully murderous sorcerers of Bára—and he nearly lost everything. Now he must return to the battlefield that took the lives of so many of his people. Only this time he has more to risk than ever.

The Final Conflict
With guile, determination—and unexpected allies—Oria and Lonen return to the place where it all began… and only hope that it won't also be the end of them.
Lonen's Reign is the final book in Jeffe Kennedy's Sorcerous Moons series. We've followed Oria and Lonen throughout the series of novella length stories. They finally will get their HEA, but their journey was not an easy one.
It's wonderful seeing both of these characters grow as they have, throughout the series. They took their marriage, that was originally meant to stop a war, to grow into a loving couple willing to do whatever it took to keep each other and their people safe.
I really enjoyed this series, which is a pretty quick read, with each book being only a novella length of less than 300 pages each. It has some great characters I feel in love with. I really was rooting for Oria and Lonen throughout the story. The side characters are also something you root for. My favorite secondary human is Lonen's brother, Arnon. He's an engineering nerd and I just love him for it. I also love Chuffta, Oria's dragon familiar. He's very snarky.
If you like fantasy stories with magic, dragons, golems, plus wars between groups with romance, this is a fun series. And the covers are amazing. I love them all. I can't wait to see what Ms. Kennedy has up next. Oh, that's the Forgotten Empires series. **excited dance**
Rating Breakdown
Plot
Writing
Characters
Dialogue
Overall:
I'm Melanie, and I like to live vicariously through fictional characters. I enjoy reading and listening to mostly fictional books in the paranormal genre, including Urban Fantasy, Paranormal Romance and Horror. I will read contemporary romance on occasion, but not often. I will occasionally throw in a biography, usually autobiographies of people that I find interesting. Listening to autobiographies that are narrated by the author have been great in my experience.
I started listening to audiobooks when a new book in a series was coming out and I wanted to get a refresher, but didn't have time to read all the books (I think it was Anita Blake). I fell in love. I stayed with strictly re-reading books that I'd already read for a long time. I eventually tried an audiobook for something that I hadn't read first and was hooked there too. Now, I listen to audio for both re-reads and first time. I have some series that I've given up reading and only listen. I try to get any many books/audiobooks from the library to help save on my budget. Books on CD and the newer digital downloads from the library really allow me to listen more. I then purchase my favorites (because who can wait in line for your favorite book??) and less mainstream books from Audible or some other online retailer.
Friend me at Goodreads.
Related Posts