Review copy was received from Author. This does not affect my opinion of the book or the content of my review.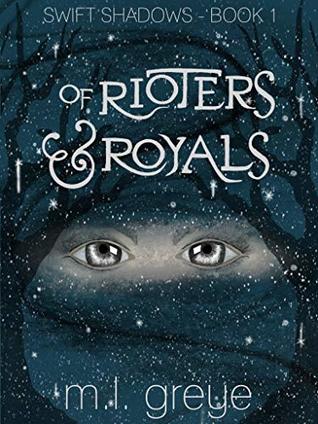 Of Rioters & Royals
by
M.L. Greye
Series:
Swift Shadows #1
Published by
Self-Published
on January 18, 2019
Genres:
Fantasy
Pages:
327
Format:
eBook
Source:
Author
Goodreads
Amazon




Emry is a Royal - a princess of Enlennd. As is tradition, she must have a knight at her side as her protector. The only way to appoint one is through The Trials. Her Challengers from the five regions of Enlennd must compete for the infamous title of Princess's Knight. The problem, though, is that the people of Enlennd are split into two categories: Rioters and Royals. Finding the perfect knight may be the last of her worries. War is coming to Enlennd.

Declan is a Rioter. An upriser. An anarchist. He mistrusts the Jewels - the sovereign family of Enlennd. Yet, he is offering himself up as a Challenger in The Trials. The Mistress, leader of the Rioters, has a mission for him. The first step is for him to become the Princess's Knight. He is ready for the task, until he actually meets Emry and discovers that betraying her would be much more difficult than he'd thought.
Of Rioters & Royals is the first book in the new Swift Shadows series, set in an interesting world.  It is listed as fantasy but, for me, this falls more into the Romantasy (romance + fantasy) genre, don't worry though it is YA so everything remains PG.   
There is a large backstory presented in the prologue that the reader really needs to set up the world a bit.  It prepares the reader for where the world is at in this moment and time, and gets us ready for a new story.
There are a few things this book does well.  
The overall plot is interesting.  There is a challenge between all of the kingdoms best fighters, for who gets the honor of being Princess Emerald's Knight Protector.  I enjoy books with a competition like this. There is also the ongoing conflict between the Rioters and Royals factions. The hero of the tale, Declan is faced with a dilemma; he is supposed to win the challenge and then kidnap the princess later.  Shouldn't be an issue since he is a Rioter, but he knows the princess and she isn't the spoiled, pampered Royal he assumed she would be, he questions whether he will be able to follow that order when the time comes.
I liked the world building.  Each of the five Realms has specific things it is known for culturally, with its people.   Also everyone has some sort of magic, you can tell what kind based on the colors in their eyes. I liked the idea of this, red eyes are for healers, teal means you are fast, other eye colors meant anything from having an earth or water affinity to being able to wield fire.  Princess Emerald, know to her friends as Emry has Silver eyes and those seem to be the best ones you can have since she could do almost anything.
I also really enjoyed the idea of Pair magic.  One person can be bound to another and share their magic across a bond.  It is like the twining of two souls and not to be done lightly since there are some drawbacks to it as well.
Both Emry and Declan have some tragedies in their past and because of that they can be a little ruthless.  There are a few times this comes out in the book. Neither is about killing to protect what they hold dear.
There are a few things which could have been a little better.
My largest issue is that Emry seems so overpowered really.  She is great at EVERYTHING, it would have been nice to see her struggle a little with something, even if it was just needlepoint or swimming.  For some of the story, it fell into the tell you instead of show you category.  Emry is tenacious when she is trying to learn something and does it until she gets it.  We see this when she just knows how to do certain things. It just would have played better for me if I actually saw her doing the work to learn something physical already, then my buy in would have been greater.
The end is also a little rushed as they pull in a few of the other young rulers to their side to fight against the big bad and save the kingdom.  The fighting was a little off to the side and off page for some of it and then quick and done. That is both a good and bad thing as the details of fighting didn't get tedious, but I did want just a little more time spent on the final battle.
This is an easy, entertaining read.  If you are not huge into fantasy, I think it will read a little better, as it is also a love story and doesn't go into overwhelming detail on some of the plot points.  The characters are likeable, the world is interesting and I enjoyed the romance. If the next book is about Cit (Emry's sister) and Parin, I'd definitely continue on with the series.  
Rating Breakdown
Plot
Writing
Characters
Dialogue
Overall:
Related Posts