Review copy was received from Publisher. This does not affect my opinion of the book or the content of my review.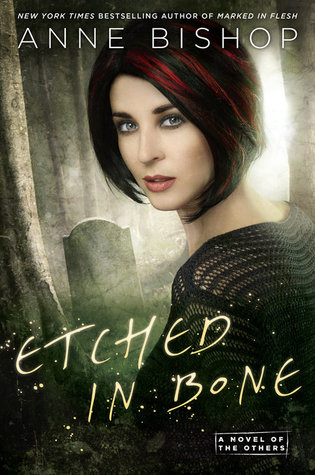 Etched in Bone
by
Anne Bishop
Narrator:
Alexandra Harris
Series:
The Others #5
Published by
Roc
,
Penguin Audio
on March 7, 2017
Genres:
Urban Fantasy
Pages:
416
Length:
16 hours and 21 minutes
Format:
eARC
Source:
Publisher
Goodreads
Amazon
, 
Audible
, 
Libro.fm





After a human uprising was brutally put down by the Elders—a primitive and lethal form of the Others—the few cities left under human control are far-flung. And the people within them now know to fear the no-man's-land beyond their borders—and the darkness…

As some communities struggle to rebuild, Lakeside Courtyard has emerged relatively unscathed, though Simon Wolfgard, its wolf shifter leader, and blood prophet Meg Corbyn must work with the human pack to maintain the fragile peace. But all their efforts are threatened when Lieutenant Montgomery's shady brother arrives, looking for a free ride and easy pickings.

With the humans on guard against one of their own, tensions rise, drawing the attention of the Elders, who are curious about the effect such an insignificant predator can have on a pack. But Meg knows the dangers, for she has seen in the cards how it will all end—with her standing beside a grave
Anne's Review
I came to the Others series late, but I've loved it since the first book. Marked in Flesh (book 4) was a problem for me, it's the book just before Etched in Bone. I expected the story to be what it was, generally, without knowing the details. My issue was a slew of new characters which I knew very little and had difficulty with forming a connection to them. Now I understand even less about why they were introduced, since many were not in this next book. So I read on with a bit of trepidation.
I'm happy to say Etched in Bone is fabulous. It is a return to beloved characters as a view screen to the world overall. While the story lines may be global in nature, they are told from the impact and concerns of our people in Lakeside. There is also the daily life and plans and mysteries of the main characters.   Vlad is more present, and the family of Lt. Montgomery. The Elders play more of a role.
I did hope and expect Meg to be more involved with developing learning materials or even working with other blood prophets. There have been rumors of this being the last book in the series. I'd really love at least a book or two more, with Meg having a bit more to do with the other blood prophets, teaching the things she is learning and the growth she is experiencing. There are many characters and areas about which I would love to know more. I'm interested in the other settlements, the other blood prophets, more about the Intuit people and their abilities, and the continued relationship of Meg and Simon. The Elementals are favorites of mine and I'd love to see more of them.
The author, however, must tell her own story. This is an amazing series, with not a bad book in the bunch! Whenever it ends, I will have trouble letting go of these unique characters and concepts of this world.
---
Jennifer's Audio Review
Etched in Bone is the last novel that focuses on Meg Corban, but don't be sad Bishop is writing a spin-off series so while these characters' story might be over the world will continue and with any hope we will get sneak peeks at what citizens of Lakeside is doing.
Etched in Bone takes up where Marked in Flesh left off. All of Thaisia is dealing with the aftermath of the events after the Elders cleansed the Earth of the humans causing trouble. The few humans that are left are learning their place in the new world living with the Others and the Others are learning which humans they could/should keep around.
While everyone else is figuring things out in their new world, Meg and Simon are slowing figuring out their relationship and how it is changing. It was sweet to see how all everyone else (humans and Others) could see these two love each other and would/should be mates.
Etched in Bone wrapped up most issues in the world but left a few things hanging which is fine because not everything needs an answer, plus there is the spin-off series that could answer a few more things.
Alexandra Harris was the prefect narrator to tell Meg's story with the Others.
Alexandra Harris continues to entertain me with her performance of the characters. Some of my blogger/reader friends have said that she is too slow, but I love her pacing and voices for the characters. I can't picture anyone else doing a better job with the series than Harris did. I'm on the fence though if I want her to be the narrator for the spin-off. I have Harris in my head as Meg so I think we need a new voice to go with the new main character(s).
Rating Breakdown
Plot
Writing
Characters
Dialogue
Narration (Audio)
Overall:
Latest posts by Anne - Books of My Heart
(see all)
Related Posts