Review copy was received from Publicity team. This does not affect my opinion of the book or the content of my review.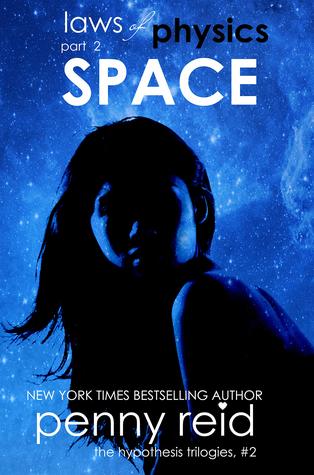 Space
by
Penny Reid
Series:
Laws of Physics #2
Published by
Self-Published
on March 11, 2019
Genres:
Contemporary Romance
Pages:
200
Format:
eARC
Source:
Publicity team
Goodreads
Amazon
, 
Barnes & Noble
, 
Apple





One week.
Private cabin.
Famous physicist.
Still an unrepentant slacker.
What's the worst that could happen?

Mona's meticulously planned allotment of relaxation is thrown into chaos by the unscheduled appearance of her older brother's band of friends, including the one person she'd hoped to never face again. Abram still makes her feel entirely too much, which is one of the reasons she disappeared after their one week together. But now, trapped on a mountain of snow and things unspoken, Mona will have to find a way to coexist with Abram, chaos and all.
I recently listened to Elements of Chemistry since my impression was it was the early part of this Law of Physics trilogy. I had read it previously, a long time ago. It turns out they are both part of the Hypothesis world.  Over two years have passed since Motion.  We catch up with Mona and Abram  and we get to see Kaitlyn and Martin!
Now the story really begins for me, and we get some of Mona and Abram's viewpoints.  I loved learning about their friends like Allyn and Mona's brother, Leo. I really loved all the friends and seeing the way they interacted.  We also get more perspective on Mona from the servants at the Mansion.
Mona and Abram are cute, talking, assuming, hurting, caring, with the funny, awkward honesty I love from Penny Reid. Space is that delicate, amazing, precious balance with such a breadth of feelings.
Mona and Abram get to know each other. Sort of.  The time span (again) is one week and ends as things are about to change. This is exactly as the ending of Motion, except this ending felt better for me.  The third in this trilogy, Time will be released next month.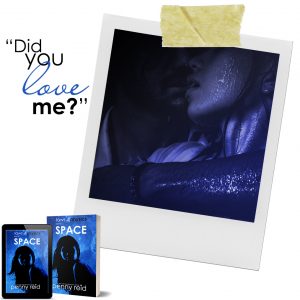 Before I could stop myself, I blurted, "Your dad is an asshole."
I stared at her and I was afraid, because I knew. My whole life, from this point forward, I would be a fool for Mona DaVinci.
Excerpt:
"Hi—hello," she said, stepping forward but not out of the way, drawing my attention.
She was still staring at me, her face still pale, but her eyes had turned searching instead of stunned.
"I—" She stopped herself, swallowing, her gaze dropping to the front of my coat, a cute little frown furrowing her eyebrows. In the next moment, she was pulling off the glove of her right hand. Abruptly, she shoved the ungloved fingers toward me, returning her eyes to mine. "I'm Mona."
I suppressed my disbelief at her small action before it could break my outward mask of calm. I wasn't calm. Just to be clear, I was the opposite of calm.
The fact that she was introducing herself to me now meant that she thought I was too stupid to figure out her lies over the last two-and-a-half-fucking years. She was arguably one of the smartest people in the world, after all. To her, people like me must seem like housebroken pets. So it shouldn't have surprised me. But it did. The tension and tightness around my ribs reappeared, squeezing uncomfortably.
Dropping my attention to her bare hand, I pressed my lips into a tighter line, dismissing the way my pulse jumped at the sight of her wrist, the olive tone of her skin under the yellow string lights overhead. Glaring at her outstretched offering, I considered telling her to go to hell.
I considered it, but I wouldn't.
I didn't trust myself to speak, that was reason number one.
The other reason was harder to explain, or use as a justification, or admit to myself. Staring at her hand, I braced against a sudden flare of hunger. She might consider me a lower life-form, but that didn't change the fact that I wanted to touch her. I wanted to touch her more than I wanted to tell her to go to hell, and that was fucking pitiful.
But there it was.
Acting on the compulsion, I lifted my right hand and tugged off the ski glove, sliding my warm palm against her much colder one. Her hand felt good in my hand, the right weight, the right size, the right texture, and I inhaled freezing air.
Mona also seemed to suck in a slow but expansive breath as our hands touched, held. This brought my eyes back to hers in time to see her lashes flutter. Pink colored her previously pale cheeks. The sound of the wailing wind, the sting of the air and frost momentarily melted away, leaving just her, her soft skin warming against mine, her beautiful face filling my vision.
So beautiful.
She really was. She was stunning. I hated that she was still so beautiful to me.

Latest posts by Anne - Books of My Heart
(see all)
Reading this book contributed to these challenges:
Related Posts