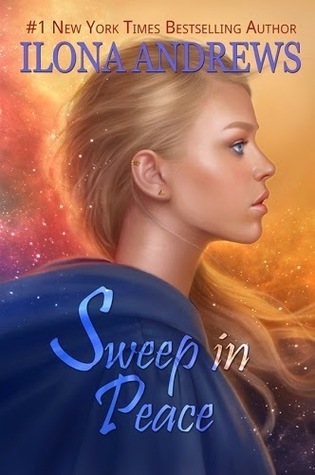 Sweep in Peace
by
Ilona Andrews
Series:
Innkeeper Chronicles #2
on November 13th 2015
Genres:
Urban Fantasy
Format:
eBook
Source:
Purchased
Goodreads
Amazon





Dina DeMille doesn't run your typical Bed and Breakfast. Her inn defies laws of physics, her fluffy dog is secretly a monster, and the only paying guest is a former Galactic tyrant with a price on her head. But the inn needs guests to thrive, and guests have been scarce, so when an Arbitrator shows up at Dina's door and asks her to host a peace summit between three warring species, she jumps on the chance.

Unfortunately, for Dina, keeping the peace between Space Vampires, the Hope-Crushing Horde, and the devious Merchants of Baha-char is much easier said than done. On top of keeping her guests from murdering each other, she must find a chef, remodel the inn...and risk everything, even her life, to save the man she might fall in love with. But then it's all in the day's work for an Innkeeper…
Ilona Andrews never disappoints.  I reread Clean Sweep and then went right into reading this.  This serial is also published free on the author's website over time. After complete, they remove it and publish it.  As much as I LOVE their stories, I can't seem to read it as a serial. Probably because the waiting would kill me. Somehow it's easier to wait until it's complete.  That makes no sense, especially since I came back to avid reading through fanfiction. (I did start reading fanfiction in installments, but then switched over to only reading completed stories. I mean – some people didn't finish their stories. I HATE that.)
Clean Sweep was funnier and more romantic, although the romance is very little here.  And of course, I love Arland.  Dina seems to prefer Sean. Of course, he lives next door and should be more available. Or is it because he is a shifter rather than a vampire?  Is that why I am attached to Arland?
Sweep in Peace is darker.  There is more world building and learning of new species and planets. Old favorites are prominent like Her Grace, Beast, Sean, Arland, Nuan Cee, and Officer Marais. And Jack, George, and Lark!!!!  And new characters are developed like Kharnum and Orro.  And I love all these people.  Her Grace is delightful.  
The illustrations in both ebooks are amazing too.  Most times there is nothing but the cover. I appreciate the extra graphics. Highly recommended.
Giggle worthy quote:   
Orro's list burned through five hundred dollars' worth of groceries and forty-five minutes of my time. I probably could've gotten at least some of it cheaper and faster at Costco, but last time I went there, I was attacked by some alien monsters. Unfortunately, a woman saw me and even helped me. When she went to report it, I hid the evidence and it took all my power to do it. I escaped before she came back with a manager, but it probably made her look like a crazy person. I had no wish to run into her, so I only went to Costco during dinner hours. I'd met her in the morning, and she seemed like she might have a family, so I thought dinnertime would be least likely for her to be out.
Latest posts by Anne - Books of My Heart
(see all)
Related Posts