Review copy was received from NetGalley. This does not affect my opinion of the book or the content of my review.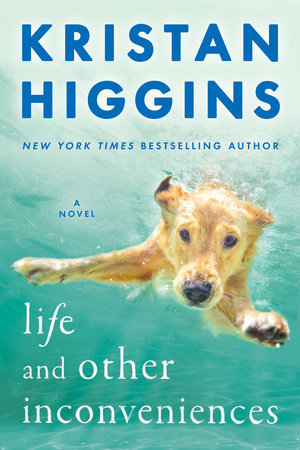 Life and Other Inconveniences
by
Kristan Higgins
Published by
Berkley
on August 6, 2019
Genres:
Contemporary Romance
Pages:
448
Format:
eARC
Source:
NetGalley
Goodreads
Amazon
, 
Audible
, 
Libro.fm
, 
Barnes & Noble
, 
Apple






Emma London never thought she had anything in common with her grandmother Genevieve London. The regal old woman came from wealthy and bluest-blood New England stock, but that didn't protect her from life's cruelest blows: the disappearance of Genevieve's young son, followed by the premature death of her husband. But Genevieve rose from those ashes of grief and built a fashion empire that was respected the world over, even when it meant neglecting her other son.

When Emma's own mother died, her father abandoned her on his mother's doorstep. Genevieve took Emma in and reluctantly raised her--until Emma got pregnant her senior year of high school. Genevieve kicked her out with nothing but the clothes on her back...but Emma took with her the most important London possession: the strength not just to survive but to thrive. And indeed, Emma has built a wonderful life for herself and her teenage daughter, Riley.

So what is Emma to do when Genevieve does the one thing Emma never expected of her and, after not speaking to her for nearly two decades, calls and asks for help?
I am a big fan of the recent works of Kristan Higgins.  These books contemporary romance but they also might be classified as the dreaded women's fiction (everyone could benefit from this type of book).  The reason I say this is because they tackle more realistic social topics than just focusing on the romance.  I enjoy her treatment of these topics.  It adds to the depth of the characters as we watch their journey in dealing with various issues.
In Life and Other Inconveniences,  the topics we discover in varying degrees of thoroughness include bullying, teen sex, blended families, inter-racial couples, parenting, single parenting, special needs children, suicide, mental illness, college financing, career changes and retirement, fatal illnesses, growing old, parent dealing with death of a child, and older couple dating.    Wow, when listed. it is a lot of things, which all added to the authenticity. I appreciate the compassion I felt in the topics even if certain characters were not nice about some issues.
The chapters in the story alternate between Emma, Genevieve and Riley, as our primary point-of-view. Genevieve is grandmother to Emma, whose daughter is Riley.  Genevieve and Emma have not spoken in 17 years!  This is how they come together again. There is much family history on all four generations, and then there is Riley's father and his whole family.
I loved this emotional read which shared all the relationship and life issues of families and friends with a beautiful sensitivity.  Emma and Riley are exceptional human beings and their kindness is inspiring to others. But they also are not afraid to tell it like it is and call others out on their bias or hypocrisy.  Highly recommended.
Excerpt:
When I called Genevieve back and told her we were coming—including Pop, who would be staying elsewhere—there'd been a long pause. "Thank you," she finally said.
"On one condition, Genevieve," I said. "You do not mention money or inheritance to Riley. Not a whisper, not a hint. I don't want you dangling your bank accounts in front of my daughter and snatching them away if she uses the wrong fork."
"By which I assume you're referring to the fact that I didn't fund your teenage folly."
"Teenage folly? You mean your great-granddaughter? Yes. This summer isn't about the money. It's us giving you a chance to make amends, and you making me Hope's guardian."
"How very gracious you are, my dear," she said, and I heard a slurp. Five o'clock somewhere.
But she agreed, and here we were.
My clients, the ones I saw in person, were fine with me leaving for two months. I'd TheraTalk with most of them; two were about done anyway, and said they'd call me if they needed me. I'd had to give up my office space, though; luckily, a classmate from my PhD program had sublet it. Once I got back, I'd have to find another space, but I'd deal with that later.
Pop had found himself a little apartment over an antiques shop on Water Street. I was unspeakably grateful that he'd be nearby. He'd always hated Genevieve, who had viewed my mother as insufficient wife material for her wretched son.
Then again, she had a point. My mother had taken her own life. Maybe Genevieve had sensed something, even back then. She was many things, but she wasn't stupid.
We crossed the Connecticut River, then the Thames. "There's the Coast Guard Academy, Pop," I said, pointing. He was an Air Force man himself, but he nodded. We went through Mystic, and I remembered going to the aquarium with Jason on a date. Or a field trip, maybe, but we'd held hands. Kissed in the dim light of the myriad fish tanks, and it had felt like the most romantic thing in the world.
He knew we were coming, of course. He was excited, he'd said on the phone. Talked about being separated, wasn't sure where things were headed there. The boys couldn't wait to meet Riley in person, though they knew her from Skype and phone calls.
My heart leaped into overdrive when, just before we hit Rhode Island, Charles exited the highway and entered the land of stone walls and gracious houses, tall oaks and two-hundred-year-old farms. The woods and fields gave way to narrower streets, and we went over the bridge that led to the borough.
Welcome to Stoningham, the sign said.
I found that I was holding my grandfather's thumb, same as I had when I was little, back before my mother died, when seeing my grandparents was the happiest thing ever. He gave my hand a squeeze.
"Oh, my gosh, this town is so cute!" Riley said.
And it was. The sky was Maxfield Parrish blue, the lights of the Colonials that lined the streets glowing in what seemed to be a welcome. People were out, walking their dogs. At the library green, some kids tossed a football. As we came onto Water Street, Riley exclaimed over the little shops and restaurants. "There's a café, Mom! Hooray! Oh, and an ice cream place! Even better!"
I smiled, but my stomach cramped again. It felt like I had never left.
The town hadn't changed much. Still adorable with its colorful buildings and crooked streets. I caught glimpses of Long Island Sound as we drove, smelled garlic and seafood. Would Genevieve have dinner for us? Would she hug me? I swore if she made Riley feel one iota of shame, we'd be out of Connecticut forever.
Charles turned onto Bleak Point Road, where the most expensive houses in town sat like grand old ladies, weathered and gracious. All had names, which Riley read aloud as we passed.
"Thrush Hill. Summerly. Wisteria Cottage. Cliff View. Pop, we have to name our house when we get back!"
"Name it what? Crabgrass?" Pop asked.
"That's kind of perfect, actually," I murmured, having gone to war many times with weeds in our small yard.
"Oh, Sheerwater! We're here!"
The iron gates (yes, gates) opened, and we turned onto the crushed shell drive. Sheerwater had ten acres of land, the very tip of Bleak Point, and it looked like a park, with beautifully gnarled dogwood trees on either side of the driveway, their intertwined branches making a tunnel of white blossoms. Spring was late this year.
We rounded the gentle curve, and my hands were sweating now.
"Holy guacamole," my daughter breathed. "It's even prettier than the pictures!" In the rearview mirror, I saw Charles smile. Beside me, Pop stiffened. He'd never been here, of course.
There it was—my grandmother's twenty-room cottage, pristine and gracious and lit up like the fires of hell.
Giveaway:
A print copy of Good Luck With That (which I gave 5 hearts!)
Rating Breakdown
Plot
Writing
Characters
Overall:
Latest posts by Anne - Books of My Heart
(see all)
Reading this book contributed to these challenges:
Related Posts