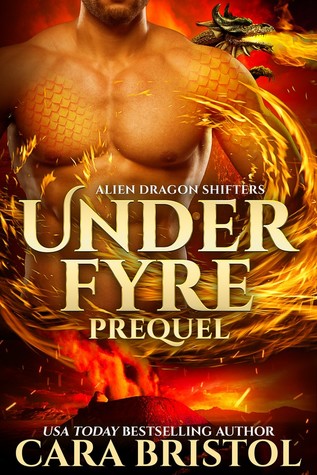 Under Fyre Prequel

by Cara Bristol
Series: Alien Dragon Shifters #0.5
Published by Self-Published on March 2, 2019
Genres: Science Fiction
Pages: 21
Format: eARC
Source: Author
Goodreads
Amazon,  Barnes & Noble,  iTunes






The Under Fyre Prequel tells what happened during the friendly early encounters between dragons and humans. On his first diplomatic tour of Earth, young Prince K'ev meets a child, Rhianna Montclair. As an adult, she will become his concubine, his mate, his everything. Both are unaware of how important that first meeting is and how everything soon will change…

Note: The prequel is a 2500-word prologue to the main 60,000-word novel, Under Fyre. It is new, exclusive content not in the main book. In addition to the prologue, the prequel also includes an excerpt to chapter one from Under Fyre.
The prequel is a very short story that gives you a fun introduction to a new series by Cara Bristol. This series follows alien dragon shifters. Prince K'ev is a dragon shifter on a diplomatic mission to earth. Here he is being forced to visit a few schools to let the kids meet dragon shifters for the first time. He isn't happy about doing this, but there is a small child that really intrigues him. It was a fun intro to the series.
Under Fyre

by Cara Bristol
Series: Alien Dragon Shifters #1
Published by Self-Published on May 21, 2019
Genres: Science Fiction
Pages: 279
Format: eARC
Source: Author
Goodreads
Amazon,  Barnes & Noble,  iTunes






Betrayed by her people, does she dare trust a dragon?

The alien dragon shapeshifters who discover Earth come in peace — at first. Then, inexplicably, they threaten to attack. In an attempt to show goodwill and appease the dragons, Earth sends a human woman to become a concubine to one of the Draconian king's sons, Prince K'ev.

K'ev would sooner give up his ability to breathe fire than accept a human, but when he meets Rhianna, sparks fly, and his dragon realizes she's his mate.

Rhianna falls for the hot-blooded prince, unaware she's a key link in a desperate scheme to defeat the dragons, a strike that could backfire with devastating consequences. Will she figure out what Earth has planned in time to save her dragon mate? And if she does, will K'ev be able to save her planet from an angry king's retaliation?


This story starts 15 years after the prequel. Rhianna is now an adult. She's best friends with the president's daughter. They are also almost doppelgangers they look so much alike. Since the prequel, diplomatic talks between the dragons and the humans have broken down. To try to shore up talks, the dragons have asked for a human consort for the son of the dragon king. Specifically, the president's daughter. Rhianna agrees to go along, but is not meant to be the consort.
I don't want to go into too much detail of what happens in the story. Let's just say that this is a slow burn romance between K'ev and Rhianna. I really enjoyed watching them come together. I also enjoyed as they both learned about the other species and cultures. Both dragons and humans have pluses and minuses in their mentalities and culture. Neither are saints or demons. I enjoyed watching both K'ev and Rhianna come to terms with that.
As per usually with a Cara Bristol book, she ends giving hints about who will be the next couple for the next book. I'm excited to see where the next story goes and to learn more about these dragons.
This series is a bit different as the dragons are from another planet and are looking for a new planet as their world cools. They have a much higher level of technology than the humans on earth. They also have three forms, human, full dragon and kinda lizard man.
If you like sci-fi or dragon shifter romance, this is a fun start to a series.
Rating Breakdown
Plot
Writing
Characters
Dialogue
Overall:
I'm Melanie, and I like to live vicariously through fictional characters. I enjoy reading and listening to mostly fictional books in the paranormal genre, including Urban Fantasy, Paranormal Romance and Horror. I will read contemporary romance on occasion, but not often. I will occasionally throw in a biography, usually autobiographies of people that I find interesting. Listening to autobiographies that are narrated by the author have been great in my experience.
I started listening to audiobooks when a new book in a series was coming out and I wanted to get a refresher, but didn't have time to read all the books (I think it was Anita Blake). I fell in love. I stayed with strictly re-reading books that I'd already read for a long time. I eventually tried an audiobook for something that I hadn't read first and was hooked there too. Now, I listen to audio for both re-reads and first time. I have some series that I've given up reading and only listen. I try to get any many books/audiobooks from the library to help save on my budget. Books on CD and the newer digital downloads from the library really allow me to listen more. I then purchase my favorites (because who can wait in line for your favorite book??) and less mainstream books from Audible or some other online retailer.
Friend me at Goodreads.
Related Posts