Review copy was received from Publisher. This does not affect my opinion of the book or the content of my review.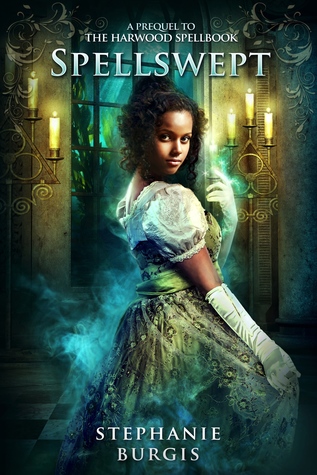 Spellswept

by Stephanie Burgis
Narrator: Emma Newman
Series: The Harwood Spellbook #0.5
Published by Tantor Audio on May 21, 2019
Format: Audiobook
Source: Publisher
Goodreads
Amazon,  Barnes & Noble






In the world of the Harwood Spellbook, 19th-century Angland is ruled by a powerful group of women known as the Boudiccate - but in order to become a member of that elite group, any ambitious young politician must satisfy tradition by taking a gentleman mage for her husband.

Amy Standish is a born politician...but Jonathan Harwood is her greatest temptation. On the night of the Harwoods' Spring Solstice Ball, in an underwater ballroom full of sparkling fey lights and danger, Amy will have to fight the greatest political battle of her life to win a family and a future that she could never have imagined.

It will take an entirely unexpected kind of magic to keep everything from crashing down around her.
I was VERY excited to get Snowspelled on Audio because the author had offered me the ebook to review when I was first starting this blog and I just couldn't do it at the time. But I wanted it.  When I started listening, it was a prequel novella and I thought, ok.  But it was better than ok, it was amazing!
It is about a third of the audiobook, so at least a couple hours.  I loved the world, the characters, and of course, magic!  It is set in the 19th century so it's historical fantasy with romance.  I really appreciated having characters who could think for themselves, who weren't always right or make the best decision (they were human) but they cared about others and were trying to do the right thing. The social conventions of the day didn't make their lives simple.
Review copy was received from Publisher. This does not affect my opinion of the book or the content of my review.
Snowspelled

by Stephanie Burgis
Narrator: Emma Newman
Series: The Harwood Spellbook #1
Published by Tantor Audio on May 21, 2019
Genres: Fantasy
Length: 7 hours, 15 minutes
Format: Audiobook
Source: Publisher
Goodreads
Amazon,  Audible,  Audiobook,  Barnes & Noble,  iTunes







Four months ago, Cassandra Harwood was the first woman magician in Angland, and she was betrothed to the brilliant, intense love of her life.

Now Cassandra is trapped in a snowbound house party deep in the elven dales, surrounded by bickering gentleman magicians, manipulative lady politicians, her own interfering family members, and, worst of all, her infuriatingly stubborn ex-fiancé, who refuses to understand that she's given him up for his own good.

But the greatest danger of all lies outside the manor in the falling snow, where a powerful and malevolent elf-lord lurks...and Cassandra lost all of her own magic four months ago.

To save herself, Cassandra will have to discover exactly what inner powers she still possesses – and risk everything to win a new kind of happiness.

A witty and sparkling romantic fantasy novella that opens a brand-new series for adults from the author of Kat, Incorrigible, Masks and Shadows and Congress of Secrets.
The actual audiobook of Snowspelled begans about 5 years after Spellswept.   It is in the perspective of Cassandra Harwood, the younger child.  Many things have changed; some have not.  Cassandra is now an adult and her choices have caused some setbacks in her life.  I'm really enjoying the Harwood Spellbook series.  It highlights some social conventions and prejudices with battles to improve things as part of the story.
While Cassandra is trying to figure out how to put her life to rights, she agrees to go to a house party.  She doesn't want to go, her former fiance will be there, but she needs to make it clear to everyone she is fine.  There is quite the turmoil within the elves and it is causing problems with Angland.  Cassandra, of course, ends up in the middle of it.
Luckily, Cassandra does have some brains and she has friends and family.  If not, things could have been very bad.  The prequel and first book had different couples and primary female characters. I loved them and am excited for more!
Narration:
Emma Newman did a great job with the voices, as she was easy and comfortable listening at my usual 1.5x speed.  The primary character in each story was a female and she felt right for their thoughts telling the story.  There was a bit of an accent and historical wordings which I enjoyed.  There is a bit of distinction between characters with the male voices a bit lower.  I like the feelings infused into the dialogue.
Listen to a clip:  HERE 
Rating Breakdown
Plot
Writing
Characters
Narration (Audio)
Overall:
I can't really remember any time when I wasn't reading. I LOVE books and what they give me. It's an opportunity to learn new things, see new places,live different emotions in a "safe" way. It lets me live in a new world.
I read all types of books but my favorites are urban fantasy and romantic suspense.I like some romance and some action / adventure / mystery in everything.I like sex in my books but please, only between TWO people.Intimate conversation is equally important to the sex in a book.It lets me see the characters.The other thing I enjoy is humor.
Friend me at Goodreads.
Reading this book contributed to these challenges:
2019 Audiobooks
2019 Releases
COYER Hunt
Related Posts