Review copy was received from Publisher. This does not affect my opinion of the book or the content of my review.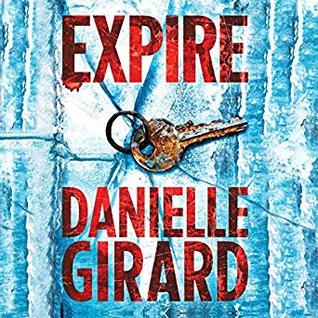 Expire
by
Danielle Girard
Narrator:
Shannon McManus
Series:
Dr. Schwartzman #4
Published by
Brilliance Audio
on July 9, 2019
Genres:
Mystery
,
Thriller
,
Suspense
Length:
8 hours, 53 minutes
Format:
Audiobook
Source:
Publisher
Goodreads
Amazon
, 
Audible
, 
Audiobook




San Francisco medical examiner Annabelle Schwartzman has spent eight years looking over her shoulder. Stalked by her vengeful ex-husband, Spencer, she's always known they'd meet again. Has her nightmare come true? Abducted, blindfolded, yoked, and tethered, she's being held prisoner in an isolated cabin in Idaho. But it's the unknown that terrifies Annabelle now. Because the man's voice in the dark, though eerily familiar, is not Spencer's.

Annabelle's partner and lover, Inspector Hal Harris, knows in his gut that Annabelle's disappearance is tied to the past. Except Spencer is fifteen hundred miles away. To save Annabelle, Hal is tracking every move Spencer makes. But is it drawing him closer to finding Annabelle? Or is it luring him farther from her desperate cries for help?

As a cruel game of retribution begins, Annabelle must rely on her wits, her will to survive, and a plan of escape. But time is running out. And her captor's three chilling words make her fear that the worst is yet to come: sweet dreams, Bella.
It's kind of ridiculous that I got this audio for review because I'm behind with moving and now I'm at Book Bonanza.  Not only that but it's the 4th book in the series!  I never do these out of order.  Now I can't decide if I go back for the first three or just go forward.  But I couldn't seem to help myself. I'm on a mystery / suspense/ thriller binge right now. Expire is available in KU.  It looks like the first 3 are read and listen in KU. So I will get them.
As you can tell from the blurb, Anna has been kidnapped which is never a good thing for a woman.  As a medical examiner, she has seen this situation with its brutal and fatal results. I admire Anna's courage and determination to stay alive and survive.
Poor Hal.  He just wants to find her and has to fight everyone to get the information or give him the resources to save her.  He's a bit unhinged over it but doing better than I would.
It is a little weird coming into this because they are already in a relationship, which I will go back to get the foundation in the 3 previous books. For almost the entire book, Hal and Anna are separated so while the think of the other, the are not interacting. I enjoyed this a lot, even though I jumped into the series at then end.
Narration:
I have enjoyed this narrator in the past. I felt the voices were well performed, both male and female. There were some regional accents for some characters.  This was a great listen at my usual 1.5x speed.
Listen to a clip:

Rating Breakdown
Narration (Audio)
Overall:
Latest posts by Anne - Books of My Heart
(see all)
Reading this book contributed to these challenges:
2019 Audiobooks
2019 Releases
COYER Hunt
Related Posts