Review copy was received from Publisher. This does not affect my opinion of the book or the content of my review.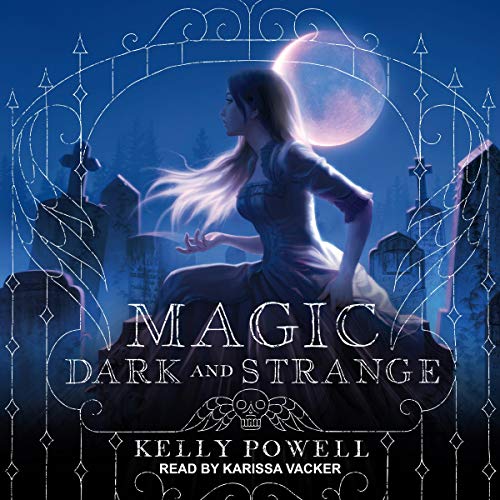 Magic Dark and Strange
by
Kelly Powell
Narrator:
Karissa Vacker
Published by
Tantor Audio
on October 27, 2020
Genres:
Young Adult
,
Fantasy
,
Mystery
Length:
5 hours, 56 minutes
Format:
Audiobook
Source:
Publisher
Goodreads
Amazon
, 
Audible
, 
Audiobook
, 
Barnes & Noble




The Bone Witch meets Sherlock Holmes in this thrilling historical fantasy about a girl with the ability to raise the dead who must delve into her city's dangerous magical underworld to stop a series of murders.

Catherine Daly has an unusual talent. By day she works for a printer. But by night, she awakens the dead for a few precious moments with loved ones seeking a final goodbye. But this magic comes with a price: for every hour that a ghost is brought back, Catherine loses an hour from her own life.

When Catherine is given the unusual task of collecting a timepiece from an old grave, she is sure that the mysterious item must contain some kind of enchantment. So she enlists Guy Nolan, the watchmaker's son, to help her dig it up. But instead of a timepiece, they find a surprise: the body of a teenage boy. And as they watch, he comes back to life—not as the pale imitation that Catherine can conjure, but as a living, breathing boy. A boy with no memory of his past.

This magic is more powerful than any Catherine has ever encountered, and revealing it brings dangerous enemies. Catherine and Guy must race to unravel the connection between the missing timepiece and the undead boy. For this mysterious magic could mean the difference between life and death—for all of them.
Magic Dark and Strange is a new urban fantasy set in England sometime during the industrial revolution. This is a world where there seemed to be a few different kinds of magic people can do but it always comes at a cost.
Catherine grew up with her family in the country but was sent to the city to work at a newspaper when she was about fifteen.   She can do grave magic where she can raise the newly dead for about an hour to say farewell to family.  Her employer tasks her with digging up a grave to find a watch rumored to be able to raise the dead for good.  Catherine asks a watchmaker acquaintance to go with her and what they find is a boy long dead who climbed out of his grave, restored.
This is usually my kind of story and I did like it but there are a few things that could have gone a little better for me.  The magic in this world isn't really explained.  Can everyone do it if they are willing to pay the price or is it just a few?  Besides the magic with death and time that we see in the book, are there other kinds?  I wish some of this world was better explained.
There is a bit of a romance happening between Catherine and Guy.  It is cute as they call each other Miss Daily and Mr. Nolan and tentatively grow to be more than just acquaintances .  They try to help the reanimated boy with no memories. They find that someone else is looking for the watch and is willing to kill for it.  The plotting is a bit simple and I really thought this might be a better read for even a younger audience than YA, possibly MG even though it is a little slow.
I did like who the murderer turned out to be and the revelations on how the boy ended up in the grave in the first place.  But I wish the story was developed just a little more.
Overall a decent read that for me, which had a lot of room for the extras that can make a story great.
Narration:
Karissa Vacker was a really good pick for this.  Her voice seemed to fit the characters and the time well.  She was a good match for how I think Miss Daily would have sounded and performed the narration well. I was able to listen to this at my usual 1.5x speed.
Listen to a clip: HERE
Rating Breakdown
Plot
Writing
Characters
Dialogue
Narration (Audio)
Overall:
Reading this book contributed to these challenges:
Related Posts