Review copy was received from Publisher. This does not affect my opinion of the book or the content of my review.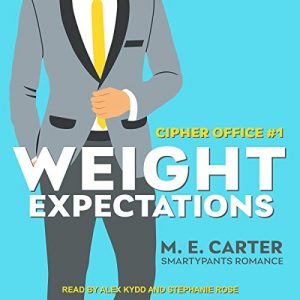 Weight Expectations
by
ME Carter
Narrator:
Stephanie Rose
,
Alex Kydd
Series:
Cipher Office #1
Published by
Tantor Audio
on June 23, 2020
Genres:
Contemporary Romance
Length:
9 hours, 51 minutes
Format:
Audiobook
Source:
Publisher
Goodreads
Amazon
, 
Audible
, 
Audiobook




Rian Thompson thought she joined the gym to get healthy. Little did she know she was about to add hundred and ninety pounds of swoonworthy abdominal muscles and arrogance to her life.

Every day in Rians's life follows a predictable pattern, and she wouldn't have it any other way. She's got a nice job, a nice place to live, and a nice family – even if they are a little wedding-zilla-ish at the moment.

She doesn't need anything spectacular to be happy. She just needs to get healthy – mentally, physically. . . and maybe spiritually if that happens. But she'll settle for two out of three until her sister finally gets hitched.

Carlos Davies thought his life was perfect. Little did he know it was about to be turned upside down by a woman who is not his type.

In Carlos's mind, his life is damn near perfect. He's got a great job, a great place to live, and a great stash of pick up lines that always work. It has occurred to him that maybe no one actually takes him all that seriously. But with these bulging biceps and thick, dark hair, does that even matter since he's never sleeping alone?

Welcome to Weight Expectations, where great—and unexpected—things happen.
Weight Expectations by ME Carter is the 2nd installment in the Cipher Office series.  It's another Smartypants Romance, the series of books written by professional authors in the Penny Reid-verse.  I am a huge fan of Penny Reid and her characters, but have had mixed feelings about the Smartypants books I've read.  Weight Expectations is not an exception.
Smart and curvaceous Rian Thompson is no stranger to size bias and faces the negative stereotypes of being a 'big girl' in her personal and professional life.  She joins a gym to focus on being healthful, not thin, where she encounters Carlos.  Carlos Davies is a successful, self-absorbed, single guy.  He's a confirmed bachelor, convinced that the world of romance and marriage have nothing he needs or wants.  So why can't he stop thinking about Rian?
I want to say that my favorite thing about this book was Rian.  I found I could identify with her on so many levels.  Even as a confident, successful professional, she still experienced insecurities and struggled to overcome negative body image.  I loved her quirky, spunky attitude and her hilarious diet and exercise challenges. Quinoa has scarred many a person and it is good to know I am not alone!
Carlos, however, was a totally different story.  I had high hopes for his character, who I'd always considered mysterious and sexy from Neanderthal Seeks Human.  Instead, he was just a shallow, self-absorbed d-bag.  I didn't like his comments about himself ("Nothing says success like a focused mind and a trim body") or of women ("She's too intelligent for my taste."  "Pregnant means married or looking for a baby daddy.")  I realize he was supposed to be a bad boy, but he was bad in a smarmy, superficial way.  I didn't like that he continued to scope out other women after he'd met Rian, even knowing he was drawn to her.
I think the author did a good job of showing his change of heart by the end of the book ("I kept things shallow and surface level so I wouldn't have to share myself") however; the speed by which he went from 'NEVER' to 'FOREVER' was completely unrealistic.  The man is 40 and has never had a relationship; there is no way he'd have dealt with his hang-ups on his own in that short of time.  Even though he ended up being a great guy by the end of the book, I think my opinion of him had already been permanently tainted.
Weight Expectations had some sweet, emotional moments I enjoyed, but as a whole I was a bit disappointed.  I won't let this stop me from reading the other books in the series, but I think I would be happier if I didn't draw comparisons to the original series.
Narration:
I listened to Weight Expectations at 1.25x speed, which seemed to work best for me.  I thought  Stephanie Rose did a wonderful job with Rian's voice, and captured her personality perfectly.  I did not care for Alex Kydd's performance at all.  I found his accent, pacing, and tone to be distracting for all of his male characters.  The voice definitely did not fit my perception of Carlos.  Interestingly, his narration of female voices was very good.
Listen to a clip: HERE
Rating Breakdown
Plot
Writing
Characters
Dialogue
Narration (Audio)
Overall:
Related Posts