Review copy was received from Publisher. This does not affect my opinion of the book or the content of my review.
This book may be unsuitable for people under 17 years of age due to its use of sexual content, drug and alcohol use, and/or violence.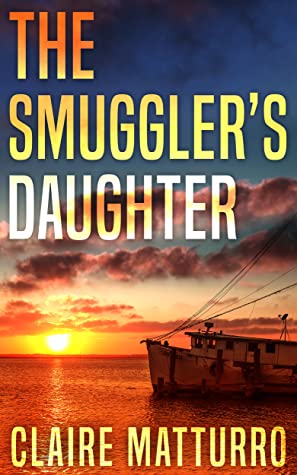 The Smuggler's Daughter
by
Claire Matturro
Published by
Red Adept Publishing
on July 7, 2020
Genres:
Mystery
Pages:
273
Format:
eARC
Goodreads
Amazon
, 
Barnes & Noble
, 
Apple





Ray Slaverson, a world-weary Florida police detective, has his hands full with the murders of two attorneys and a third suspicious death, all within twenty-four hours. Ray doesn't believe in coincidences, but he can't find a single link between the dead men, and he and his partner soon smash into an investigative stonewall.

Kate Garcia, Ray's fiancée, knows more than she should. She helped one of the dead attorneys, just hours before he took a bullet to the head, study an old newspaper in the library where she works. Kate might be the only person still alive who knows what he was digging up—except for his killer.

When Kate starts trying to discover what's behind the murders, she turns up disturbing links between the three dead men that track back to her family's troubled past. But she has plenty of reasons to keep her mouth shut. Her discovery unleashes a cat-and-mouse game that threatens to sink her and those she loves in a high tide of danger.
One could look at this as a police procedural as two police homicide detectives, Luke and Ray,  are two of the main points of view. The other main point of view is Kate, who is Ray's girlfriend.  There are some murders which the detectives are having trouble finding connections, but think there must be one.  Kate was one of the last people to work with one of the attorneys at the library but can't figure out what he was researching.
Kate also is against a phosphate mine coming to town. She does some research and contacts the man running a protest group in a nearby town, who ends up being one of the men who is killed.  She gets his research papers from his widow.  She holds a meeting to try to get people organized against the mine.  The main local contact invites her out for coffee or dinner and she reluctantly goes out for coffee to learn what she can about the project.
Kate has a shady past which she is hiding. So we get several flashbacks to her late teen years and the drug running her father did.  She fled town to go to college at the time he was dying of lung cancer.  It felt to me like Kate was a bit TSTL researching things which were very dangerous, knowing she had violent men from the past who might be after her. She goes looking for her two childhood friends which lets her gather enough data to know her past might be connected into the current murders. I didn't like the casual attitude some characters had about adultery either.
I guessed the main villain pretty early on in the story. Kate did share some information with Luke finally.   Luke and Ray figured things out separately but almost too late.   There are some aspects left a bit vague in the end but the main cases are all solved.
Latest posts by Anne - Books of My Heart
(see all)
Reading this book contributed to these challenges:
Related Posts