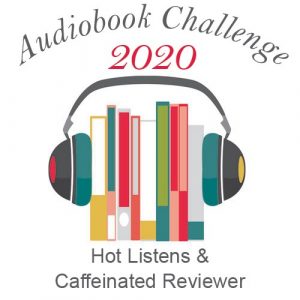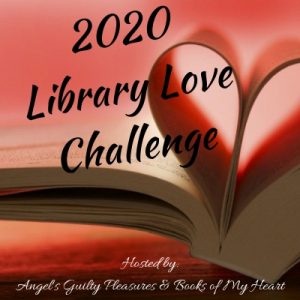 These reads were all audiobooks.  Three were library books, the rest I purchased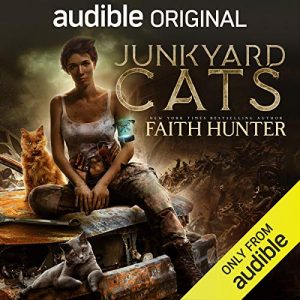 Junkyard Cats
by
Faith Hunter
Narrator:
Khristine Hvam
Published by
Audible
on January 2, 2020
Genres:
Urban Fantasy
Length:
5 hours, 2 minutes
Format:
Audiobook
Source:
Purchased
Goodreads
Amazon
, 
Audible
, 
Barnes & Noble





After the Final War, after the appearance of the Bug aliens and their enforced peace, Shining Smith is still alive, still doing business from the old scrapyard bequeathed to her by her father. But Shining is now something more than human. And the scrapyard is no longer just a scrapyard, but a place full of secrets that she has guarded for years.

This life she has built, while empty, is predictable and safe. Until the only friend left from her previous life shows up, dead, in the back of a scrapped Tesla warplane, a note to her clutched in his fingers - a note warning her of a coming attack.

Someone knows who she is. Someone knows what she is guarding. Will she be able to protect the scrapyard? Will she even survive? Or will she have to destroy everything she loves to keep her secrets out of the wrong hands?
A little bit of a switch up for Faith.  Dystopian world in the future, genetically modified woman, alien bug technology and a mercenary army looking in her junkyard for a lost ship and the weapons left on it. There are also cats who Shining Smith is the Queen of surrounding her junkyard.  Definitely interesting, definitely different.
Narration:
Khristine Hvam is again the narrator for this series and does a good job.  Shining does remind my of  Jane Yellowrock or Nell sometimes because she is the narrator of those series too, but she always brings a strong performance.
Listen to the clip: 

---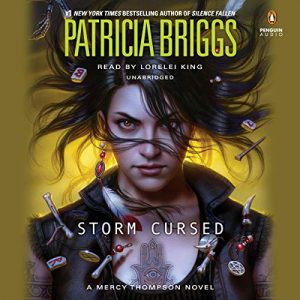 Storm Cursed
by
Patricia Briggs
Narrator:
Lorelei King
Series:
Mercy Thompson #11
Published by
Penguin Audio
on May 7, 2019
Genres:
Urban Fantasy
Length:
10 hours, 15 minutes
Format:
Audiobook
Source:
Library





My name is Mercedes Athena Thompson Hauptman, and I am a car mechanic.
And a coyote shapeshifter.
And the mate of the Alpha of the Columbia Basin werewolf pack.

Even so, none of that would have gotten me into trouble if, a few months ago, I hadn't stood upon a bridge and taken responsibility for the safety of the citizens who lived in our territory. It seemed like the thing to do at the time. It should have only involved hunting down killer goblins, zombie goats, and an occasional troll. Instead, our home was viewed as neutral ground, a place where humans would feel safe to come and treat with the fae.

The reality is that nothing and no one is safe. As generals and politicians face off with the Gray Lords of the fae, a storm is coming and her name is Death.

But we are pack, and we have given our word.

We will die to keep it.
Mercy and company vs. The Witches.  Again Mercy's little we are a haven speech in the claiming of the Tri Cities has put a target on her back and some witches have decided the city is ripe for the taking.  They almost have a coven of thirteen different families and just need a few more to get there.  If they can turn Elizaveta to their side, there is almost nothing they cannot do.  Mercy and Adam need to make sure that the peace talks between the Fae and the human government go okay and keep the witches from reeking havoc.  It is going to be a bumpy ride.
Narration:
Lorelei King is again the voice of Mercy and is a pro narrator.  She brought the story to life once again.
Listen to the clip:

---
A Deadly Education
by
Naomi Novik
Narrator:
Anisha Dadia
Series:
Scholomance #1
Published by
Penguin Audio
on September 29, 2020
Genres:
Young Adult
,
Fantasy
Length:
10 hours, 59 minutes
Format:
Audiobook
Source:
Purchased
Goodreads
Amazon
, 
Audible
, 
Audiobook
, 
Barnes & Noble





I decided that Orion Lake needed to die after the second time he saved my life.

Everyone loves Orion Lake. Everyone else, that is. Far as I'm concerned, he can keep his flashy combat magic to himself. I'm not joining his pack of adoring fans.

I don't need help surviving the Scholomance, even if they do. Forget the hordes of monsters and cursed artifacts, I'm probably the most dangerous thing in the place. Just give me a chance and I'll level mountains and kill untold millions, make myself the dark queen of the world.

At least, that's what the world expects me to do. Most of the other students in here would be delighted if Orion killed me like one more evil thing that's crawled out of the drains. Sometimes I think they want me to turn into the evil witch they assume I am. The school itself certainly does.

But the Scholomance isn't getting what it wants from me. And neither is Orion Lake. I may not be anyone's idea of the shining hero, but I'm going to make it out of this place alive, and I'm not going to slaughter thousands to do it, either.

Although I'm giving serious consideration to just one.
Galadriel (El for short) is just trying to survive the magical school, full of monsters by the way, that want to kill her. This really is a trial by fire situation and if she could just find an opportunity to show off her power to the other kids, she might be able to make a few alliances to help her stay alive and get out at graduation next year. But golden boy Orion Blake keeps screwing that up by saving her life first.
Think of this as a deadlier Hogwarts with Witch Houses in the real world and getting to graduation means you might get to have the protection of one.  Good first book with a ton of potential moving forward.  Plus I loved how snarky and almost grumpy El was.
Narration:
Anisha Dadia is a new to me narrator but she played the cast well and I really liked her voice for El.  She seems like an up and comer in the narration world and I think she'll be able to do a lot with the series.
Listen to the clip:

---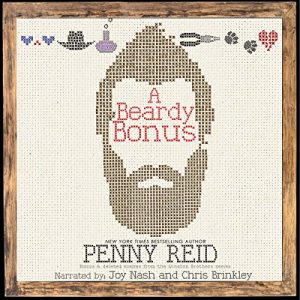 A Beardy Bonus
by
Penny Reid
Narrator:
Chris Brinkley
,
Joy Nash
Series:
Winston Brothers
on May 8, 2020
Genres:
Contemporary Romance
Length:
3 hours, 27 minutes
Format:
Audiobook
Source:
Library





All the Winston Brothers bonus scenes and deleted excerpts all in one place! This collection includes:
Extra Scene: Billy and Scarlet
A Winston Christmas
Beauty and the Beard
Deleted Scene: Truth or Beard
Deleted Scene: Grin and Beard It
Deleted Scene: Beard in Mind
Duane's Letter to Beau
Cletus's Letter to Santa
Duane's Letter to Jess
Billy's Letter to Scarlet
Pie in the Beard
Beard in Waiting
A Very Beardy Christmas
Beard and Hen
A Beardy Bonus is the type of book I love getting from the library.  It is just a collection of extras throughout the Winston Brothers stories some really short and others a little longer that add a little to the overall series but isn't something I need on hand to reread/re-listen to at will.  With a few additional stories spanning the entire series there were a few that were so tender and cute.   Most of it you get why they are deleted but if you are a fan of the series it is worth a listen.
Narration:
Chris Brinkley and Joy Nash reprise their roles as various characters in this beardy extra.  If you liked them in the rest of the series, you'll enjoy them here too.
Listen to the clip: HERE
---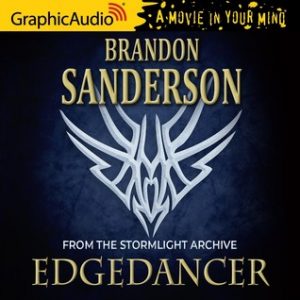 Edgedancer
by
Brandon Sanderson
Published by
Graphic Audio
on December 13, 2018
Genres:
Fantasy
Length:
4 hours
Format:
Audiobook
Source:
Purchased
Goodreads
Amazon
, 
Audiobook
, 
Barnes & Noble






Three years ago, Lift asked a goddess to stop her from growing older--a wish she believed was granted. Now, in Edgedancer, the barely teenage nascent Knight Radiant finds that time stands still for no one. Although the young Azish emperor granted her safe haven from an executioner she knows only as Darkness, court life is suffocating the free-spirited Lift, who can't help heading to Yeddaw when she hears the relentless Darkness is there hunting people like her with budding powers. The downtrodden in Yeddaw have no champion, and Lift knows she must seize this awesome responsibility.
I loved Lift in the interlude of Words of Radiance (WoR). Her character and story was one that interested me a lot. She is so different than anyone else that we have yet seen with a spren. In fact, she doesn't even acknowledge that her spren is in fact a spren, instead she calls him a Voidbringer all the time. I find her irreverence and childishness sort of refreshing.
So after coming into some of her power in WoR she has lived in the palace with her good friend Gawx but apparently it is time to go.
"Oh mistress," he said "Can't we stop playing out here, please?" We need to get back to the Azimir!"
"Go back?" Lift stood up. "We just escaped that place!"
"Escaped! The palace? Mistress, you were an honored guest of the emperor! You had everything you wanted, as much food, as much –"
"All lies," she declared hands on her hips. "To keep me from noticin' the truth. They was going to eat me."
A must read for fans of the Stormlight Archives Series.
Narration:
This time I listened in the Graphic Audio format and it was fantastic.  Really epic with a full cast and sound effects.
Listen to the clip:

---
A Heart of Blood and Ashes
Narrator:
Nicole Poole
Published by
Tantor Audio
on February 4, 2020
Genres:
Fantasy Romance
Length:
15 hours, 16 minutes
Format:
Audiobook
Source:
Purchased
Goodreads
Amazon
, 
Audible
, 
Audiobook
, 
Barnes & Noble
, 
Apple





A generation past, the western realms were embroiled in endless war. Then the Destroyer came. From the blood and ashes he left behind, a tenuous alliance rose between the barbarian riders of Parsathe and the walled kingdoms of the south. That alliance is all that stands against the return of an ancient evil - until the barbarian king and queen are slain in an act of bloody betrayal.

Though forbidden by the alliance council to kill the corrupt king responsible for his parents' murders, Maddek vows to avenge them, even if it costs him the Parsathean crown. But when he learns it was the king's daughter who lured his parents to their deaths, the barbarian warrior is determined to make her pay.

Yet the woman Maddek captures is not what he expected. Though the last in a line of legendary warrior-queens, Yvenne is small and weak, and the sharpest weapons she wields are her mind and her tongue. Even more surprising is the marriage she proposes to unite them in their goals and to claim their thrones - because her desire for vengeance against her father burns even hotter than his own...
A Heart of Blood and Ashes has one of my favorite tropes ever, a marriage between strangers and enemies to boot. This is firmly in the Romantasy realm as it is a fantastic blend of fantasy intertwined with romance.  Strong female characters and a warrior learning how to be a king made for some great characters and a solid plot made this a five star read for me.
Narration:
Nicole Poole is a new to me narrator who brought a strong voice to the story. She was able to convey both the vulnerability and strength of the main character and was able to carry the male leads voice well also.
Listen to the clip: 

---
The Invisible Life of Addie Larue
by
VE Schwab
Narrator:
Julia Whelan
Published by
MacMillan Audio
on October 6, 2020
Genres:
Young Adult
,
Fantasy
Length:
17 hours, 10 minutes
Format:
Audiobook
Source:
Purchased
Goodreads
Amazon
, 
Audible
, 
Audiobook
, 
Barnes & Noble
, 
Apple





France, 1714: in a moment of desperation, a young woman makes a Faustian bargain to live forever and is cursed to be forgotten by everyone she meets.

Thus begins the extraordinary life of Addie LaRue, and a dazzling adventure that will play out across centuries and continents, across history and art, as a young woman learns how far she will go to leave her mark on the world.

But everything changes when, after nearly 300 years, Addie stumbles across a young man in a hidden bookstore and he remembers her name.
This story is not going to be for everyone. I think it is going to be a love it or hate it with little in between for most. I found it fascinating with the beautiful prose and the interesting way Addie came to see her life. I, for the most part, enjoyed this tale of a girl trapped at twenty-three with no way to leave a mark on the world and forgotten by anyone who meets her in the blink of an eye.  When you make bargains with the gods after dark, beware of what it will cost you.
Narration
Julia Whelan and I go way back to when I first listened to her in Gone Girl.  She has done an extensive catalogue of work and it shines through in the way her voice really carries this story.  I'm not sure I would have liked it half as much had I read it on my own.
Listen to the clip: 

---
Developing the Leader Within You
Published by
Thomas Nelson
on February 6, 2018
Length:
7 hours, 44 minutes
Format:
Audiobook
Source:
Library
Goodreads
Audible
, 
Barnes & Noble
, 
Apple



John Maxwell examines the differences between leadership styles, outlines principles for inspiring, motivating, and influencing others. These principles can be used in any organization to foster integrity and self-discipline and bring a positive change.

"Developing the Leader Within You" also allows readers to examine how to be effective in the highest calling of leadership by understanding the five characteristics that set "leader managers" apart from "run-of-the-mill managers."

In this John Maxwell classic, he shows readers how to develop the vision, value, influence, and motivation required of successful leaders.
I'm usually trying to improve in my professional career and finding a few books along the way to help with that at the library has been helpful.  This book focused on some really broad strokes to growing as a leader.  It could have given some more real world examples but overall it was a good overview of how to become a better leader.
Narration:
The author was the narrator for this book.  As he is a public speaker that made sense and he does a good job with the material.  His voice was pleasant and you could tell that this is a topic he is excited about.
Listen to the clip: 

Reading this book contributed to these challenges:
Robin Audio20
Robin LIbrary-Love
Related Posts