Review copy was received from Publisher. This does not affect my opinion of the book or the content of my review.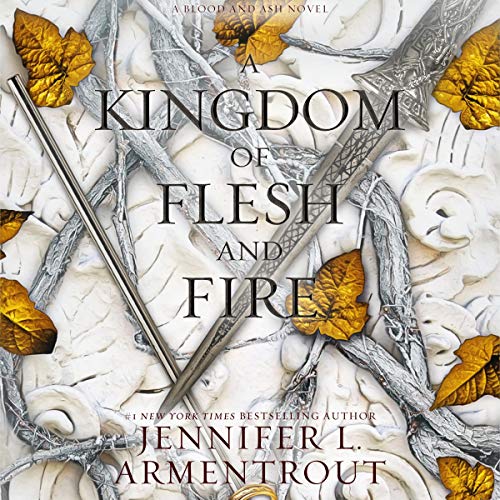 A Kingdom from Flesh and Fire
by
Jennifer L. Armentrout
Narrator:
Stina Nielsen
Series:
Blood and Ash #2
Published by
Brilliance Audio
on November 3, 2020
Genres:
Young Adult
,
Fantasy
Length:
24 hours, 21 minutes
Format:
Audiobook
Source:
Publisher
Goodreads
Amazon
, 
Audible
, 
Barnes & Noble
, 
Apple





A Betrayal…

Everything Poppy has ever believed in is a lie, including the man she was falling in love with. Thrust among those who see her as a symbol of a monstrous kingdom, she barely knows who she is without the veil of the Maiden. But what she does know is that nothing is as dangerous to her as him. The Dark One. The Prince of Atlantia. He wants her to fight him, and that's one order she's more than happy to obey. He may have taken her, but he will never have her.

A Choice...

Casteel Da'Neer is known by many names and many faces. His lies are as seductive as his touch. His truths as sensual as his bite. Poppy knows better than to trust him. He needs her alive, healthy, and whole to achieve his goals. But he's the only way for her to get what she wants—to find her brother Ian and see for herself if he has become a soulless Ascended. Working with Casteel instead of against him presents its own risks. He still tempts her with every breath, offering up all she's ever wanted. Casteel has plans for her. Ones that could expose her to unimaginable pleasure and unfathomable pain. Plans that will force her to look beyond everything she thought she knew about herself—about him. Plans that could bind their lives together in unexpected ways that neither kingdom is prepared for. And she's far too reckless, too hungry, to resist the temptation.

A Secret…

But unrest has grown in Atlantia as they await the return of their Prince. Whispers of war have become stronger, and Poppy is at the very heart of it all. The King wants to use her to send a message. The Descenters want her dead. The wolven are growing more unpredictable. And as her abilities to feel pain and emotion begin to grow and strengthen, the Atlantians start to fear her. Dark secrets are at play, ones steeped in the blood-drenched sins of two kingdoms that would do anything to keep the truth hidden. But when the earth begins to shake, and the skies start to bleed, it may already be too late.
A Kingdom of Flesh and Fire is the second book in the Blood and Ash series.  We pick up right where we left off in From Blood and Ash.  Poppy didn't have any idea who her former guard really was and why she is so important to his plans. Now those plans have changed a little/a lot and she has to figure out what and who she believes.
I found this story mostly entertaining.  There is a decent amount of world building happening, the characters are interesting and I feel like the story has a lot of potential.  It is a bit tropy, Cas has stolen the Maiden and wants to marry her even though they are sort of enemies.  Which is actually a favorite trope of mine.
It has a few issues for me that bring my rating down.  I felt like From Blood and Ash was a little guilty of info dumping but hoped that would be over by the second book.  Unfortunately, that is still the case.  Most of the information we find out about in the story comes from conversations Poppy has with Cas or Kieran.  While interesting, it isn't my favorite way to get information across especially in a second book.  I really wish there was more show me instead of tell me in this book.
Far too much time is spent in Poppy's head as she tries to convince herself that Hawk/Cas doesn't really care about her and their plan to marry is just a ruse.  While it was abundantly clear to the reader that all the feelings were real, she was painfully oblivious to it all.  The fighting of attraction to one another was a bit OTT for my taste also, especially if this is more in the realm of New Adult than Young Adult.
The story didn't progress nearly as much as I would have liked but I was entertained throughout especially since it didn't feel like much really happened.  There were only two larger events that happened in this book, for something with 637 pages, that is a lot of time just talking.
I did like the story and was engaged but I think had I been reading instead of listening I would have skimmed the inner monologue scenes.  The things I wanted to know the most about will not be answered until the final book so most of this book felt like filler.  It did do some worldbuilding and set Poppy and Cas's relationship up but there was no other plot movement and the ending was a cliffhanger.
Overall, this is an okay story.  I'll finish it out with the next book because I need to know all the things and I do like the story even though I think it could have been paired down about a hundred pages.  I was actually amazed with how much I liked it in spite of the tropes, inner monologues and communication errors.
"Make me feel incompetent and kill more than me, Princess."
Narration:
Stina Nielsen continues her performance of this book.  She does a great job with Poppy and all the things she is feeling.  I felt like the voice was appropriate to the age and naivete of the character.
Listen to a clip:

Rating Breakdown
Plot
Writing
Characters
Dialogue
Narration (Audio)
Overall:
Reading this book contributed to these challenges:
Related Posts