Review copy was received from NetGalley. This does not affect my opinion of the book or the content of my review.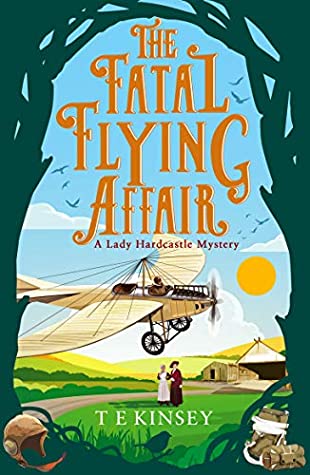 The Fatal Flying Affair
by
TE Kinsey
Series:
Lady Hardcastle Mysteries #7
Published by
Thomas & Mercer
on December 3, 2020
Genres:
Historical Fiction
,
Mystery
Pages:
312
Format:
eARC
Source:
NetGalley
Goodreads
Amazon
, 
Audible




August 1911. Emily Hardcastle and her inimitable lady's maid Florence Armstrong are enjoying a fine summer until Harry, Lady H's brother, turns up out of the blue with a mystery for them to solve.

A routine parachute test at a local aeroplane factory has gone horribly wrong—with pilot Dickie Dupree plummeting to his death. Harry is certain there is more to this 'tragic accident' than meets the eye, having discovered that someone at the airfield is leaking top secret intelligence to foreign rivals.

In between strolls to the Dog & Duck and planning for the annual village show, the daring duo dust off the Crime Board and go undercover at Bristol Aviation. With international powers investing heavily in aeronautics, the stakes are high—sky high—and the suspects soon mount up.

Can Lady Hardcastle find the culprit before someone else falls down dead?
When a pilot plunges to his death from testing a suddenly faulty parachute, Emily and Flo get their orders to investigate the Bristol Aeroplane plant for espionage and a murderer.  I love these Edwardian Era cozy historical mysteries that combine fun and gig with sleuthing.   The Fatal Flying Affair is the seventh of the Lady Hardcastle mysteries that can be taken standalone or, at their best, in order.
Lady Emily Hardcastle and her ladies' maid, Florence, have enjoyed a fine summer in their country village cottage, plotting garden plans with their irascible gardener and looking forward to a village talent festival that Flo is rather reluctant to participate in.  Then, Lady Cardcastle's brother in the secret service drops in, with a need for their detecting talents, so off they go into the world of aviation and pre-WWI espionage.
I've always enjoyed the jovial, badinaging pair of Emily and Flo who are definitely over the top and eccentric.  Emily comes across as quirky, even ditzy, but she is really a keen observer and the brains of the detecting duo.  While Florence, who is the narrator of the books, is the even-keeled one with the martial arts and weapons knowledge.  They blur the lines in mistress-servant because the pair have been together a long time and through a colorful career in far off places as British spies.  Their cottage and the village was to be their peaceful retirement, but they can't help poking into local mysteries and murders.  So with their skill set, they come across as a dotty lady and her maid servant, and are perfect investigators.
As to the mystery, it is set in the fascinating pioneer period of aviation and I enjoy getting a good dose of what it was like in the early years without slogging into the engineering behind it all.  The suffragettes from an earlier mystery are back as are several of the usual characters, but the mystery is in a Bristol factory and is being touted as an accident so Inspector Sunderland, the Farley-Strouds and others are not as prevalent.  The mystery is, in fact, three mysteries that seem unrelated until they are.  There were plenty of suspects and motives. It got exciting and I did get to enjoy seeing the intrepid Flo in action and Lady Hardcastle do her voila.  It got slow for a bit just before the reveals and finale, but it was still a fun detecting adventure.
All in all, I had a good time as I usually do with these light, amusing historical murder mysteries I can recommend to those who like historical cozies.
Related Posts