Review copy was received from NetGalley. This does not affect my opinion of the book or the content of my review.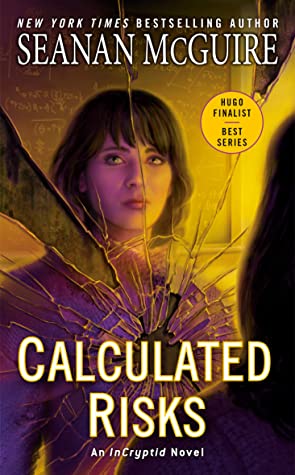 Calculated Risks
by
Seanan McGuire
Series:
Incryptid #10
Published by
DAW Books
on February 23, 2021
Genres:
Urban Fantasy
Pages:
448
Format:
eARC
Source:
NetGalley
Goodreads
Amazon
, 
Barnes & Noble
, 
Apple





Just when Sarah Zellaby, adopted Price cousin and telepathic ambush predator, thought that things couldn't get worse, she's had to go and prove herself wrong. After being kidnapped and manipulated by her birth family, she has undergone a transformation called an instar, reaching back to her Apocritic origins to metamorphize. While externally the same, she is internally much more powerful, and much more difficult to control.

Even by herself. After years of denial, the fact that she will always be a cuckoo has become impossible to deny.

Now stranded in another dimension with a handful of allies who seem to have no idea who she is--including her cousin Annie and her maybe-boyfriend Artie, both of whom have forgotten their relationship--and a bunch of cuckoos with good reason to want her dead, Sarah must figure out not only how to contend with her situation, but with the new realities of her future. What is she now? Who is she now? Is that person someone she can live with?

And when all is said and done, will she be able to get the people she loves, whether or not they've forgotten her, safely home?
Calculated Risks is the tenth book in the  Incryptid series that follows a family of cryptozoologists (study of mythical, not so mythical creatures) on their adventures as they try to avoid the Covenant, a group of people bent on killing the cyrtid population, and help the Cryptid communities in the United States.  This series, you do need to read in order to really get what is going on, and every few books it switches to a new member of the Price family.  Calculated Risks is Sarah's second book.
Sarah is a Cuckoo, a form of cryptid that is normally a little evil and killy, and tends to hijack the minds of the people in their vicinity.  However, she was raised by a good Cuckoo and has all kinds of rules for herself so she doesn't go all evil.  So, when she transports her boyfriend and part of a college campus to a different dimension, erasing herself accidentally from the minds of everyone who knew her, she can't just insert herself back into their minds.  That would be bad not to mention incredibly rude.
I struggled with this story in the series a little bit because no one remembers Sarah, except for the mice and so the way Antimony and Artie treat her is difficult since they don't remember her.  The way Sarah thinks of herself sometimes, the hate she has for what she is and her longing to just be human, was hard to take.  Plus, Artie was a big jerk for a really long time in the book and since they've been in love forever it was really hard to read since I just wanted Artie to remember Sarah.  I think I got distracted by waiting for everyone to remember Sarah, so I didn't focus in on the story.
The dimension they are in is pretty cool though.  There are huge millipede looking things that float in the sky, large preying mantises and huge spiders.  Some of the things are dangerous and others have been tamed, so to speak, and are even ridden by the indigenous people, who we also meet.  That actually was the most interesting part of the book, meeting the people who lived on this planet.
Sarah has a big task to do if she is going to do the Math that is going to get everyone home again and it is dangerous; she might not survive.  But it is worth the risk to get back to her family.
I still had a good time in this book but it definitely wasn't as strong for me as the others of the series.  The dialogue with Antimony was still great, she is funny no matter what but Sarah's banter with Artie and her family was missing since they didn't remember her.  Still Greg, the Spider, is a great addition to the cast of characters and I enjoyed the story a lot more when he entered the picture.  InCryptid is a solid UF series full of crazy creatures, magic and now dimension hopping.  It is really imaginative and different if you are looking to expand your UF reading.
"I have so many knives," said Annie. "I am the Costco of having knives. You really want to provoke me right now, cuckoo-boy?"

"I am not a good place to store your knives," he said. "I don't know how many times I need to tell you this, but sticking knives in living people just because they say something you don't like is the reason no one likes you or the rest of your fucked-up family."
Rating Breakdown
Plot
Writing
Characters
Dialogue
Overall:
Related Posts