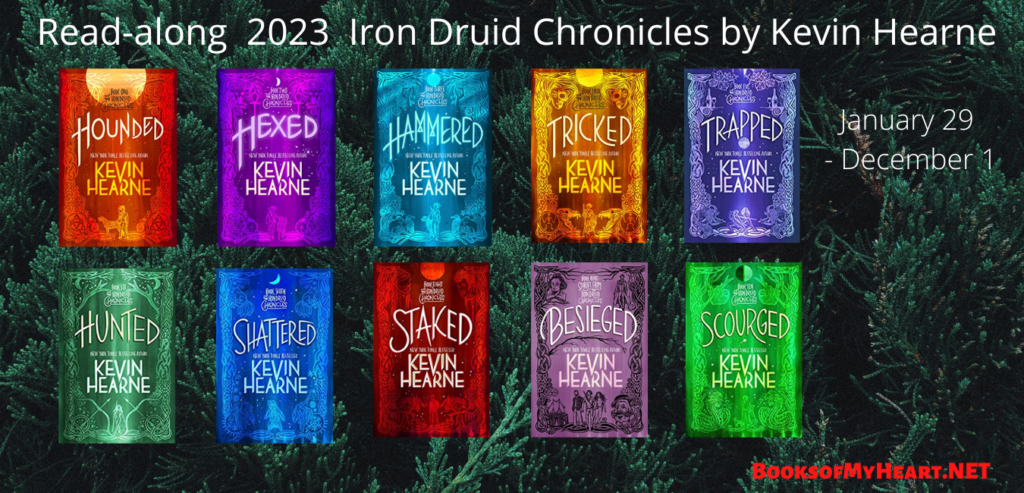 Hunted
by
Kevin Hearne
Narrator:
Luke Daniels
Series:
Iron Druid Chronicles #6
Published by
Penguin Audio
on June 25, 2013
Genres:
Urban Fantasy
Length:
9 hours, 52 minutes
Format:
Audiobook
Source:
Library
Goodreads
Amazon
, 
Audible
, 
Libro.fm
, 
Barnes & Noble
, 
Apple




For a 2,000-year-old Druid, Atticus O'Sullivan is a pretty fast runner. Good thing, because he's being chased by not one but two goddesses of the hunt - Artemis and Diana - for messing with one of their own. Dodging their slings and arrows, Atticus, Granuaile, and his wolfhound Oberon are making a mad dash across modern-day Europe to seek help from a friend of the Tuatha Dé Danann. His usual magical option of shifting planes is blocked, so instead of playing hide-and-seek, the game plan is...run like hell.

Crashing the pantheon marathon is the Norse god Loki. Killing Atticus is the only loose end he needs to tie up before unleashing Ragnarok - AKA the Apocalypse. Atticus and Granuaile have to outfox the Olympians and contain the god of mischief if they want to go on living - and still have a world to live in.
Hunted, the sixth installment in the Iron Druid Chronicles, is another exhilarating supernatural thriller that takes readers on a non-stop, action-packed journey.  I stopped reading this series mid-way through Tricked and I was happy for an excuse to jump back in.  In Hunted, the story picks up immediately after the events of Trapped, where Atticus and company find themselves blocked from jumping planes and being pursued by God's and their minions across Europe on foot (or paw, hoof, wing, etc.)
Mr. Hearne's ability to seamlessly blend mythology and urban fantasy is one of the reasons I enjoy this series so much.  The author brings various mythical creatures, gods, and goddesses to life, creating a rich and immersive world with boundless possibilities.  The lore and world-building are well-researched and add depth to the story, making it feel fresh and old-world at the same time.  In Hunted, it seems like every Pantheon, Court, and belief system gets at least a mention, if not an active role, in the story.  It certainly felt like everybody was out to get Atticus.  I hope that there is a détente in the next book, where Atticus is able to gather support and solidify his alliances.
There is no question that Mr. Hearne can write some action.  I need a breather to let my adrenaline normalize before moving on to the next book.  I actually like the extensive detail in the fight and battle scenes (even the ones just for fun).  The action sequences are well-written and intense, and I felt like I was running right along with Atticus, Oberon, and Granuaile throughout most of the book.
The Iron Druid Series almost has it all:  Fantastic world building – check.  A clever premise-check.  As swoon-worthy hero-check.  Oberon the Comic dog – check.  I think the only thing the series was missing was a kick-ass heroine (who wasn't crazy or deranged).  But not anymore!  I really enjoyed the development of Granuaile as a character in this book.  She is really coming in to her own as a druid and warrior.  Atticus is very clear to point out that Granuaile is her own person and capable of making her own choices.  There were even a couple of chapters in her POV where we get a different perspective on druid magic and a better understanding of the connection between her and Atticus.  I hope Mr. Hearne continues to use her POV in future novels.
I have mixed feelings about Atticus as a character.  He's good-looking, smart, powerful, loyal, and heroic.  I love all those traits about him, but at the same time, he's a little too good at everything to sustain my interest.  I'm at a point where I want to see some fragility, emotion, or even a major flaw or two.  He is a little too irreverent for someone who is supposed to be over 2000 years old, but I suppose that might be part of his charm.  While the relationship between Atticus and Granuaile was, um, solidified in the last book, I wanted to see more of their emotional connection and growth as a couple.  Given the nature of Hunted where the characters are being constantly pursued, I'll cut the author some slack.  But I will certainly expect more in the next installment.
Narration
Luke Daniels is a genius.  I have to give him mad props for making each and every character come to life in a unique and identifiable way.  I don't have to rewind to catch a character's name, which sometimes happens in audiobooks, especially with foreign names (and there are a lot of those in Hunted).  He's a great option for Atticus (although I wish he had a bit of Irish in his accent, no matter where he's been living).  My biggest gripe, and I know I am in the minority here, is that I can't stand Oberon's voice.  I don't consider him a dopey dog, so I don't think he needs a dopey accent.  I imagine the dog from the movie UP, rather than an Irish Wolfhound when I hear him speak.  Overall, I was impressed by the performance and listening has increased my enjoyment of the series.
Listen to a clip: HERE
---
Share your review/ thoughts on Hunted:
I thought it might be fun to link up reviews so we can find them all easily.  It can be a link to Goodreads or a blog, or wherever you have a review (short or long).
Mister Linky's Magical Widgets — Easy-Linky widget will appear right here!
This preview will disappear when the widget is displayed on your site.
If this widget does not appear,
click here
to display it.
---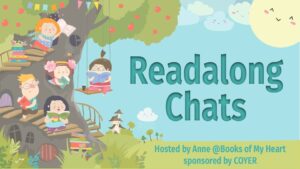 The chat will be Sunday, August 6th
COYER Challenge is adopting our Read-along.  You can read about COYER and join that challenge or just the Facebook community chat HERE.   On the Sunday after the review posts, they will host a FB room (like we do for COYER book club) at 12 PT, 2 CT, 3 ET and 9pm Europe, for a one hour chat.   You do not have to join the COYER challenge to participate, only the Facebook group.
---
Here's your to-do list:
Find your copies of these books, borrow them from a friend, get them at the library or buy them
Read book 7,  Shattered by September 8.
Read book 7.5,  Prelude to War. This is in an anthology called Three Slices.  The audio is Audible only but it is currently in AudiblePlus.  The ebook does not appear to be at any of my libraries; it is $5.99 on Amazon. It also seems to be at the end of the Shattered ebook in the copy I got at the library. The whole anthology is only 152 pages, so it's probably only around 50 pages.

Don't forget to enter questions for the Q&A with Kevin into the rafflecopter!

Make note of a favorite quote or two as you read the book.
If you haven't read the books before, make a list of questions you have for the discussion. If you have read them, please don't spoil new readers.

Enter the giveaways!
---
Interviews with Kevin:
2013- May 31: I Smell Sheep at Phoenix Comic Con  interview
2013- Jun 25: Roqoo Depot  interview
2013- Oct  9: SFF World  interview
---
Games:
Who said (enter the answer in the Rafflecopter, don't put in the comments)
Who said                              " Run now.  I want you to fight in Ragnorak. Or I want to watch the huntresses flay you alive. I find myself deliciously ambivalent. "
There are other options in the rafflecopter for you to enter discussion questions and quotes to share.
he quote for Who said  "Do please tell her that to her face.  I can tell already that this is going to be an amusing audience." in Trapped is Flidais.
The villains were many: Bacchus, vampires, and Leif.
---
Observations and questions you shared from Trapped:
(Thank you  so much for sharing!)  If you can answer any of these questions, you can do so in a comment.
I forgot that Flidais worked on and made Granuile's staff so special.
---
Quotes you readers shared from Trapped:
"I'm quite sure many of the Fae have already spread word of you audience here. Word will circulate quickly that you are back from the dead. Bacchus will hear of it sooner or later." Three kinds of cat shit, Oberon."
"I never heard confusion from an elemental before. The fear on the other hand, was perfectly normal. Despite their awesome power elementals are afraid of almost everything."
"I forgot Irish Wolfhounds are the ultimate accessories for humans."
"Damn it, Jim, I'm a Druid, not a physicist."
"St. Lassie be praised!"
"A squee welled up in my throat…If I squeed out loud all the cool would be gone."
"One may speak of forgiveness here, and another may actually mean it there, but legions remain who would condemn a starving man to amputation for pinching a crust of bread. We are petty creatures who seek to aggrandize ourselves by feasting on the dignity of our fellows."
"As they continued their ocular foreplay."
"Mwahahaha!"
"His sanity has always been doubtful. He once tied a rope to the beard of a nanny goat and the other end to his testicles just to make Scotty Laugh."
"She didn't go all fangirl on anyone, but I suspect that's only because none of them bore the slightest resemblance to Nathan Fillion. I'd taken her to Comic Con about eight years ago and she got to meet him; when he shook her hand and said, "Charmed," she damn near swooned. Then she lost most of her language faculties."
"It was, to me, an unkind plunge into air that felt like spiderwebs and snot."
---
Be sure to enter the giveaways!!!
Giveaway: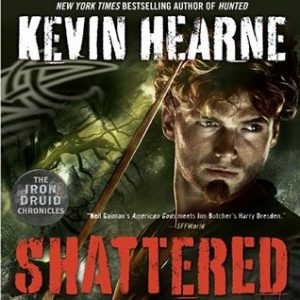 For US  Audible audio version of Hunted, and for Intl a paperback from Better World Books. The giveaway is international, as long as Better World Books ships there free of charge (find that out here!)
Grand-Prize Giveaway:
For a US / Canadian winner, this will be a full set of SIGNED trade paperbacks by Kevin Hearne.
For an Intl winner,  it will be $50 at Better World Books.  The giveaway is international, as long as Better World Books ships there free of charge (find that out here!)
Time to start reading Shattered by Kevin Hearne for the 2023 Read-along! #giveaways #giveaway @BooksofMyHeart
Click To Tweet
---
Schedule:   
We are doing one book every 4-5 weeks, posting on Fridays. We will have a review with the team here at Books of My Heart plus some of our friends.
Mar 3:    Hounded               –  Stephanie @ Once Upon A Chapter
Mar 31     Hexed                     –  Lillian @ Mom with a Reading Problem
May 5:    Hammered           –  Jen @ That's What I'm Talking About
Jun 2:     Tricked                  –  Terrie @ Bookshelf Journeys
Jul 7:       Trapped                –  Rachel @ Waves of Fiction
Aug 4:      Hunted                 –   KC @ Books of My Heart
Sep 8:     Shattered               –  Berls @ Because Reading
Oct 6:      Staked                     –  Sophia @ Books of My Heart
Nov 3:     Besieged                 –  Kimberly @Caffeinated Reviewer
Dec 1:       Scourged               –   Anne  @ Books of My Heart  
Dec 17:     Q & A with Kevin Hearne   
Rating Breakdown
Plot
Writing
Characters
Dialogue
Narration (Audio)
Overall:
Latest posts by Anne - Books of My Heart
(see all)
Reading this book contributed to these challenges:
Related Posts