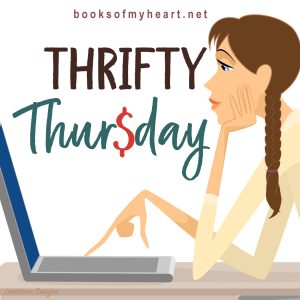 The purpose of Thrifty Thursday is to read a book which was free (at some point).
Kindle freebie on October 8, 2021  (currently $4.99 at Amazon and Barnes & Noble as of writing this post)
Overall rating 3.73 with 2,285 ratings and 498 reviews
New Orleans Rush
by
Kelly Siskind
Series:
Showmen #1
on April 23, 2019
Genres:
Contemporary Romance
Pages:
333
Format:
eBook
Source:
Purchased
Goodreads
Amazon
, 
Audible
, 
Barnes & Noble
, 
Apple





Beatrice Baker may be a struggling artist, but she believes all hardships have silver linings...until she follows her boyfriend to New Orleans and finds him with another woman. Instead of turning those lemons into lemonade, she drinks lemon drop martinis and keys the wrong man's car.

Now she works for Huxley Marlow of the Marvelous Marlow Boys, getting shoved in boxes as an on-stage magician's assistant. A cool job for some, but Bea's been coerced into the role to cover her debt. She also maybe fantasizes about her boss's adept hands and what else they can do.

She absolutely will not fall for him, or kiss him senseless. Until she does. The scarred, enigmatic Huxley has unwittingly become her muse, unlocking her artistic dry spell, but his vague nightly activities are highly suspect. The last time Beatrice trusted a man, her bank account got drained and she almost got arrested. Surely this can't end that badly...right?
Somehow I read the second book in this series before the first one.  I really enjoyed it a lot, along with everything else I have read from this author, so I was excited to read more in the Showmen series.  The series connection seems to be a male lead in each books' romantic couple being a leader, at least with the two books I have read now.  There is a very loose character connection but it was difficult to find.
I liked the main characters with their penchant for taking care of others before themselves.  Huxley has tried hard to honor his father and help his brothers.  Bea has been the adult rather than her parents for most of her life.
However,  I felt they were both unrealistic. Huxley would have long ago been called on his theater which needed major repairs.  Bea was in severe danger from loan sharks and a bit TSTL.  The way they worked out of these problems was not believable.
I did enjoy the way they both had different bodies than normal and both were accepting of those differences.  They relished and supported each other, giving encouragement in an often negative world.  The appreciation they had for one another was a contagious energy which lifted their lives and those around them.   Their miscommunication was thankfully short, and I was happy to have them be happy in their HEA.
---
These are only Kindle freebies I get, or ones through author newsletters which anyone can sign up and get for free. I don't include things like Kindle Unlimited or Prime Free Reading (I do have it). Both Tantor and Audible have occasional free audios (to anyone) and I do include those.  Since I one-click on 1-2 freebies a day or probably at least 5 a week, I came up with this feature to make sure I start reading them.
So I have thought about doing a Thrifty Thursday Challenge someday. For now,  what I think would be fun is if you have read and reviewed  a freebie, link up to your review (Goodreads, blog, facebook or wherever) below.
---
Add your review link here: 
Mister Linky's Magical Widgets — Easy-Linky widget will appear right here!
This preview will disappear when the widget is displayed on your site.
If this widget does not appear,
click here
to display it.
Latest posts by Anne - Books of My Heart
(see all)
Reading this book contributed to these challenges:
Related Posts