Review copy was received from Author, NetGalley. This does not affect my opinion of the book or the content of my review.
Pearl Sky
by
Elizabeth Hunter
Series:
Elemental Legacy #6
Published by
Self-Published
on December 6, 2022
Genres:
Urban Fantasy
Pages:
205
Format:
eARC
Source:
Author, NetGalley
Goodreads
Amazon
, 
Barnes & Noble
, 
Apple






It's not just any holiday season in the immortal world. Elder Zhang's oldest servant is reaching the century mark and Ben and Tenzin are ready to celebrate, but no sooner do they land on Penglai Island than a mystery falls in their path. A valuable seal has gone missing, and the artifact was a gift from an ancient vampire who just happens to be heading to Penglai for a long-overdue formal visit.


The Elders of Penglai may have asked Ben and Tenzin's assistance to find the lost treasure, but that doesn't mean that eight ancient vampires, their immortal children, and all the humans who serve them will suddenly become open books. Penglai Island is secret for a reason, and the heart of that reason may just reveal the motive behind the theft.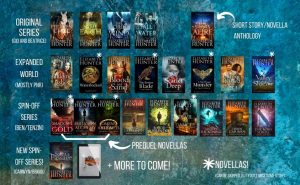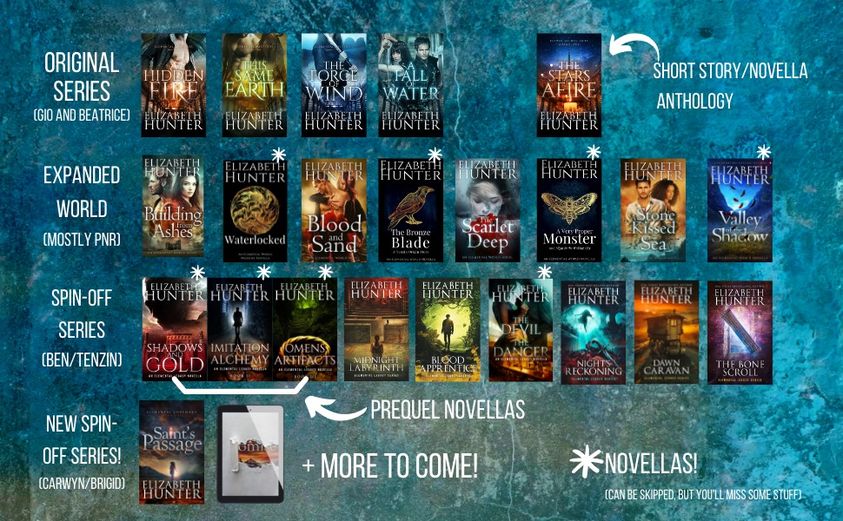 The Elemental Legacy series (Ben / Tenzin)  builds upon the very beginning which is Elemental Mysteries (Original series)and then the Elemental World. (Expanded World)   I would classify Elemental Mysteries and Elemental Legacy as urban fantasy as they deal with one couple primarily, whereas Elemental World is more paranormal romance with a different couple or character in each book. Pearl Sky follows Bone Scroll on this graphic.
You could read just Elemental Legacy but being an OCD reader, I would start with Mysteries, then World, then Legacy.   If that's too much, you could probably just do Mysteries,  the Bronze Blade,  and then Legacy,  or possibly just Bronze Blade and then Legacy.  But I would really just read them all as they are great!
---
I am thrilled to have another adventure of Ben & Tenzin.  They are in Penglai for a celebration of a human servant turning 100 years old.  I really enjoyed the contrast of Ben being a newer vampire and yet powerful, and his view of the humans in Penglai. Then we have Tenzin who is ancient and even more powerful, with knowledge of how things work in the world for vampires and humans, with the customs and hierarchies.
There is almost no crime because everyone follows the traditions and has respect for them. Also, I suspect any human criminals are quickly dead. Now with a priceless treasure stolen, Ben and Tenzin are asked to "find" it.  They are "asked" but it's not really a choice. Their investigation provides a deep view of the power structure, expected traditions and roles in the Penglai society. There is also a nice comparison of Ben's views and Tenzin's and how they work together utilizing their varied perspectives.
Ben and Tenzin uncover more things which don't make sense, similarly to the theft. Then there is a murder.  Things are only more tense, with the vampire elders impatient for resolution,  but our couple figures everything out and works out a satisfying resolution.  I love watching them work together and how they support each other and help the other avoid stepping too far out of the any society norms.  Pearl Sky has a richly developed setting and the character development of the couple is priceless for fans.
Latest posts by Anne - Books of My Heart
(see all)
Related Posts