Review copy was received from NetGalley. This does not affect my opinion of the book or the content of my review.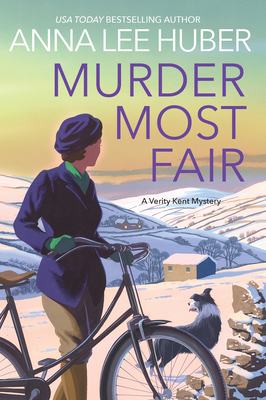 Murder Most Fair
by
Anna Lee Huber
Series:
Verity Kent Mystery #5
Published by
Kensington Books
on August 31, 2021
Genres:
Historical Fiction
,
Mystery
Pages:
304
Format:
eARC
Source:
NetGalley
Goodreads
Amazon
, 
Audible
, 
Audiobook
, 
Barnes & Noble
, 
Apple





November 1919. A relaxing few weeks by the seaside with her husband, Sidney, could almost convince Verity Kent that life has returned to the pleasant rhythm of pre-war days. Then Verity's beloved Great Aunt Ilse lands on their doorstep. After years in war-ravaged Germany, Ilse has returned to England to repair her fragile health—and to escape trouble. Someone has been sending her anonymous threats, and Verity's Secret Service contacts can only provide unsettling answers.

Even deep in the Yorkshire Dales, where she joins Verity's family for the holidays, Ilse encounters difficulties. Normally peaceful neighbors are hostile, seeking someone to blame for the losses they've endured. When Ilse's maid is found dead, Verity must uncover whether this is anti-German sentiment taken to murderous lengths, or whether there is a more personal motive at work. Could Verity's shadowy nemesis, Lord Ardmore, be involved? And if so, how much closer to home will the blow land when he inevitably strikes again?
One would think surviving the war, saving her marriage, and hunting down murderers and a master criminal would be the scariest activities in a woman's life, but no, going home for the holidays is what brings on the panic for 20's era former spy, Verity Kent.  I can't help, but appreciate each new installment in this dashing series of mysteries.
Murder Most Fair is the fifth of the Verity Kent mysteries set in post-WWI era Britain.  These are closely connected and must be read in order.
Verity and Sidney are taking a break after their last big murder case and encounter with the wily arch-nemesis they are up against.  Spending time at their seaside cottage with a few friends is just the thing, until a surprise visit from Verity's German great-aunt leads them onto a new mystery and takes them to Yorkshire and Verity's childhood home sooner than planned.  The atmosphere is heavy and that's inside the house as Verity faces the consequences of staying away for over five years, but then a murder really stirs the pot.
Throughout this series, Verity has had an acrimonious relationship with her mother about not coming home, her conduct that made it into the society news, and her seeming lack of grieving over her brother.  This is the book which brings that all to a head when Verity is finally forced to return to her family's ancestral estate.  Sidney is right there with her and a support, but she is the one who must take her mother's disdain, her surviving siblings' hurt, and her own long overdue locked away grief and deal with it.  Cracks are showing in her emotional wall and being home is what is forcing it.  It was heartbreaking as she stubbornly held off dealing with her grief especially in the face of places and memories that come back to her and there is the constant absence of the one sweet brother.
But, even as she struggles, Verity sees she is not the only one who is grieving and struggling.  Both her surviving brothers came back from the war with inner scars, her parents are not growing younger, and the whole village is missing their dead and trying to start over.  She was so caught up in her own struggles that she has held family at a distance and now realizes how much she needs them and they need her.
Because it is so close to the war years, feelings are high when Verity brings Aunt Ilse and her maid back home.  People are vocal about their anti-German feelings.  And, when the maid dies, she is faced with the fact that there is too much prejudice for anyone to seek the truth behind the death.  So, she and Sidney must learn the maid's secrets and determine if the trouble followed them there or if someone in her home village is a killer.
I found the mystery quite easy to figure out from the maid's secrets to who the killer was and why.  But, I wasn't bored because I was fully engaged in Verity's personal struggles and meeting her family in this one.  The author has never shied away from writing a woman who is not perfect and who has her struggles and, in this case, it is delayed grief for her brother.  The author addresses all this with her and it was agonizing being along for Verity's struggle as she flails about even attacking Sidney where she knows he is vulnerable before remorsefully apologizing because he is not the rightful target of her angst.  This book felt like a turning point for Verity on a personal level even if the overall series arc for the suspense thread didn't see much forward progress.
All in all, this was fabulous for historical post-war Roaring twenties setting and character development and provided a decent mystery as well.  I can definitely recommend the series to those who want historical mysteries with a lot of relationship and personal growth adding complexity to the storyline.
Related Posts