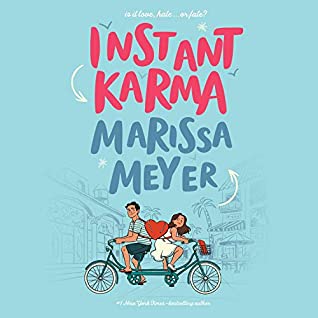 Instant Karme
by
Marissa Meyer
Narrator:
Rebecca Soler
Published by
MacMillan Audio
on November 3, 2020
Genres:
Fantasy Romance
,
Young Adult
Length:
14 hours, 14 minutes
Format:
Audiobook
Source:
Purchased
Goodreads
Amazon
, 
Audible
, 
Audiobook
, 
Barnes & Noble
, 
Apple





Chronic overachiever Prudence Daniels is always quick to cast judgment on the lazy, rude, and arrogant residents of her coastal town. Her dreams of karmic justice are fulfilled when, during a night out with her friends, she slips on a spilled drink and hits her head, only to wake up with the sudden ability to cast instant karma on those around her.

Pru giddily makes use of the power, punishing everyone from public vandals to mean gossips, but there is one person on whom her powers consistently backfire: Quint Erickson, her slacker of a lab partner. Quint is annoyingly cute and impressively noble, especially when it comes to his work with the rescue center for local sea animals.

When Pru resigns herself to working at the rescue center for extra credit, she begins to uncover truths about baby otters, environmental upheaval, and romantic crossed signals - not necessarily in that order. Her newfound karmic insights reveal how thin the line is between virtue and vanity, generosity and greed...love and hate...and fate.
I've loved Marissa Meyer since being so surprised by Cinder a Cinderella retelling which was so much more than just a retelling of an old fairytale.  I was really interested to see what she would do with a good ole YA romance.  Well I think she killed it with Instant Karma and while I still lover her fairytale retellings a little more, this was a really fun YA romance that wasn't too mushy or over the top.
Prudence is a no nonsense girl who has a 10 year plan and it just got wrecked by her slacker of a lab partner, Quint.  He shows up late to class almost daily and she knew she couldn't trust him with this project, which is why she totally delegated all the parts so they didn't have to work together much at all.  She is so shocked when she didn't get the A she knows she deserved that she begs the teacher to let her redo parts of it over the summer break.  Just one catch, she has to get Quint to agree and he has to help to make it a cohesive team project.
Pru is a bit much in the beginning.  She is a black and white kind of girl and often jumps to conclusions about people quickly without giving them the benefit of the doubt or trying to see anything from their perspective.  She is a bit self absorbed and completely focused.  Besides her twin brother, Jude, and best friend, Ari, she really doesn't give anyone else a chance in her life.  After hitting her head one night at karaoke, she seems to have the power to play judge and jury and give everyone around her the karmic justice they deserve.  But when she uses it on the boy who threw off all of her plans, it doesn't ever seem to go the way she thinks it should.  Maybe that is because the universe knows something she doesn't.
Honestly this is a cute enemies to couple story.  Pru and Quint learn a lot from hanging out together and Quint helps Prudence see that there is a lot more to people than just the black and white she thinks there is and maybe she should look a little deeper instead of just judging right away.  He also is able to make her see he isn't the slacker she thought he was and he has responsibilities and priorities that she never knew about.  If she just got to know him a little, maybe their semester as lab partners would have not been the trial it was.  I like the slow understandings that they came to with one another and how they learned to get along and finally work together well as a team.  They both had different skills that compliment one another, if they just took the time to figure it out.
This was not an over-the-top YA romance with pining and breaths I didn't know I was holding.  This is your first real crush and figuring out that you really like someone and hoping they like you too.  Discovering more about yourself and others and how to see past the knee jerk initial response to someone to get to know them on a little deeper level.  There is also their project at a sea animal rescue shelter that is pretty adorable as well.  All and all it is really just a cute feel good story, but you have to make it past whiny, panicked Pru in the beginning to get to the really good stuff.  They you get a totally cute first love story and bonus – is it is completely a standalone for those times you do not want to commit to another series in your life.
Narration:
Rebecca Soler is fantastic.  She is really one of my favorite narrators and I again have loved her since The Lunar Chronicles.  She has a perfect voice for teen/new adult and really gets the way they talk so her performance is spot on.  Perfect voice to perform this book.  I listened at my usual 1.5x speed.
Listen to a clip:

Rating Breakdown
Plot
Writing
Characters
Dialogue
Narration (Audio)
Overall:
Related Posts