Review copy was received from NetGalley. This does not affect my opinion of the book or the content of my review.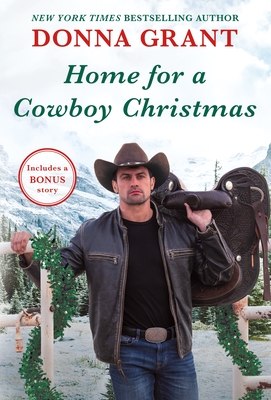 Home for a Cowboy Christmas
by
Donna Grant
Published by
St. Martin's Press
on October 26, 2021
Genres:
Contemporary Romance
Pages:
352
Format:
eARC
Source:
NetGalley
Goodreads
Amazon
, 
Barnes & Noble
, 
Apple




Tis the season—for everyone except Emmy Garrett. She's on the run after witnessing a crime. But when it becomes clear that trouble will continue following her, the US Marshal in charge takes her somewhere no one will think to look–Montana. Not only is Emmy in a new place for her protection, but now, she's stuck with a handsome cowboy as her bodyguard…and she wants to do more than kiss him under the mistletoe.

Dwight Reynolds left behind his old career, but it's still in his blood. When an old friend calls in a favor, Dwight opens his home to a woman on the run. He tries to keep his distance, but there's something about Emmy he can't resist. She stokes his passion and turns his cold nights into warm ones. When danger shows up looking for Emmy, Dwight risks everything to keep her safe.
Testifying against a mob boss has put a woman's life in danger and the only place she is safe is in the distant Montana mountains on a ranch with a former law-man.  Donna Grant blends country charm with tension-wrought romantic suspense so well that I didn't hesitate to grab up this latest set during the holidays.
Home For a Cowboy Christmas standalone and offers a bonus holiday novella, as well, both set in ranch country during the holiday season.
Emmy is sick with terror, but she trusts Dalton, the US Marshal who interrupted an assassin from killing her, to keep the mob off her trail long enough to find a place to hide her for the weeks until the trial.  Dalton brings her to Dwight's remote Montana ranch and for the first time in days she feels a measure of safety.  Dwight is trained military and law enforcement, but left it behind to come home.  He knows what he's doing and he understands her PTSD like no one else can.  His dog is intuitive about her need for comfort, too.  Her days might be numbered, but Emmy is determined to enjoy this last holiday season with Dwight on his beautiful family ranch.
Dwight left behind all that life and death stuff, but one look at Emmy and he is prepared to go back in protector mode.  No mob assassin will get past him and he wants a lifetime and not just a few weeks.
The suspense is palpable through the whole story and the reader can feel Emmy's terror and struggles to hold it together.  And, then there are the brief scenes with the mob boss and his associates that keep the danger ever present in the mind.
But, there is also a heartwarming glimpse at a wonderful working ranch in a gorgeous Montana mountain setting, a ruggedly handsome cowboy ex-lawman, a scene-stealing herding dog, and a tender, rapid romance to offset the suspense.
There is a superb climax scene and denouement to wrap up the story.  It all read easily and quickly.  I was well-satisfied with this holiday romantic suspense and hope that some of the others, especially Dalton, might eventually get their stories.
The extra novella was a snowed in city-girl country-boy situation that was a sexy and fun follow-up story worth the read, as well.
All in all, another great reading experience with a favorite cowboy romantic suspense author.  The holidays were well-repped and the romance was more spicy than sweet.  Those who want a cowboy romance paired with some suspense should definitely give this one or any of her other contemporaries a go.
Related Posts