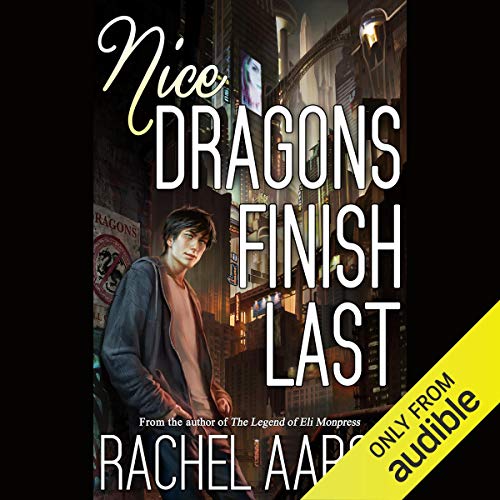 Nice Dragons Finish Last
by
Rachel Aaron / Bach
Narrator:
Vikas Adam
Series:
Heartstrikers #1
Published by
Audible
Genres:
Urban Fantasy
Length:
13 hrs and 31 mins
Format:
Audiobook
Source:
Purchased
Goodreads
Amazon
, 
Audible
, 
Barnes & Noble
, 
Apple






As the smallest dragon in the Heartstriker clan, Julius survives by a simple code: keep quiet, don't cause trouble, and stay out of the way of bigger dragons. But this meek behavior doesn't fly in a family of ambitious magical predators, and his mother, Bethesda the Heartstriker, has finally reached the end of her patience.

Now, sealed in human form and banished to the DFZ--a vertical metropolis built on the ruins of Old Detroit--Julius has one month to prove that he can be a ruthless dragon or kiss his true shape goodbye forever. But in a city of modern mages and vengeful spirits where dragons are considered monsters to be exterminated, he's going to need some serious help to survive this test.

He only hopes humans are more trustworthy than dragons...



I decided to re-listen to this series, thanks to Blodeuedd (in her defense, I'm the reason she started the series in the first place. LOL). I love this entire Heartstrikers series. Every book in the five book series is amazing (there is also a spin-off series that takes place 20 years after this series, DFZ, which is really enjoyable, just not as much as this series).
This series mostly follows Julius, one of the youngest Heartstriker dragons. He is also the nicest, which is a huge flaw in most of his family's eyes. His mother "seals" him (removes his ability to shift into a dragon) and drops him in the Detroit Free Zone, which is not dragon friendly. The area is controlled by Algonquin, the Lady of the Great Lakes, and she hates dragons.
I won't go into the plot of this story, but more into why I love this series so much. Mostly, it is the amazing characters. I love Julius so much. Then there is Marci, the human mage that he hires to help him find another dragon for his brother. Then there is Bob, Brohomir, the Great Seer of the Heartstrikers. Bob is Julius's oldest brother and a bit weird, but then all seers are a bit strange.
There is also Chelsie, Ian, Justin and I can't leave out Bethesda, Julius's mother. There are more we meet later in the series, but these are the ones we meet in this book. They are all really fun characters, each in their own way.
This book wasn't any less enjoyable the second time around, even knowing what was going to happen (though it had been a few years, so I didn't remember everything). I loved the time I spent with these characters and look forward to starting the next book in the series and continuing my re-listen to this wonderful series.
Narration:
The second best thing about this series is the narration. This was my first audiobook with Vikas Adam. He does such an amazing job with the large cast of characters in this series. There's women, men, dragons, spirits and gods. He nails every voice perfectly. He is great with his pacing, tone and emotion throughout the entire series. I have gone on to listen to other stories by him and would recommend any audiobook he is performing.
Listen to a clip:

Rating Breakdown
Plot
Writing
Characters
Dialogue
Narration (Audio)
Overall:
Related Posts