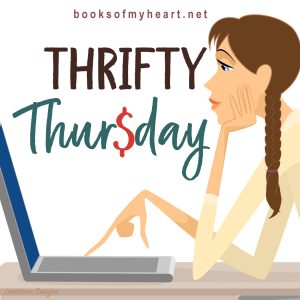 The purpose of Thrifty Thursday is to read a book which was free (at some point).
Kindle freebie on September 10, 2020  (currently free at Amazon & Barnes & Noble as of writing this post)
Overall rating 4.21 with 2,430 ratings and 250 reviews
Hot Seal
by
Lynn Raye Harris
Series:
HOT Seal Team #1
on September 4, 2015
Genres:
Romantic Suspense
Pages:
185
Format:
eBook
Source:
Purchased
Goodreads
Amazon
, 
Audible
, 
Audiobook
, 
Barnes & Noble
, 
Apple





Navy SEAL Dane "Viking" Erikson has sworn off women—or at least he's sworn off one woman: DEA Agent Ivy McGill. His ex-wife.

But when they're forced to work together on a critical military mission, Dane can't help but notice how the one woman he shouldn't want is the only one he can't stop thinking about.

Ivy knows what it's like to fall for a SEAL's hard muscles and killer smile—and she knows what it's like when everything falls apart.
Hot Seal started out well enough with talented law enforcement / military personnel with critical missions.  There were some smart strategies and actions.  Ivy is from the DEA and has worked tirelessly to bring down a cartel. She is competent and hard-working.  Dane is a Navy Seal moved to a new HOT team for this mission begun when Ivy found a new horror the cartel had wrought.
About halfway through the mission, they fell somewhat more in the background because they seemed to only be able to think about sex.  And then they had sex in public and in the hotel. And they were just a bit off their focus.  Events slapped them back into reality quickly.
I would have preferred them to do a bit more talking and to be more professional about their work.  Hot Seal is about the size of a half book so a bit more time could have been taken to further develop the characters and the military plot.   Overall, it was an enjoyable read. I would try more from this author.
---
These are only Kindle freebies I get, or ones through author newsletters which anyone can sign up and get for free. I don't include things like Kindle Unlimited or Prime Free Reading (I do have it). Both Tantor and Audible have occasional free audios (to anyone) and I do include those.  Since I one-click on 1-2 freebies a day or probably at least 5 a week, I came up with this feature to make sure I start reading them.
---
Kindle freebie, as a book 1-3 set,  on September 12, 2015  (currently 99¢ for Fall Out and $6.99 for the box set at Amazon & Barnes & Noble as of writing this post)
Overall rating 3.72 with 1,930 ratings and 196 reviews
Fall Out
by
Zoe York
Series:
Seals Undone #1
on September 1, 2014
Genres:
Romantic Suspense
Pages:
131
Format:
eBook
Source:
Purchased
Goodreads
Amazon
, 
Barnes & Noble
, 
Apple




Drew Castle is a Navy SEAL with a bad case of indifference. Until Annie Martin shows up on his doorstep, scared out of her mind, and all of a sudden, keeping her safe becomes the most important mission of his life.

And this time, he's on his own.
Fall Out does not really show any SEAL missions or active operations.  It is the story of the personal time and growth of Drew.   He is not dealing well with the loss of his teammate, Kevin. He's never had much of a family.  He doesn't have much time to give to a personal relationship and sort of feels he doesn't deserve one.  But now Kevin's sister is in trouble and so he works to keep her safe.
Overall, the story is not too believable.  I think this is partly the shorter length, so less development to connect with the characters.  It is interesting and sexy, and I did appreciate the storyline other than just sexy times.
I do enjoy a story which contains some of the actual SEAL missions or training, which this doesn't really show us.  I have the next two in the series to see if it develops this aspect a bit more.
---
Kindle freebie on February 21, 2020  (currently FREE at Amazon & Barnes & Noble as of writing this post)
Overall rating 3.88 with 3,145 ratings and 301 reviews
Night with a Seal
by
Cat Johnson
Series:
Hot SEALs #1
on July 29, 2014
Genres:
Romantic Suspense
Pages:
162
Format:
eBook
Source:
Purchased
Goodreads
Amazon
, 
Audible
, 
Audiobook
, 
Barnes & Noble
, 
Apple




Ten years of dedication to the Navy taught SEAL Jon Rudnick one thing — he's not afraid to risk life and limb for his country. But when navigating military red tape begins to present more challenges than the enemy it makes Jon question his future. So does Alison Cressly, the woman who doesn't do one-night stands or SEALs but who broke both rules with Jon the eve of his deployment to Afghanistan. He can't get her out of his head — not while away and not now that he's back.

When Ali's life is threatened and military rules won't allow him to intervene, Jon decides it's time to take back control. The question is what would a SEAL do as a civilian? Jon's got skills, drive and an idea, as well as a few teammates willing to cover his six. And he's got the hope of more with Ali.
Jon is a SEAL with lots of experience and skills but the military is leaving him no personal life and too much red tape.  He doesn't have relationships, other than short-term sexual flings. He meets Ali as the friend of a ex-teammate, Rick's sister.  After a night with Ali,  he is deployed again.
While Jon is gone he doesn't contact her as he is unwilling to be distracted, but he finds himself thinking of Ali.  When he returns, Ali and Rick's sister, Darci, are in trouble.  We get a little of the SEAL thought strategy during this situation.  Night with a SEAL does not give the couple much time to develop a relationship.  It's rather insta-lust into insta-love.
There isn't much time spent on actual SEAL missions or training.  Mostly, we have Jon's thoughts and personal growth and some sexy time.
---
Kindle freebie on January 13, 2019  (currently FREE at Amazon & Barnes & Noble as of writing this post)
Overall rating 4.30 with 1,969 ratings and 173 reviews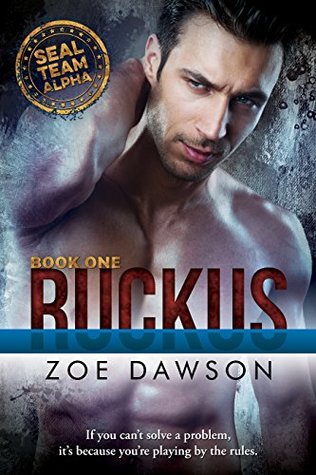 Ruckus
by
Zoe Dawson
Series:
SEAL Team Alpha #1
on June 2, 2017
Genres:
Romantic Suspense
Pages:
231
Format:
eBook
Source:
Purchased
Goodreads
Amazon
, 
Audible
, 
Audiobook
, 
Barnes & Noble
, 
Apple





For U.S. Navy SEAL, Bowie "Ruckus" Cooper, going on a mission into the most dangerous place on earth wasn't new, neither were the orders to tag and bag an international criminal, but when Bowie finds a captive American reporter, that wasn't exactly run of the mill. Neither was getting separated from his team, teaming up with her or protecting her against all odds, while working to keep his hands from around her neck and off her delectable body.

Fearless and bold photojournalist, Dana Sorenson never backed down from a fight or to showcase her dedication to reporting on the human condition. That's what she thought until she meets Bowie and big, bad, and tough takes on a whole new meaning. Gratitude for saving her ass gets lost in his demanding orders and fighting for her life takes a back seat to falling for this alpha male who'll risk everything to see her safe.
I've been trying to find the best SEAL stories with the combination of plot layers I appreciate.  Ones that have a mystery / action plot and actually show a bit of SEALs doing their jobs plus the character developments and a romance.  Ruckus hit all the marks.
Ruckus is the SEAL name of the leader of this SEAL team.  We get to see his mission in Columbia where he runs into a journalist who complicates and changes his mission, and his life.  The other members of the team are introduced and we begin to see their personalities and skills.  Ruckus has had some difficulties in his upbringing which have affected who he is.
Dana is a journalist, trying to bring a story to life which her mother wanted told.  Her mother has died recently and she has much guilt and grief.  Dana is sassy, fit and pretty smart.  She's not aware of everything in the dangerous world with drug cartels and other criminals and has a few missteps.  Luckily, Ruckus is there to help her.
I enjoyed watching Ruckus and Dana both fight for their survival, as well as accomplish what they set out to do.  They get to know and respect each other as they work through the situation.  Their banter and attraction are fun.   I really want to read more in this  SEAL Team Alphas series.
---
Kindle freebie on February 11, 2017  (currently FREE at Amazon & Barnes & Noble as of writing this post)
Overall rating 3.96 with 1,903 ratings and 198 reviews
Seal for Her Protection
by
Paige Tyler
Series:
SEALs of Coronodo #1
Published by
Self-Published
on April 12, 2016
Genres:
Romantic Suspense
Pages:
208
Format:
eBook
Source:
Purchased
Goodreads
Amazon
, 
Audible
, 
Barnes & Noble
, 
Apple





When investigative journalist Hayley Garner is kidnapped by terrorists, she's sure they're going to kill her. But in sweeps handsome Navy SEAL Chasen Ward to rescue her. After getting her to safety, he disappears into the night before she can even thank him.

Weeks later, while covering a story on the local navy base, Hayley runs into Chasen again. Even though she didn't see his face that night he rescued her, she can't forget his beautiful blue eyes.

The attraction is immediate and intense, and Hayley finds herself falling into a fiery romance with the hunky hero out of her dreams. Guys like this aren't supposed to really exist, but Chasen does, and damn is he hot.
I've enjoyed other books by Paige Tyler.  SEAL for her Protection is the start of the SEALs of Coronado  series.  The series has continued with book 9 released in 2021.  I don't know if it's because it was the first book or that I didn't quite connect with the characters.
The plot was intriguing.  I really appreciated the view into their careers and the actual SEAL team missions and training a bit.  The couple, a journalist and SEAL team leader met when the team rescued her from a terrorist kidnapping.  They fit well into the lifestyle as they both have traveled widely for their work.  Neither has tried to have much of a relationship because of their sporadic and sometimes unpredictable traveling.  Since they both understand it, they are willing to try to be together.
Chasen was a great guy and insta-attracted to Hayley.  He was comfortable with the brotherhood of his team and very competent in his skills and profession.  I liked how he supported Hayley and listened to what was important to her.
Hayley was where I had more trouble; she just did a bunch of things which sere TSTL and not very professional either. I did like the hacktavists who did some great research.  Hayley's journalist instincts were good but research and interviews seem a more effective method than just bugging and accusing people you think are corrupt without specific reasons or data.   Of course, she got herself into trouble again.
There was a twist at the end which had some aspects which weren't believable for the SEAL team as they can't really operate privately.   I was glad to see Chasen want to protect Hayley, even if she was stupid.  I hope as the series continue there are still SEAL missions without a sole focus on the romances.
Latest posts by Anne - Books of My Heart
(see all)
Reading this book contributed to these challenges:
Related Posts