The Sunday Post is a weekly meme hosted by Kimberly  @ Caffeinated Reviewer. It's a chance to share news~ A post to recap the past week, and showcase books and things we have received.
---
Don't forget to look at my giveaways on the right sidebar.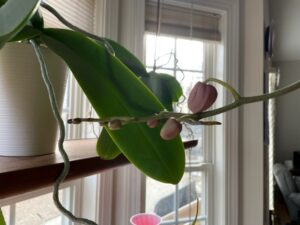 Sunday, it's cold but I bundled up a bit and Lulu and I walked anyway.  I did Sunday visiting.  I also organized some of my upcoming reviews. My ex put together the fire pit I bought a few months ago. He also assembled the relaxation fountain I bought our daughter for Christmas.  I noticed the orchid is ready to bloom AGAIN!
Monday, I got right to things with laundry and an Instacart from Food Lion.   It was a bit warmer and Lulu and I walked again.  Then my ex and I walked around to look at things to do outside and also where to hang stuff in the garage.
Tuesday, is slightly warmer.  My ex helped me do a freezer inventory.  It's getting some frost and the seal bubbling again so I scheduled another service call with GE.  I reorganized things a bit.    Lulu and I walked on a medium length walk.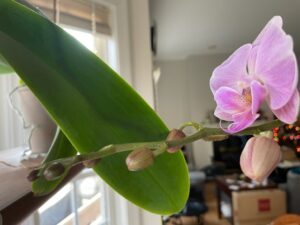 Wednesday,  it's Lulu's birthday, she's 4 years old!    My daughter planned to go to the zoo with her father.  I planned to stay home with Lulu. The weather was nice so Lulu and I walked the longest route.  But my daughter didn't feel well so they just went to Trader Joes for the gluten free bread she likes and came home.  I made a Godiva gluten free torte but of course, Lulu can't have that. I made a batch of her food with her favorite chicken to have fresh.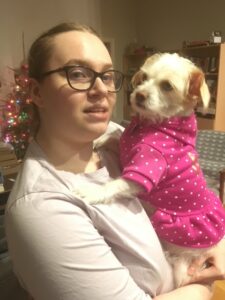 Thursday,  I tried to walk Lulu before our chiro appt and of course, it rained on us as soon as we went halfway down the block.  She didn't like it.  Then it didn't rain the rest of the afternoon.   We watched the Olympics on actual broadcast tv.  NBC is the only station it gets.  If I watched more tv, I'd have to get an antenna. I wanted to watch the later stuff in bed but couldn't get it on livestream. Sigh.  Late nights for me – I LOVE the Olympics.  I am really loving the new team skating event.
Friday, I had a Sam's club Instacart for 11-1.  It was all shopped before I woke up and delivered at 10am.  I had to hustle out of the shower to get up and put it all away.  I have lots of kitchen work this afternoon with meal prepping the salmon and making a batch of Lulu food with chicken thighs. My brother butt dialed me and we talked 45 minutes.  Before that we'd been messaging about Tesla recalls.  I called about my HSA because some weird things were happening and got that understood. It's a cloudy day but nice so I should get out with Lulu before it rains.  I got ready to go, planning to put the chicken things in the oven and head out.  But then I got a text from the contractors, they were going to come over at 5 instead of tomorrow.  So I forgot to put them in, and remembered and cut the walk short to go back and get them started.  So he came a half hour  and looked and did nothing. At least, he wore a mask.   I got her food made and then I was just tired.
Saturday, it's time to Drop Everything and Read for February COYER.  It's colder and I didn't feel like walking Lulu with the cold and wind.  I worked a lot with blog posts and a library email. We are watching lots of the Olympics.  I love them.
---
January Reading:    I managed to read 31 books. Audiobooks continue to help me read more. Some count for more than one challenge.  I listened to 14 audiobooks, read 4  library books,  23 COYER reads, and 14 books which I already own.
All Library books (including ones not reviewed on the blog)  2022 Library Love Challenge
I did manage to read 14 books I own (goal is 3 per month):
Halfway to the Grave by Jeaniene Frost
Protecting Caroline by Susan Stoker
Hot SEAL by Lynn Raye Harris
Night with a SEAL by Cat Johnson
The Intern by Gregg Hurwitz
Fall Out by Zoe York
Hellbent by Gregg Hurwitz
Ruckus by Zoe Dawson
SEAL for her Protection by Paige Tyler
Out of the Dark by Gregg Hurwitz
Into the Fire by Gregg Hurwitz
The List by Gregg Hurwitz
The Prodigal Son by Gregg Hurwitz
One Foot in the Grave by Jeaniene Frost
---

Stacking the Shelves is hosted by Reading Reality.  These are the exciting ARCs I received this week (If you click on the cover, it will take you to the Goodreads entry):
Many thanks to Forge Books, and Harper Voyager.                    
(If you click on the cover, it will take you to the Goodreads entry)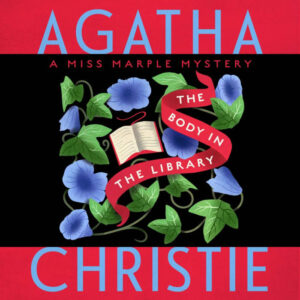 I got a Chirp deal for $4.99.  

Now the really scary one. This is all the Kindle and Audible freebies I grabbed this past week. You can see why I need to do Thrifty Thursday to be sure I read a few at least one each month.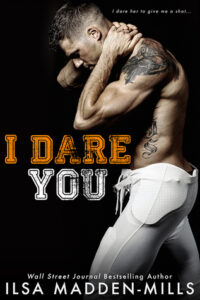 I really meant to cut back on freebies BUT  they are free so I guess that won't be happening.

I'm not including things like reviews posted or upcoming as they are always in the right sidebar. And, my challenge status is also there.
Anne
Latest posts by Anne - Books of My Heart
(see all)