Review copy was received from NetGalley. This does not affect my opinion of the book or the content of my review.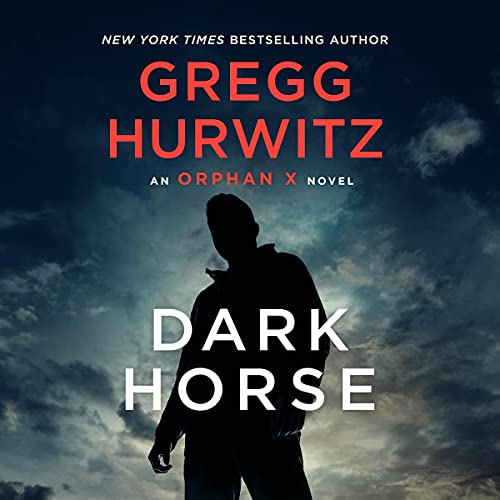 Dark Horse
by
Gregg Hurwitz
Narrator:
Scott Brick
Series:
Orphan X #7
Published by
Minotaur Books
on February 7, 2022
Genres:
Mystery
,
Thriller
Length:
14 hours, 30 minutes
Format:
Audiobook
Source:
NetGalley
Goodreads
Amazon
, 
Audible
, 
Audiobook
, 
Barnes & Noble
, 
Apple






Evan Smoak is a man with many identities and a challenging past. As Orphan X, he was a government assassin for the off-the-books Orphan Program. After he broke with the Program, he adopted a new name and a new mission—The Nowhere Man, helping the most desperate in their times of trouble. Having just survived an attack on his life and the complete devastation of his base of operations, as well as his complicated (and deepening) relationship with his neighbor Mia Hall, Evan isn't interested in taking on a new mission. But one finds him anyway.

Aragon Urrea is a kingpin of a major drug-dealing operation in South Texas. He's also the patron of the local area—supplying employment in legitimate operations, providing help to the helpless, rough justice to the downtrodden, and a future to a people normally with little hope. He's complicated—a not completely good man, who does bad things for often good reasons. However, for all his money and power, he is helpless when one of the most vicious cartels kidnaps his innocent eighteen year old daughter, spiriting her away into the armored complex that is their headquarters in Mexico. With no other way to rescue his daughter, he turns to The Nowhere Man.

Now not only must Evan figure out how to get into the impregnable fortress of a heavily armed, deeply paranoid cartel leader, but he must decide if he should help a very bad man—no matter how just the cause
I absolutely have loved this Orphan X series.   I LOVE Evan and his growth throughout the series.  He is a support for the people at Castle Heights, especially Mia and Peter,  and a parental figure, at least a caretaker for Joey.  I hoped once he got his informal presidential "pardon," he could go into security or hostage rescue or something.  But realistically, once he was in the normal view, there would be people trying to kill him.  He needs to stay hidden.
Evan can't help but be swayed by the plight of a girl, not much older than Joey who has been kidnapped. Her father is not a good man but Evan helps to steer him straighter.  The situations Evan is encounters to save her are more extreme than he would prefer.
Evan has problems at "home" at the same time.   Joey wants to be more independent but she is 16.  Yes she is wicked smart and can defend herself.  That doesn't mean she is old enough and experienced enough to make good decisions (see daughter who has been kidnapped.) I really feel for Evan in this fight.   Mia is having problems and Peter needs care and a man he can trust.  Evan has no basis to know how to handle these relationship situations of any kind.   Because of them, I think he is also staying in the same area, the same "home" longer than is safe.
I am waiting, with anxiety for what happens next for Evan.  I am just starting to think how this story of his life can turn out and I'm not liking any of my ideas.  But based on my experience with the author, he's a lot smarter than me and it will work out.  I hope.
Anyway, Dark Horse is an intense read with plenty of action, strategy and emotions.  Evan continues to learn and grow, and help the desperate.    I recommend reading from the beginning, in order, for the character and world developments.
Narration:
Scott Brick is a narrator I enjoy.  I am completely settled into his voices for the characters.  He does a nice differentiation with all the ages and locations.   I enjoyed his performance at my usual 1.5x speed.
Listen to a clip: 

Rating Breakdown
Plot
Writing
Characters
Narration (Audio)
Overall:
Latest posts by Anne - Books of My Heart
(see all)
Reading this book contributed to these challenges:
Related Posts