Review copy was received from Author. This does not affect my opinion of the book or the content of my review.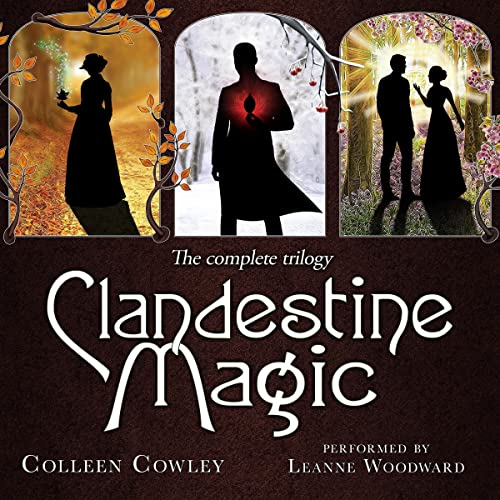 Clandestine Magic Trilogy
by
Colleen Cowley
Narrator:
Leanne Woodward
on November 19, 2021
Genres:
Fantasy
Length:
35 hours, 46 minutes
Format:
Audiobook
Source:
Author
Goodreads
Amazon
, 
Audible





A wizard. An unwilling assistant. An explosive secret.

In an America controlled by wizards and 100 years behind on women's rights, Beatrix Harper counts herself among the resistance—the Women's League for the Prohibition of Magic. Then Peter Blackwell, the only wizard her town has ever produced, unexpectedly returns home and presses her into service as his assistant.

Beatrix fears he wants to undermine the League. His real purpose is far more dangerous for them both.

This bundle includes the complete Clandestine Magic trilogy, Subversive, Radical and Revolutionary, plus an exclusive short story about a dance Peter and Beatrix did not get and the one they did—with additional point-of-view characters.
What if magic existed, but it was off limits to half the planet's population namely women?  And, what if leadership was determined by magic-wielders only namely men?  Oh, and even the non-magical men are a step above the women, but they, too, are not with many advantages.  It's a world ripe for a revolution, is it not?
I had the opportunity to enjoy this Clandestine Magic trilogy in electronic print version and was fascinated from first to last, so after a bit when I was offered a chance at the audiobook version, it was a forgone conclusion I would say yes.
Subversive introduces an America that is modern in some respects like tech and geo-political lines, but backward in others. Women have it the worst because their rights are stuck firmly in the nineteenth century. This is why Beatrix Harper and other women have formed leagues to challenge the establishment. Beatrix has known hardship and loss since her wealthy family lost all the wealth in the last Great Depression; her parents passed away, and she gave up a chance of her own college education and dreams to raise her younger sister and see her go onto college and her dreams.
They are getting by with Beatrix working at the general store in their small town when a wizard arrives and strong hands her into becoming his assistant as the town's Omnimancer (jack of all magical trades town help). His method of co-opting her was the worst and something she will never forgive or forget no matter what, even if he turns out to be her savior more than once in the harrowing adventures of promoting women's' rights and learning the secret ways of magic that have been hidden for so long.  Powerful men will do what it takes to suppress this.
Peter Blackwell is on a mission to keep a powerful magical weapon that he invented out of government hands and he knows it won't be long before they catch on to what he has done. He doesn't have the time to gain Beatrix Harper's help voluntarily and he can't trust her with his secrets since she has admitted to opposing wizards with her league activities so he does the unthinkable. Only, Beatrix isn't who and what he thought she was and he is pulled into her world as much as she is pulled into his dark, magical world of secrets. He set things in motion that he wishes he could undo because he has come to care for Beatrix's respect and more.  Radical and Revolution continue this pairs' story to the heart-stopping finish and what is in store for the future.
As this is a trilogy, there are segments of the same story with rises in action and character/relationship development, I chose only to summarize the world and the start of the series.  Each book ends in a good place, but the reader/listener will also be left with a strong desire to press on and see what comes next.
At the heart of the story are Beatrix and Peter.  They have a tumultuous history and start.  In fact, they are enemies forced to work together.  They both have much to learn about themselves, each other, and the people around them.  There is secrecy, political intrigue, personal betrayals, and moments of intense triumph, too.  The pacing was steady and the plot sparkling and focused throughout.  There is a growing cast of characters through the series and I appreciated the development in the allies as well as the enemies.  There is also that expanding and enchanting magical world the author painted as the backdrop that played a huge role just like a strong minor character.
And, so, I experienced this magnificent series once again and it lost nothing in the retelling.  Whether one has a fancy for gaslight fantasy, sci-fi, parallel history, or what, this series will captivate as it crosses several genres.
Narration:
As I said earlier, this is a re-read and I was able to listen in to new to me narrator, Leanne Woodward.  Ms. Woodward had a versatile husky voice that voiced a large cast including genders, ages, social status, and personalities.  She steadily told the story and infused good tone to the varying scenes so that I was fully into the story and regretted when I had to pause listening.  I would definitely listen to more of her work.





Listen to a clip:

Related Posts